If you work in higher education marketing and your job requires any of the following:
new student recruitment
current student interactions
graduate student communications
Then I am writing this blog post just for you (but wait – if you don't work in higher education and your job doesn't require any of the above, you'll probably still get some great ideas from the rest of this blog. Stick around!).
We're about to dive into the world of influencer marketing and how you can integrate this tactic into your own higher education marketing strategy. The best part? The key to this strategy is focused on a resource you already have in abundance – your students! Both your current students and those who have graduated have strong and compelling stories to tell about your institution, which is why you should be utilizing them in your marketing efforts.
Before we dive in to the details, I want to quickly outline the different areas that this tactic may be the most useful in your marketing strategy:
Assisting with recruitment efforts of prospective students
Allowing current students to feel empowered by letting their voices be heard
Helping to stay connected and maintain a relationship with graduate students while also allowing them to share their success stories
Empowering Current Students
At the bare minimum, you should be encouraging current students to use a certain hashtag when they are posting content to social media that relates to a school activity or campus life. This is the territory of user-generated content, and it makes your life as a marketer much easier. Rather than digging through stock photography, you've got a huge team of students actively gathering the best photos and experiences across campus—and all you have to do is encourage them.
Start by scheduling a few posts with your new hashtag (for tracking purposes). Make it fun by including your mascot or your motto, like the University of Kansas does below: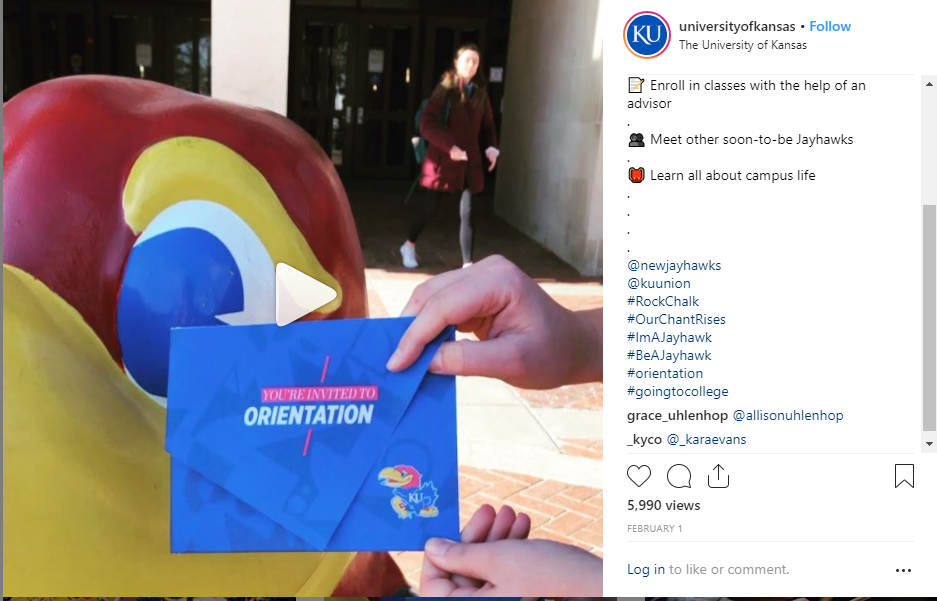 This works even better when connected to a specific activity, like graduation, homecoming, orientation, finals week, or any event happening campus-wide.
Student Recruitment
The decision to enroll is often influenced by interactions a prospective student has with other admitted/current students. Since newly accepted students often share their admissions on social media, focusing here is a great place to start.
Based on a 2017 Social Admissions Report, 35% of students surveyed say that social media is the most useful type of site to look at when they are researching college institutions to apply to, and 40% of students say the interactions they have on social media influence where they enroll.
Having this content to share, however, is closely linked to empowering your existing students in the first place—so be sure you're encouraging those students to share AND engaging with the students who do share. That means commenting, resharing/posting, and ensuring the students who do share get credit for their stories and images.
But, if you take it one step further, you can show your value to prospective students by sharing success stories of both your current and graduate students across your website and all of your social channels. For example, Concorde Career Colleges routinely showcases student stories in their new student recruitment emails and on social media, and the stories are posted to their blog, as seen in the examples here:
Connecting with Graduates and Growing Your Alumni Base
Don't stop talking to your students after they become graduates! Once a student joins your alumni network, you'll want to move beyond simply asking them for money if you expect them to stay engaged as an influencer.
Your alumni base can help you influence prospective new students simply by sharing their experiences and their post-graduate successes. This is something Concorde Career Colleges has mastered. Concorde created a Consumer Affairs email that they sent out to their recently graduated students and asked them to share their experience so prospective students could learn more about the institution and what they could expect. Since June 2017, they have sent approximately 15 emails with varying copy, creative, subject lines, etc. (gotta love a/b testing), which has resulted in an impressive 36% unique open rate and a 72% total open rate.  You can read their full case study here.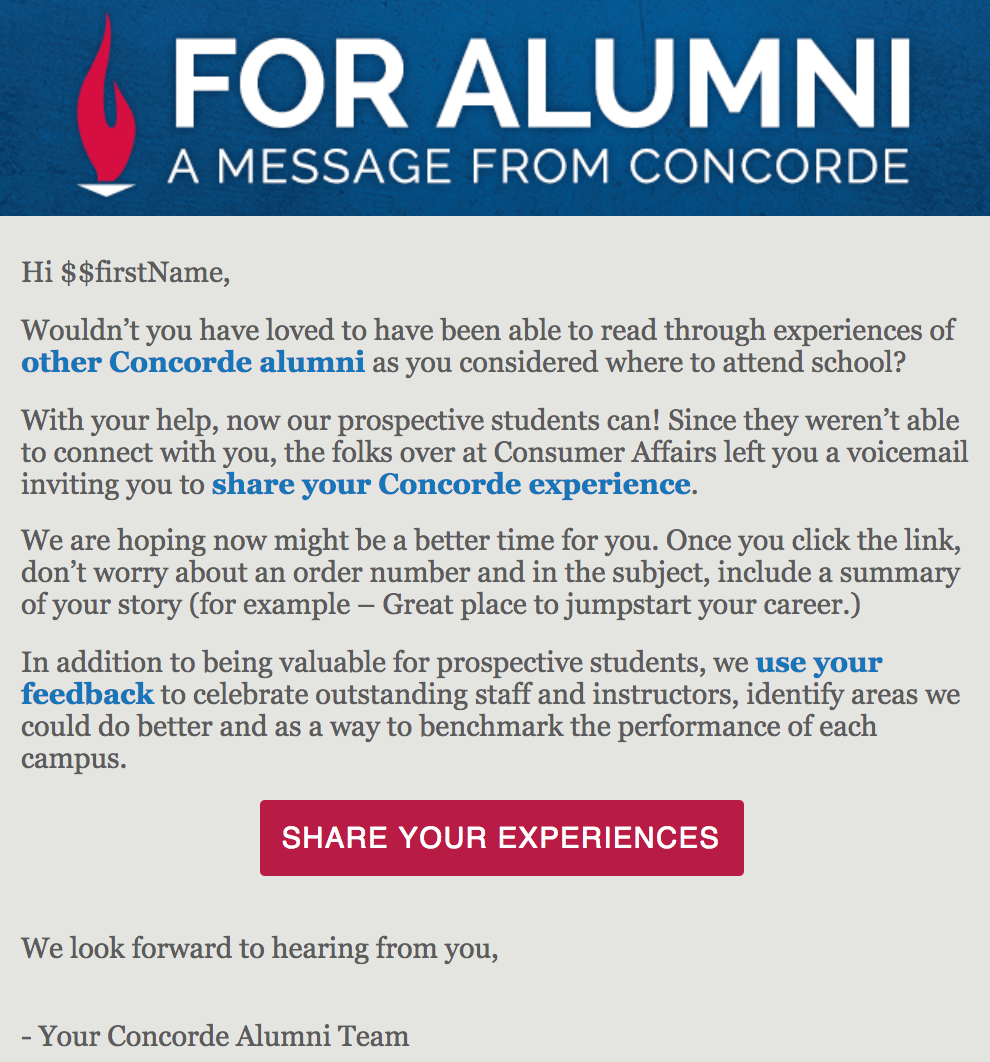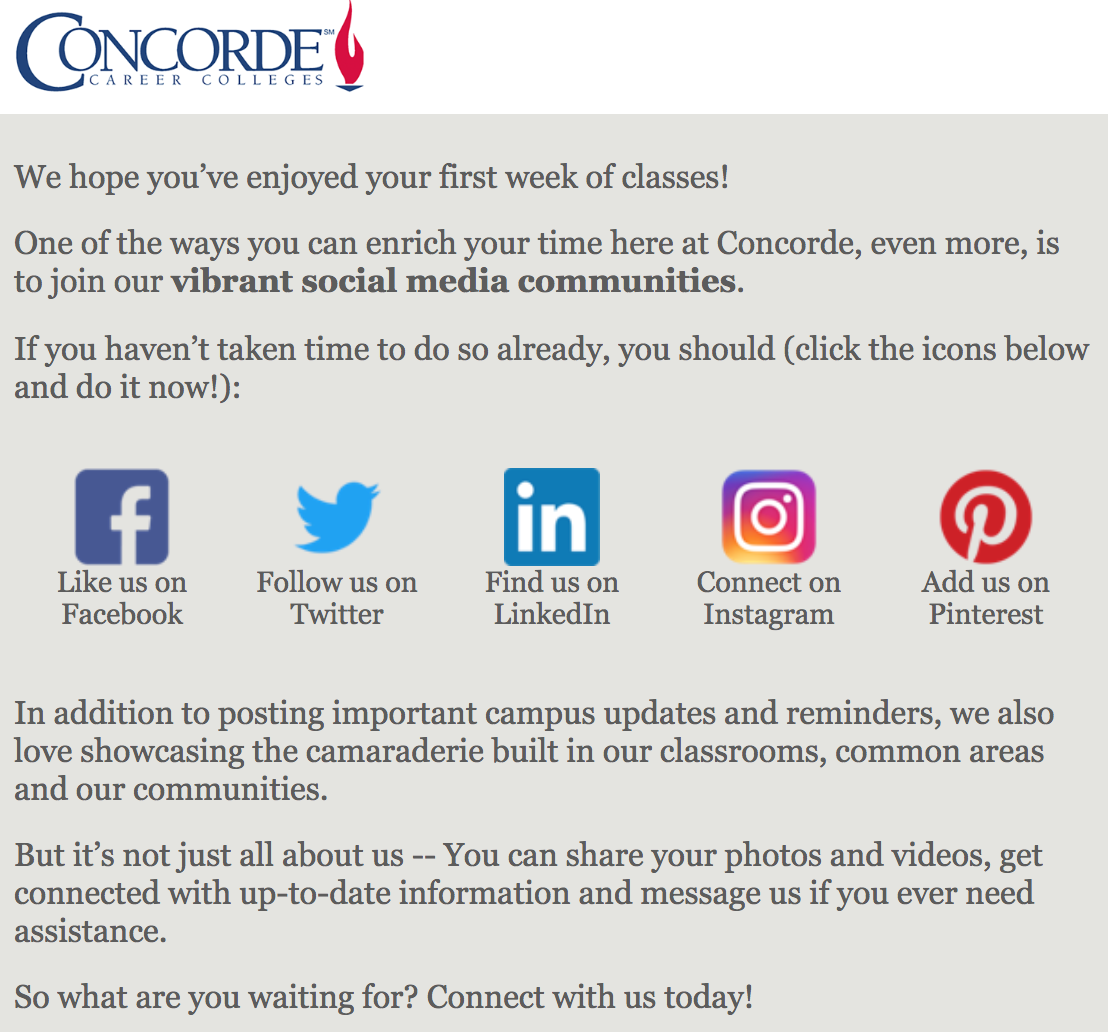 We've even seen this work department by department or College by College, as seen here in Boston College's post: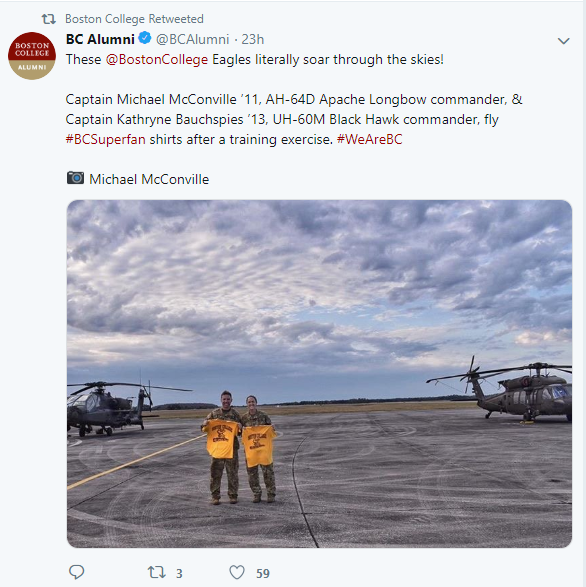 Or the University of Kansas Film & Media Studies post for Oscar-winner Kevin Willmott: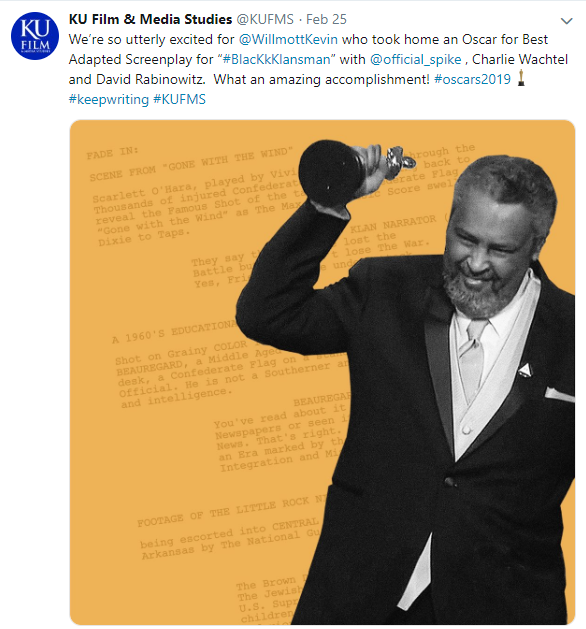 Engagement at Its Finest
The keys to turning your students and alumni into influencers are
Timeliness (be quick to thank AND relevant)
Co-promotion (if they support you, support them back!)
Visibility (people need to know what to tag, how to tag it, and have a reason to search it)
Engagement is a two-way street and remember—no one knows your university or college better than the students attending it.
Need help thinking through your alumni or new student strategy? Drop us a line at expert@emfluence.com, or see what we recommend for Higher Education Marketing here.
---