Summer vacation is almost here, but don't swap your shoes for flipflops just yet. For marketers in higher education, this is the perfect time to map out your social media calendar for the academic year.
Social media is a key component of a good content marketing plan, and like any plan, you should start your social media calendar for the academic year with goals and KPIs. Here's how:
Social Media Marketing Goals
Content marketing is most successful when you understand what you hope to achieve. Setting goals (examples here) for your content is a great place to start. For example, are you hoping to drive brand awareness? In that case, you might want to approach your social media accounts like the now-famous UMBC Athletics account did during the 2018 NCAA Men's Basketball Tournament. Are you looking to generate inquiries from new students? Then you might consider leveraging your content into an automated email campaign, like the one Concorde Career Colleges uses to convert inquiries into enrolled students (see here).
Once you know what you're trying to achieve with your content, put some measurements to it. What does success look like? How will you measure success? If you're new to content strategy, this primer can help you get started.
Now you're ready the fun part.
Need a template for planning out your social media and content calendar for the next academic year? Download our pre-planning content calendar template here.
A Social Media Calendar for the Academic Year
Once you've set your measurable goals, it's time to build your social media calendar for the next academic year. Start with looking at the major dates and milestones for the year, then consider adding the following content to your social media calendar:
Deadlines
These deadline reminders can start before the academic year starts as well—add everything from the hard and fast deadlines like "get a roommate" or "register for classes" to soft deadlines, like when to buy books or book flights home for vacation.
Student FAQs
Remember your first week on campus? There's a lot to know—and a lot you don't even know that you don't know. Use your social media to help orient new students during confusing times, like the first week of school or their first finals week. This is your chance to push some of those carefully collected FAQs to the front and center of your social media presence.
Events
If there are activities happening on campus, use your social media calendar to let all of your students know. Think about it this way: on many campuses, departments have their own email lists and social presence, and that's where they share their events. That's great for their existing followers, but what if the event their holding has value for other students? Showcasing all of the cool stuff departments are doing is a great way to show how diverse your students' experience can be.
Extras
Once you've built out content for the major deadlines on your academic calendar, it's time to start thinking about filler. Ideally, you'll want to send out 3-5 posts a week on your social channels, which means you've got a lot of work cut out for you. Here are a few other types of non-deadline-oriented content you can add to your calendar:
Resources Roundup—this could include everything from when the libraries are open to what they include, how to search for things on internal sites, information on tutors or education centers, and more.
Cafeteria Menus and Lunch Specials—pretty straightforward, but who doesn't like to think about their next meal?
Campus-wide Alert Systems—use social media to remind students to sign up for alerts, and demonstrate what kinds of information they'll get if they do.
Student Stories and Highlights of On-Campus Success—interview students and share their stories. You could even crowdsource this content by asking your students (on social media) who you should cover next.
Finally, want to make your life easier? Your best bet is to get a marketing automation platform that can track campaigns, schedule social media posts, and handle your email marketing. We use the emfluence Marketing Platform for our higher education marketing agency clients because it includes this handy drag-and-drop marketing calendar: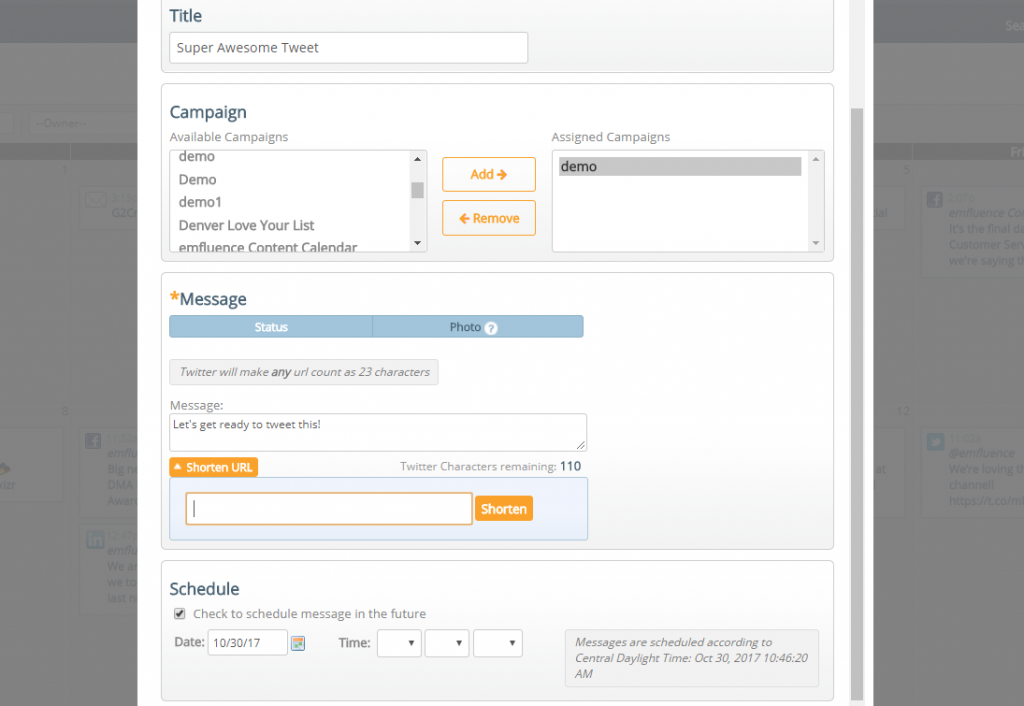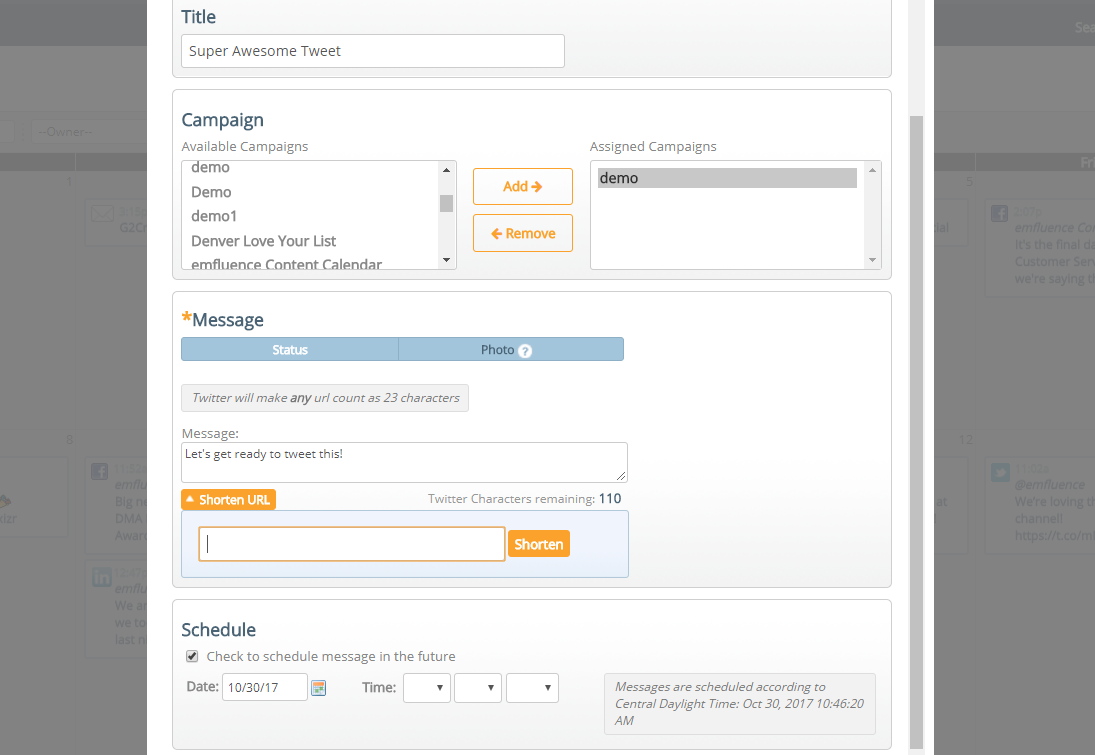 Want to learn more about social media marketing? Sign up for our monthly newsletters to get more information like this delivered straight to your inbox.
---