If your retail email ROI isn't generating the highest return of your marketing budget, you might want to take a second look at your strategies. That's because across all industries, email ROI can be as high as 3,800% (according to the Direct Marketing Association). For retailers who have limited ways to connect with customers, that rate of return is a good goal to set.
A recent report from market intelligence firm Retail Systems Research suggests that even retailers who are good at email could be doing more to improve their email ROI. According to the report, top scoring retail emailers are running successful email campaigns that share the following practices:
Right balance of email sends
Several—but not too many—products featured
Shoppable menus
Moderately promotional (but not too promotional) subject lines
But retailers on the whole aren't doing enough to build engaging email campaigns that customers want to buy from. Add in the fact that the average consumer inbox is flooded at any given time with shopping emails, and there's plenty of opportunity to improve retail email ROI.
So how can you apply the tactics from the top retail emailers to your campaigns? Once you've created a good email marketing strategy, now the question is how to ensure your emails will be effective. Let's take a look at some ways you can improve your email ROI based on what's working for other retail emailers:
Personalization
It's a fact, email personalization can improve email performance. You know how it feels to get a hand written personal note. The same goes for email. Seeing your name and personal information in an email goes way further than speaking to a general audience. Make sure to leverage custom variables by putting the customer's first name in the subject line, or by putting their first name and most recent purchase in the body of the email. Research shows they're more likely to open and read an email that speaks directly to them—and buy from a company that "gets" them.
Segmentation
As a retailer, there are a ton of exciting things to share with your audience. But keep in mind, not everyone will want to receive the same information. The more segmented your list, the higher your engagement. Use data to your advantage here—and keep track of their preferences. Just imagine if UncommonGoods used their click data in the following email to build segments based on shopping preferences: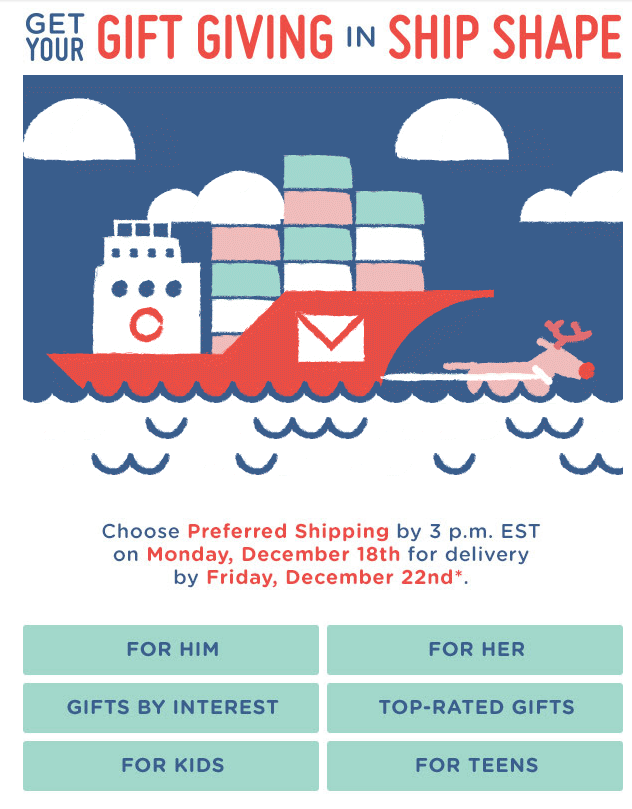 Lead Scoring
Lead scoring is a great way to discover how engaged your customers are. If you see that someone has low engagement, re-evaluate the content that customer is receiving. If someone is highly engaged, possibly reward those customers with a 10% discount to entice them into the store or to thank them for being so loyal.
Design
Take a tip from the top email retailers and include interactive content, creative CTA buttons, shoppable menus, and mobile-friendly design templates for phone shoppers. As for your subject lines, don't get too excited about promoting sales there. It's okay to include a "save x%" now and then, but the top email retailers steer away from savings for the majority of their subject lines.
Automate
As a retailer, there are a ton of reasons you can use as communication points to your audience in order to drive sales, such as celebrating a customer's birthday, new product announcements, promoting sales, etc. It can be overwhelming thinking about the time and effort it would take to stay on top of all these areas of communication. But thanks to marketing automation, you can set up these campaigns to automatically trigger based on a query (like birth date) and send at just the right time, freeing up time for you to focus on other areas of your business. Be sure you run abandoned cart emails, too!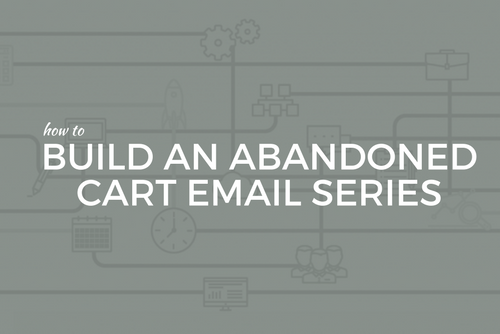 Track & Optimize
Email marketing has so many moving parts, and when it comes to scheduling, content and themes, the rules aren't really set in stone. In order to figure out what works best for you, you have to test and track everything. Monitor each one of your campaigns until you have a good understanding of what subject lines, schedule and content works best for your audience, and don't forget to run A/B tests to confirm your hunches about what's working.
Find the Right Amount of Send
In RSR's report, the top retail emailers focused on about one email per day to their recipients. That may the right amount for your audience, or that might be too frequent. This is another reason to have segments and run A/B tests—you can determine exactly how often your recipients want to see your emails, just be sure you're looking at unsubscribes, complaints, and engagement numbers over time. Watch for trends (like lots of unsubscribes) that might suggest you're sending too often.
Cover Your Catalogue
RSR's report suggests that online-only retailers weren't using email to showcase enough of their product line, citing that in some cases, it would take a retailer an average of 3.51 years to expose a single shopper to all of their products by using email alone. Consider sending "you might also like" emails or leveraging your sales data to improve your cross-selling. If, for example, 50% of people who buy a sweater also buy a pair of jeans, you may want to cross-promote the two in a single email, or create a special email campaign called "Jeans for Sweater Lovers."
Now let's take a look at a real example of how a company has seen positive results from their retail email campaigns: The Roasterie. By researching holiday consumer shopping insights and analyzing competitor holiday email trends, The Roasterie sent a 13-part holiday email campaign designed to establish a holiday email cadence that would touch potential shoppers throughout the season, all of which led to a 24.4% increase in orders placed over the holiday season.
Now that you have some specifics examples of how to implement and execute an effective email marketing campaign, don't forget to test everything with pre-flight checks, spam checks, and A/B testing! Before you know it, you'll see your retail email ROI begin to climb.
Want to learn more like this each month? Sign up for our emails and stay current on the latest trends.
---