So you've got a new product to add to your ecommerce shop. That means it's time to put together a marketing plan for your new ecommerce product launch.
Adding a new product to your ecommerce shop deserves a marketing plan of its own—one that's not quite as involved as when you launched your shop in the first place, perhaps, but is still informed by the data you've managed to capture about your customers along the way. In this post, we'll use the emfluence t-shirt shop to demonstrate how we're launching a new t-shirt design—consider it a play-by-play blueprint for launching your next new product.
When getting started with your marketing plan for this new product, sometimes it helps to begin with the customer in mind. Ask yourself the following questions:
What do I know about where they are in the buying process?
What data do I have about their preferences?
How do they like to be communicated with?
In the case of our t-shirt shop, we have data on:
People who have gone through our abandoned cart email campaign but haven't purchased a shirt
People who have gone through our abandoned cart email campaign and have purchased a shirt
People who have discovered the t-shirt shop from social media or email but haven't gone through the abandoned cart email campaign
From here, we can start to make a marketing plan:
Get Your Descriptions in Order
What makes this product so special, anyway? The product description isn't just a technical space for you to add inventory and materials. It's a place for you to demonstrate why you brought this new product into the world in the first place. Hang on to this exercise—you'll need it when you start to hammer out your messaging, too.
One more thing to consider with your product descriptions: it can be easy to copy and paste these or to use what comes from the manufacturer, but you don't want to do that. Your product descriptions are your SEO power—use them to increase the organic search rank of your product!
Pick Your Promotion Channels
Think about how much promotion you want to put into this new product and equate that to sales dollars: as you think about how much you want to spend on paid search or giving out product to influencers, keep an eye on your return. How many items will you need to sell to pay for your advertising costs? How about to double them? Is that a reasonable number based on your previous sales?
Part of your new product promotion strategy should come from a mix of what's been working—email with social? Paid search? Shopping ads? Influencers? Analyze your past successes (and failures) to determine your best foot forward.
Segment, Segment, Segment!
Not everyone on your email list should get the same message about your new product. You'll want to consider unique messages for:
People who already bought something from you (and if you can, segment based on their purchase data to see if the new product is something certain buyers would like more than others)
People who have created accounts or started the buying journey but haven't converted
New people who have yet to tell you who they are on your ecommerce site (these would likely be people who are seeing your ads and engaging with your ads but haven't made the jump to give you identifiable information)
Hammer Out Your Messaging
You've got your channels and your segments, now you've got to create your messaging! Take a look at your product descriptions as a starting point—what makes this product truly special? Now start crafting a message that blends your unique brand voice and the data you know about your customers' journey to launch your new product marketing plan.
Oh, and the New T-Shirt
Without further ado, here she is: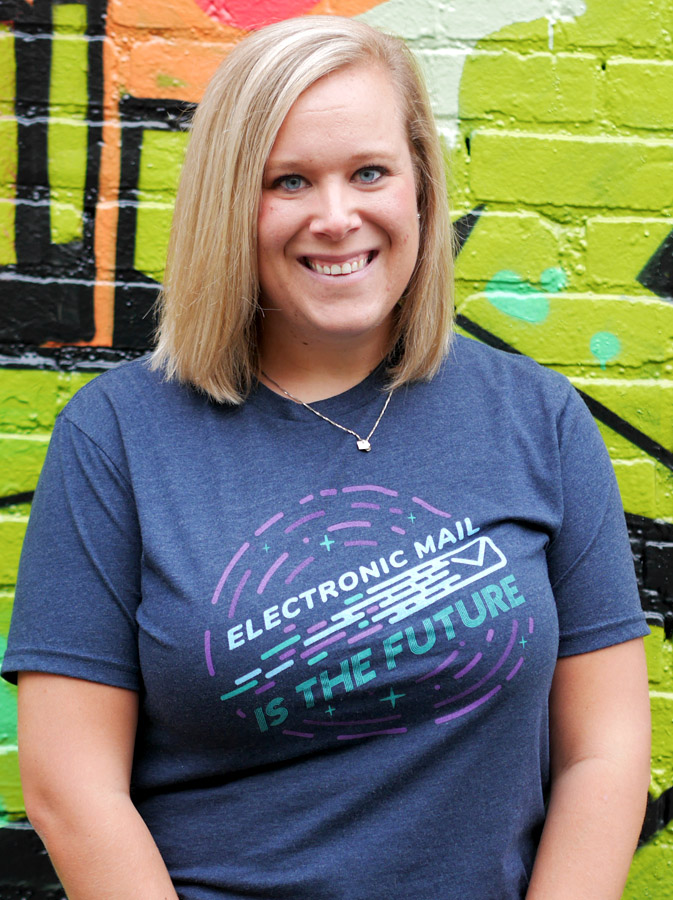 Don't forget to try out our abandoned cart email campaign on the emfluence t-shirt shop!
---