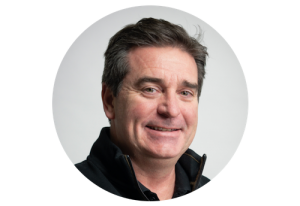 emfluence is delighted to welcome Joe Ramsey to the role of Customer Success Director! In this role, Joe will be responsible for nurturing long-term relationships with our emfluence Marketing Platform and emfluence agency customers. We're excited to have him dig into goals and metrics—and even more excited for our customers to work with him on their individual measures of success.
Joe joins us with more than 20 years of marketing and support leadership across B2B and B2C companies. He has overseen marketing strategies in financial, telecommunications, and technology industries, and he has lead account management and technical support teams for email marketing, webhosting, email and digital marketing services in North America, South America, and Europe. The core of his talents rests in fostering a culture of customer-focused and data-based analysis—which naturally makes him a great fit for the emfluence culture.
As Joe settles in with the emfluence team, we sat down with him to learn a little more about his background, his interests, and what he hopes to accomplish in the next few months.
Q1: What Skills Are You Excited Most to Bring to the Table?
JR: A cross-pollination of ideas from a breadth of industries, and the discipline of using data not only to better understand customer experience, but to help inform business decisions. Early in my career, I tended to see the world from the perspective of marketing metrics. Overseeing customer experience helped me understand the customer experience from a different perspective. I love surveys and focus groups. However, engaging with customers at the support level really lets you hear in the customer's own words where you're succeeding and where you can get better. I'm naturally curious and ask lots of questions.
Q2: What are you most excited about for the future of digital marketing? Marketing automation?
JR: Customers have so many channels to engage with businesses. I'm fascinated by how my kids engage in different channels and how marketers need to continue to earn the right to be part of their customer's lives. It's one thing to be visible to prospects across multiple channels, but am I relevant? Am I relevant in this channel? Am I adding enough interest, education, entertainment or value to earn your attention?
Q3: What are the top five items on your agenda for your first few months at emfluence?
JR: I am eager to join conversations with our customers. I really want to understand how clients engage with emfluence. I want to dive into our survey responses, ticket interactions, and reviews. I want to engage with our customer to understand their goals and where we may have opportunities to help. I am eager to understand our customer experience from onboarding through training to ongoing execution.
Q4: What's the number one goal you hope to achieve this year?
JR: Sounds simple, but I really want to engage in meaningful conversations with our customers. want to ensure that emfluence is a trusted resource and irreplaceable as a marketing automation platform.
Q5: Tell us a little bit about yourself outside of work.
JR: My very favorite thing to do is watch my kids' events. We have three very active kids, so we spend a lot of time at soccer fields, pools and tracks. It's absolutely my favorite place to be. I also am lucky to have found a gym that I love with people that I enjoy being with, and I start (almost) every day with them.
Welcome to emfluence, Joe!
Want to connect with Joe? Reach out to him on LinkedIn here, or send him an email to say welcome here.
---