Pandemic.
Protests.
Election.
Insurrection.
Impeachment.
Platforms v. Publishers.
It's hard to believe that these and other major societal and social shifts happened in the last year alone. If you are a business owner or an individual responsible for the operations and image of a company trying to adapt to these changes, it's been a herculean effort to even keep the doors open up to this point with so many external factors weighing upon us.
Whether it's local business owners trying to keep their teams and businesses afloat amid lockdowns, individuals crushed under the weight of social injustices brought into the national spotlight or employees and their managers struggling to fill the role of productive team member, parent, protector, educator and a million other roles thrust upon them—it's hard, nearly impossible, not to be reactionary when emotions run high.
Brands Taking Stands
Over the last 12 months we've seen commentary and reactions to the aforementioned from executives and business owners on their personal properties, as well as messages directly from brands on their public communication channels in the form of official statements. In both scenarios the outcome has both bolstered and broken businesses depending on their reception. This begs the question—should brands or their public-facing executives make comments or issue statements surrounding external crises?
While the answer for your business may vary, one thing is certain. If you are going to comment or make a statement, be 100% committed or do not say anything at all.
A lukewarm or out of place message will be taken as insincerity, exploitative, tone deaf, disingenuous, virtue signaling or worse. If your brand does not have a history of political outspokenness, cause-centricity or vocal activism, consider whether making a statement during a social or political crisis is genuine, necessary or perhaps opportunistic, especially when it could potentially make or break your business. Unfortunately, over the course of all we've been through in the last 12 months, we've seen all of the above.
COVID Communications Bloat
According to emfluence's primary research and feedback from other email service providers, email send volume increased by 177% to 250% year over year since COVID. Stunningly, this increase led to no measurable negative email metrics like unsubscribes or complaints. Consumers continue to increasingly want email as their primary communication mechanism with the brands they love. Unfortunately, some marketers are seemingly misinterpreting these trends and playing fast and loose with their programs.
Not since the days of GDPR and updated privacy policies have consumers received such a glut of junk email in their inbox. It seemed like every brand you've ever come into contact with (or socially distanced from) simultaneously felt the need to communicate their COVID pivots regardless of how applicable they were to the relationship consumers held with the brand. So prevalent was this trending misstep that it made the pages of major news outlets like CNN and The New York Times.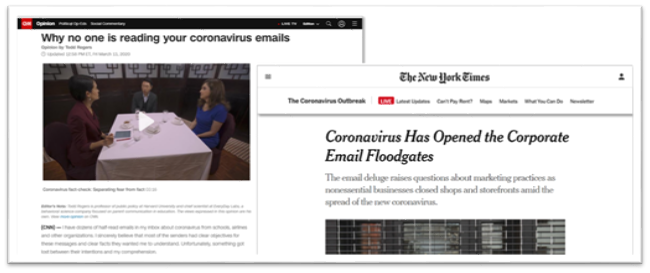 With growing email volume comes growing competition for the attention of consumers. Rather than batch blasting consumers with cookie-cutter communications about what they are doing, successful brands are focusing on segmentation, personalization, and relevant, timely and helpful content. In short, they're focusing on providing value in new, innovative and adaptable ways.
The fitness application, Map My Run doubled down on delighting their audience with content centered around COVID-safe exercise options. On the other end of the fitness spectrum, Chuck E. Cheese sent email offers for "Birthday Parties to Go" to parents who had been forced to cancel their scheduled birthday parties for their children. This was a smart, sensitive way to drive new revenue streams for a brand based entirely upon an in-store experience. Meanwhile, the adaptive nature of these tailored emails put the user at the center of the conversation and delivered value and a bit of respite in the midst of the pandemic.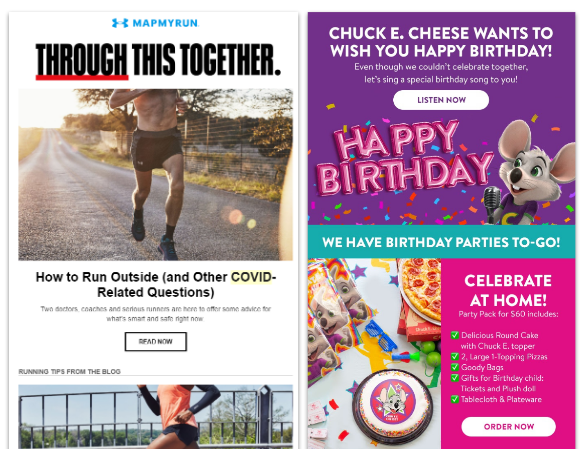 Sincere Cause Marketing
For years we've seen brands market themselves with corporate values centered around causes like sustainability, conservation, philanthropy and more. For brands like Patagonia, Toms, Bombas and Beyond Meat, their products are directly tied to the causes they care about. But more recently, brands have begun to gravitate towards causes that are unrelated to their actual products and outside of their organizations' core mission statements, but speak to the heart of people and consumers. There is no better example of this than the outpouring of support for the Black Lives Matter movement.

While racial injustice and equality are not political issues, they are often politicized. The Black Lives Matter/Blue Lives Matter/All Lives Matter crowds and the conversations around the sentiment that "Black Lives Matter" in contrast to the proper organization Black Lives Matter, turned three simple yet powerful words into a divisive subject among the public. Regardless, it became a rallying cry for many. This discourse made taking a position a risky choice for some brands. But in the end, those brands ultimately determined that the importance of the message outweighed the risk to business. When an organization truly stands behind their principles, it creates stronger brand evangelists who see their values reflected in the brands they do business with.
Problematic v. Profitable Political Positioning
Pizza Politics
It's an indisputable fact that posting political content is risky for a brand, especially when issued as an official statement. It can help solidify your base or alienate your audience entirely. There are examples of both outcomes.
Dallas-based chain Pizza Inn issued a self-admittedly bizarre statement via press release stating their belief that the results of the 2020 election should not be certified without an audit.
The CEO of Pizza Inn's parent company went on to say "We will no doubt be vilified by some for these reasonable and responsible suggestions. We fully understand the risks of wading into such heated political waters, but we believe some things—such as America's election integrity—are too important to stand by silently. Pizza Inn respects citizens' rights to agree or disagree with us, boycott us or visit us in solidarity."
These statements came as the company saw declines in sales of more than 20% and threats of delisting from the Nasdaq in response to plummeting stock prices. It's uncertain whether these statements from the chain were an attempt to rally a base to help its ailing business or a truly principled statement. Time will tell if this choice was expedient or not. Needless to say, it was obviously a risk.
Hot Takes from Penzey's Spices
For decades, the founder of Penzey's Spices has personally penned political discourse as the subject matter of his direct mail and email programs. While not particularly characteristic of a CPG brand, his lengthy diatribes about the state of American politics, sometimes going as far as to call President Trump racist and supporting his impeachment, have been well received by his core audience. After the 2016 presidential election, Bill Penzey even went as far as to email his customers stating that if they had voted for Trump, they "just committed the biggest act of racism in American history since Wallace stood in the schoolhouse doorway 53 years ago."
On the surface, these actions break every best practice of brand marketing. In reality, although not the intended effect, Penzey's sees support from its core customers in the form of incredible revenue spikes each time a potentially divisive message is broadcast from the founder. In fact, recently Penzey's achieved an incredible 98% YoY growth increase in revenue.
Penzey's is unabashedly principled and fearlessly political. Perhaps fiercely political. It's given them differentiation in a saturated space and built absolute brand advocacy from their customers.
2021 Examples
Dow Chemicals, Dell Technologies, Business Roundtable, JPMorgan Chase, Chevron and… Axe Body Spray. What do they all have in common? Their condemnation of Trump and the attempted insurrection in Washington DC in the first days of January 2021. While some of these larger global monoliths have a vested interest in weighing in on an attempted political coup, where does Axe fit into the picture? Their brand was thrust into the conversation rather than volunteering themselves as tribute.
Mike DeBonis, who covers Congress for The Washington Post, tweeted out a picture of a single can of Axe body spray, assumingly used by the mob for its flammable nature and not its enticing scent, that was left at the scene of the Capitol. His caption read, "Left by the mob: a lonely can of Axe body spray." And through no actions of their own, Axe was thrust into the conversation and forced to respond.
They addressed the photo, responded in their quirky brand voice, and condemned the violence publicly. Dare we say, masterfully?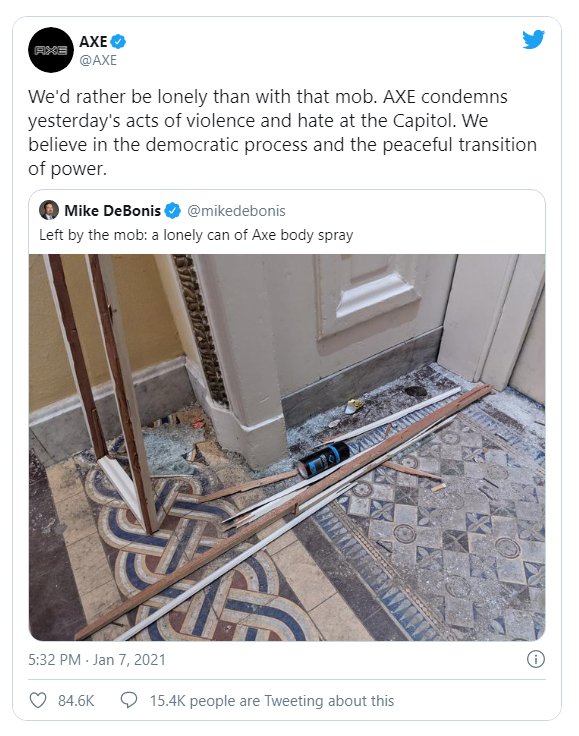 We've come to expect statements from Ben & Jerry's who have been politically and socially outspoken for decades and this instance was no different. They were quick to respond and concise with their sentiments.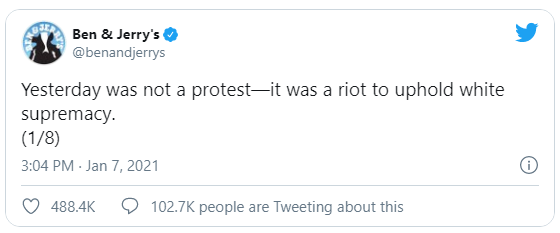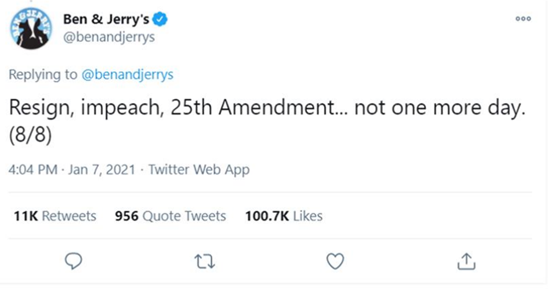 What If It Hits the Fan?
They say an ounce of preparation is worth a pound of cure—or something like that. When it comes to crisis contingencies, having a clear game plan is key. That all begins with being confident in where you stand on the issues from a brand position. The next piece of the puzzle is deeply understanding your tech stack and how it works. For those using an automation tool, consider this scenario.
You have a complex automation that includes eight triggers and a send associated with each and you find yourself needing to pause that automation to stay respectful of an external event. If you have a hypothetical contact that met zero of those trigger criteria when the automation was paused, but then meets all eight of those criteria when the automation is reactivated, will that contact receive eight sends at the time of reactivation? Knowing how your tech stack will react when the unexpected happens Is often overlooked but incredibly important.
When rubber meets road, only the leadership driving a brand can make the decision whether or not to quietly or outspokenly align with a cause or affiliation. Sometimes brands are forced into the conversation by external forces like Axe Body Spray and the January insurrection. In the event of a brand crisis, internal teams should contact their technology and communications partners to pause current efforts while a plan can be established. From there, an experienced public relations professional should be consulted before moving forward.
---