For the past several years, the concept of increasing consumer data privacy has been gaining momentum and has been slowly impacting how marketers use your data. GDPR and CCPA regulations have driven awareness of this movement, and big data collection companies like Google, Facebook, and Apple have been shifting to meet the increasing demand for more data privacy.
Last summer, Apple made the announcement that their iOS 14 update would include significant privacy updates that will affect all apps. Starting this month, these privacy updates (called App Tracking Transparency) will be a requirement for all new apps and app updates.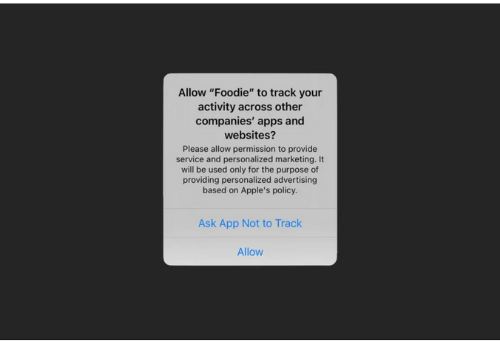 What are the new App Tracking Transparency Privacy Requirements in iOS 14?
The biggest requirement of the new iOS 14 privacy updates is that app developers will need to ask for explicit permission if they want to track a user's activity for advertising purposes. From an advertiser's perspective, this will mean a change in how they are able to serve ads across apps. For users, this will grant you the ability to manage how your data is captured and used.
In addition to requiring explicit permission from users before tracking their data across websites and apps, the Apple App Store will also feature a "privacy nutrition label" on every app product page. This privacy nutrition label will give full transparency into the app developer's privacy and data collection practices.
From a user perspective, these updates are great. Transparency is a good thing and knowing how our data is used will certainly be a step in the right direction for consumer privacy advocates.
The Impacts of iOS 14 Privacy on Marketing and Advertising
While these transparency updates for data privacy feel good and appropriate for users, they are creating understandable apprehension for marketers because they affect the data tracking permissions which drive advertising on platforms like Facebook, LinkedIn, Google, and others. Facebook has voiced strong frustration with the updates that Apple is enforcing, particularly because it will likely limit the effectiveness of their audience targeting capabilities for advertisers.
The biggest component of this apprehension is giving users the choice to opt out of being tracked. Marketers fear that most consumers will say they don't want their data across the internet to be tracked for the purposes of advertising. While this may be true, it isn't as drastic of a change to the privacy practices as one would think, especially when you look at it more generically. Savvy consumers have the opportunity to restrict data collection as it stands. While this will bring to the forefront the option of opting out of being tracked, it is not a massive leap from previous privacy practices. The bigger shift is being forward with transparency of what those data collection processes are. While we do anticipate some impact to overall performance along with some very likely shifts in audience targeting for iOS advertising, it won't kill your strategy.
How These Updates Impact Google Advertisers
Google has been working directly with Apple to ensure they are providing input and maintaining compliance with the new iOS 14 updates to data transparency. As the update rolls out, Google will no longer be using information (such as IDFA, Identifier for Advertisers). While Google is not heavily reliant upon mobile and iOS ad revenue, there should be anticipated fluctuation in delivery and performance for campaigns that do run on iOS. You shouldn't necessarily anticipate significant impacts on Google Search Ads, but Display, Discovery and YouTube campaigns using interest-based targeting will likely see a loss of data and general performance decline. Any Universal App Campaigns specifically promoting iOS apps or targeting iOS users would be most impacted.
How These Updates Impact Facebook Advertisers
Facebook has had a stronger response than Google, making specific movements that seem intriguing at first glance. First and most notably, they have chosen to eliminate Facebook Analytics effective June 1, 2021. This action is a direct step taken because of Apple's iOS 14 privacy mandates. Facebook advertisers will likely see a more significant impact than other platforms because of the heavy reliance on mobile and iOS users (particularly in the U.S. where iOS market share is higher).
What does the end of third-party cookies mean for your digital marketing strategy? Download our whitepaper to find out >>
Next Steps for Marketers in Response to iOS 14
There are a series of actions we can take. The brief checklist below will help you get started. As always, we recommend that you speak to your digital media team/agency to further explore the impacts to your marketing strategy.
Amplify First-Party Data Collection: The first and most important thing you should do is amplify your efforts to collect first-party data for your customers. As third-party cookies become a thing of the past, this will be a key factor in maintaining remarketing lists.
Implement Facebook Conversions API: If you rely on Facebook Advertising in any way, implementing the Facebook Conversions API will help you collect first-party data from Facebook.
Make sure you have verified your domain in Facebook in order to fully capitalize on Facebook First-Party data collection.
3. Google Conversion Pixel Updates: Google has recently switched their conversion pixel from a third-party cookie to a first-party collection. If you haven't received this notification from Google, you should look into it proactively and implement. While this may not be a significant factor with iOS Privacy updates because of how Google ensures data compliance, it may help overcome some small performance reductions due to the change.
4. Evaluate your iOS app advertising strategy: Consider taking a more scrutinous look at the iOS apps on which you are advertising and ensure they are compliant with data transparency.
5. Consider adjusting your mobile ad targeting (if possible) so that iOS and Android are targeted separately: Due to how data will be collected differently now, you may be able to minimize impact to mobile app targeted campaigns by taking this step.
As a side note, it is not unrealistic to expect that Android will likely move in a similar direction in the very near future. Based on Google's move with Chrome and the overall approach they have taken with improving data privacy and data collection transparency, you should begin acting as if Android and iOS have the same privacy criteria.
Have questions? Reach out to our experts to learn more!
---