It's October 1st. Sure, we still have Halloween to look forward to, but many of you are likely planning your holiday promotions calendar, working up your ideas for email and social media campaigns. What are the benchmark dates this year (2014)? Take a peek: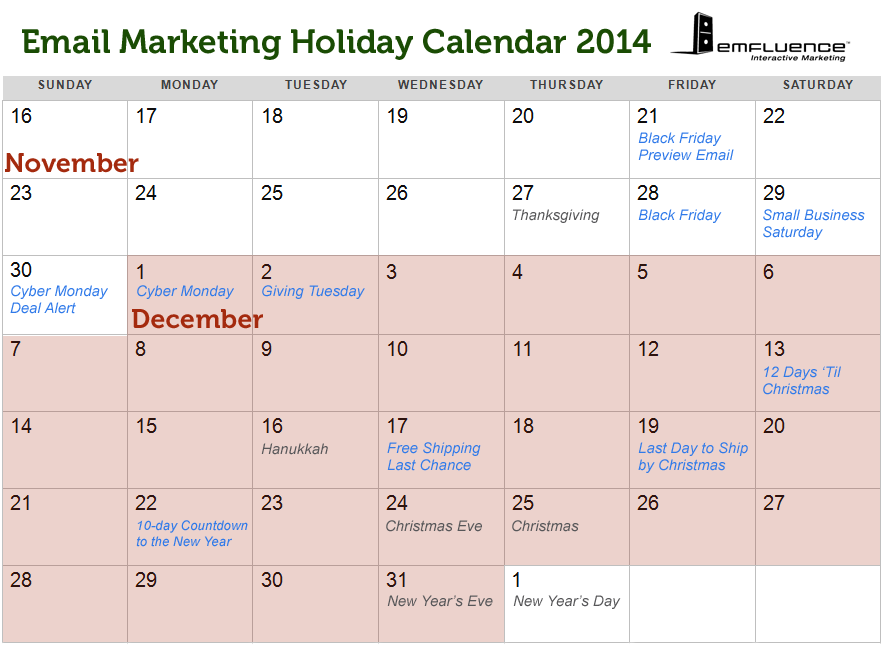 Friday, November 21st – The Friday before Thanksgiving tends to be when inboxes start filling up with Black Friday promotional preview emails, promising just one week until great deals!
TIP: This is especially helpful if you're afraid that slow delivery of your Black Friday emails may put a damper on your sales. If customers are ready and waiting, they can hang on to your preview email and start shopping when the day hits.
Thursday, November 27th – Thanksgiving
Most email marketers may want to take it easy on Thanksgiving, especially Business-to-Business deals, who also usually skip the day after (unless you've tested in the past and it's worked!). Some Business-to-Consumer marketers send email campaigns as early as Thanksgiving night for their Black Friday and Cyber Monday deals — test to be sure it's worth it before emailing on a recognized holiday.
Friday, November 28th – Black Friday
Black Friday is the start of holiday shopping insanity for stores with physical locations. Try to send email campaigns early in the morning to try and get into inboxes before shoppers head out. It may also mean that you hit inboxes before the deluge (though many marketers are sending pretty early!). If you know your shoppers aren't morning people, try later in the day for the second wave into the inbox. If you're looking for a way to stand out in the crowd, don't email at all on Black Friday. (Gasp!) Try somethign for Small Business Saturday or earlier in the week. (See the preview email, above.)
Saturday, November 29th – Small Business Saturday
This is one of my favorite dates of the season. Small Business Saturday is when local stores can drum up their portion of Black Friday weekend business. If you're a small business, focus on the benefits of buying locally and the uniqueness you have to offer. Just like on Friday, you'll want to send earlier in the day (5:00AM isn't too early!) if you want to catch shoppers before they head out.
Sunday, November 30th – Cyber Monday deal alert/sneak peek
The day before the biggest online shopping day of the year tease the offers your customers can take advantage of. Tell your customers what they can look forward to before their inboxes are overloaded and they're already clicking! Keep your emails short and deal-focused for Cyber Monday shoppers, and, of course, have a clear call to action near the top of the email.
Monday, December 1st – Cyber Monday
If you're an eCommerce site, this is your big day to grab a slice of the spend. Send an email/a reminder email about the incredible online deals you're offering for one day only! Don't want to mess with the frenzy (or don't want to heavily discount your product)? Cyber Monday isn't required. You may want to do a pre-season shoppers day or focus on the rest of your holiday calendar to avoid paying for email campaigns that get lost in the shuffle.
Tuesday, December 2nd – #GivingTuesday
The Tuesday after Cyber Monday this year will mark the 3rd annual Giving Tuesday, a movement to drive donations to causes rather than product sales. If you're a nonprofit, this is your day to take advantage of the biggest spend week of the season.
Saturday, December 13th – 12 Days Until Christmas offer
If you have a wide range of products to feature and want to highlight one per email, you could do a 12 Days countdown, starting on Saturday the 13th this year. If you want to end on Christmas Eve, start on December 12th. You may also decide to count down to Hanukkah or offer a new product idea for each of the 8 days of Hanukkah.
Tuesday, December 16th – Hanukkah starts, running through December 24th.
Wednesday, December 17th – Last Day for Free Shipping
Check your own company's distribution/shipping logistics, but often the 16th or the 17th of December is the last day for Ground shipping and arrive by December 24th. This is usually the last day that many online retailers offer free shipping. TIP: free shipping is one of the best performing retail promotions of the holiday season!
Friday, December 19th – Last Day to Ship Offer
Again, it depends on your own fulfillment rules, but typically, this is the day you'll promote as the last day customers can place an order and receive their products by Dec 24th (i.e. fulfillment on the 19th or 22nd, shipment on the 23rd, overnight for arrival on the 24th).
Monday, December 22nd – 10-day Countdown until the New Year
This one was pretty popular in 2012 and 2013: Fitness and other companies that want to help customers with new year's resolutions did a 10-day or even 5-day countdown to the New Year (for a "New You!"). If you're going to get engagement on a typically sleepy week, be sure you have a compelling offer and a relevant product. Typically, this isn't the window for sugary treat sales.
Wednesday, December 24th – Christmas Eve
Thursday, December 25th – Christmas
Ultimately, it's up to you (and your analytics proving whether it works or not) to decide to email on Christmas Eve or Christmas. Be prepared for lower engagement rates, especially in the morning. If you don't have a pretty good offer, it's ok to take a break for the rest of the week.
Friday, December 26th – Kwanzaa
Wednesday, December 31st – New Year's Eve
Thursday, January 1st – New Year's Day
I'm sure there are many days in between that you've got emails, Facebook promotions, Instagram hashtags, etc. tucked. This is just a guide you can hang up at your desk to keep your eyes on the big dates. Happy Holiday (Marketing), all!
---