Since the onset of the coronavirus crisis in the U.S., we have had multiple clients approach us with uncertainty and questions. How is the coronavirus affecting current user behaviors? How do we think it will affect ongoing, long-term search behaviors?
The truth is, we're experiencing this for the first time along with everyone else. But as a data-driven agency, we wanted to dive in and provide some insight into current trends and we put our heads together to discuss.
We analyzed all our client data to see how the coronavirus is impacting organic search traffic and conversions. We looked at the latest 3-weeks (3/1/2020-3/21/2020) and compared it to the previous three weeks (2/9/2020-2/29/2020).
The impact of the coronavirus on organic search metrics
Organic traffic: 10% decrease
Organic conversions: 11% decrease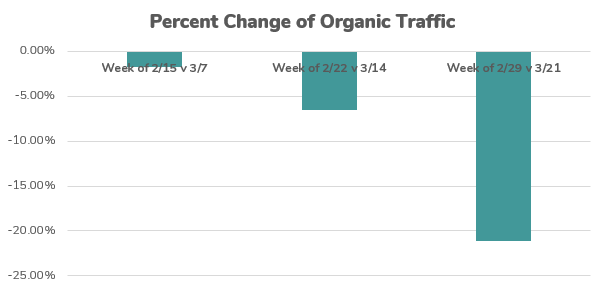 Over this 3-week period over period review – our clients on average saw a 10% decline in organic traffic and an 11% decline in their primary goal conversions. You can see that this decline was the greatest the most recent week – the week of 3/21/2020.
Most of our clients saw larger declines, but a few of our 'essential' business clients saw major increases.
How to know if COVID-19 is the cause of change
Seeing a major decline or increase in your organic search traffic and conversions may have you asking yourself these questions:
Is this due to user behavior changes caused by the coronavirus?
Is this due to an algorithm update?
Is this due to poor performance from our SEO efforts?
I'd recommend looking into these metrics, along with your traffic and conversion metrics:
Google Search Console (GSC)
Look at your performance within GSC. Specifically look at the queries that are/were driving traffic to your site.
If the clicks and impressions have been impacted but your average position and click-through rate have remained stagnant – you can assume user behavior has changed.

This shows that your "SEO performance" (rankings and click-through rate) remained the same – but the "user behavior" (amount of users searching for you – their current interest in you) has changed.
Google Trends
After reviewing GSC – you can backup your user behavior assumption with some Google Trends data.
Type your brand name and/or your previously top traffic driving keywords into Google Trends. You will likely see declines in the popularity of those searches during this pandemic.

In the example pictured above, social distancing has caused the popularity of this search term on weekdays to be less than the popularity on normal weekends.
How Will COVID-19 Affect Trends Long-Term?
While the current state we find ourselves in as marketers is largely unprecedented, we can all find some solace in knowing that we're all experiencing these trends together.
It's our belief that in time, as individuals become accustomed to their work-from-home environments, regulations loosen and the economy receives aid, we will eventually see a return to normalcy for users' digital behaviors. We consider it more of a question of "when" than "if."
For some, this return to the mean will come sooner than others. In fact, according to some marketing voices, many verticals such as finance, food, media, healthcare, and pharmaceuticals have seen increases in their traffic in response to the situation at hand. And if it proves to be true that there exists a "pent up demand" among consumers, that return to the mean could be more of a pendulum swing than a gradual return.
Of course, time will tell, but with a sound action plan and an eye for data, we believe that better days are surely ahead.
---