Looking for a way to easily and effectively communicate with your prospects and clients? Email is the perfect channel for the job!
When used correctly, email can serve as a valuable relationship-building tool for every step of your customer journey. In the buying process, email is the third most influential source of information for buyers, listed only behind direct referrals and influencer advice, and with an estimated 122% ROI on total spend, email drives an ROI that's four times higher than other marketing formats. Tack onto that that 47% of consumers prefer email for brand communications, and the business case for investing more marketing resources in email gets even clearer.
Before we jump into the types of emails to use along your customer journey, however, let's look at what we mean when we say "when used correctly." Effective email is:
Personalized
Segmented
Useful
Timely
Requested (yes, opted in)
In short, send people things that are relevant to them (not you) at a time that makes sense for them, that they have asked to receive, and that are personalized as much as possible (don't stop at First Name).
Got that down? Let's see what sorts of emails can apply to the customer journey:
Email for Awareness
Think of the awareness phase of your customer journey as the first time you bump into someone new. You don't know who they are, and they don't know who you are—at this point, you're both in a position where you could say hello or keep moving on about your business.
This step is how you're going to attract people to your email strategy in the first place, otherwise referred to as list acquisition. Remember that does not mean buy a list—this is simply how you'll attract people to sign up for your emails.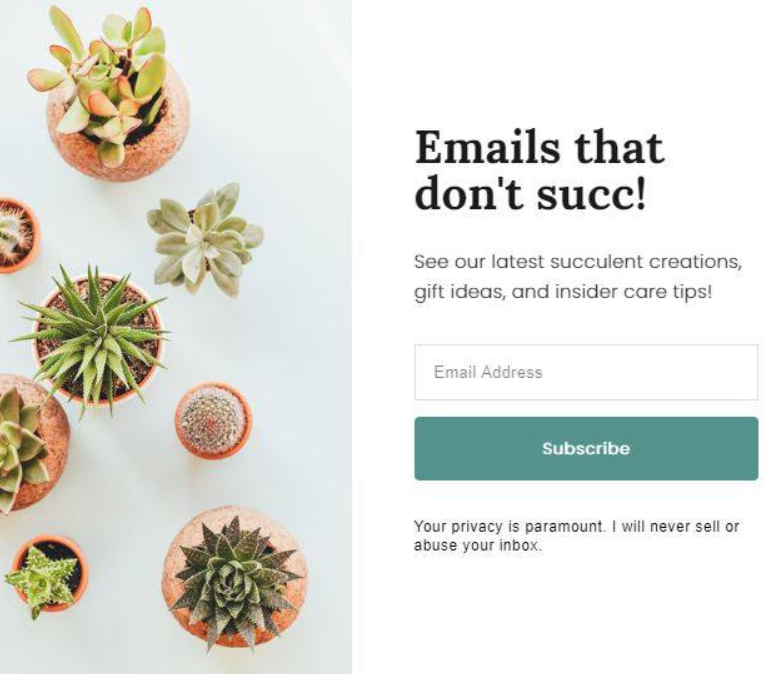 Social Ads: Have great content? Deliver social ads that promote your awesome content via newsletter sign ups. These can be used as a series or ongoing email campaigns—if, for example, you want to promote subscriptions, consider encouraging a six-week "sneak preview" into what sort of subscription content you would ultimately provide.
Display Ads: Did you know that 9% of sales email opens are based on subject line alone, and 69% of people will report spam simply based on subject line? Use your display ads to A/B test important subject lines at a much lower cost.
Google Analytics: Use Google Analytics to gather information about what types of content topics to send via email.
Ready to make a connection? Let's look at…
Email for Engagement
The engagement step of the customer journey is typically where you have your first real interaction with a prospect—think of this step as the point in which you shake a new person's hand and introduce yourself—first impressions are important in this step, so be on your best behavior and be sure to put your best foot forward.
In this step, you're trying to turn anonymous visitors into leads, and email can help you do just that. A few types of emails you might consider at this stage include:
Content Downloads: Encourage visitors to download a highly valuable piece of content by entering their contact information on a landing page (here's where you want a marketing automation platform rather than an email service provider—we recommend the emfluence Marketing Platform, naturally). Rather than delivering the content via browser download, sending it in an email as a PDF allows you to ensure you can add calls to action (like subscribe to our newsletter) or recommend complimentary content.
Contact Request Confirmations: Your sales team will be the first to tell you that you can't convert 100% of contact requests into sales qualified leads—in fact, even though industry standards suggest you should call inbound leads within five minutes of their request, more than 50% of businesses wait five business days or longer to actually reach out. Using email, you can be in the sweet spot of first respondents (all automated, of course), which puts you solidly in the running for converting that inbound lead.
Event Notifications: Not everyone wants a true newsletter, so create a category of email that allows people to opt in just to event notifications—sometimes blog content can be better translated in person, and adding events as a touch point in your customer journey can help you build stronger relationships with prospects and customers (check out our Beer + Learn event series for an example).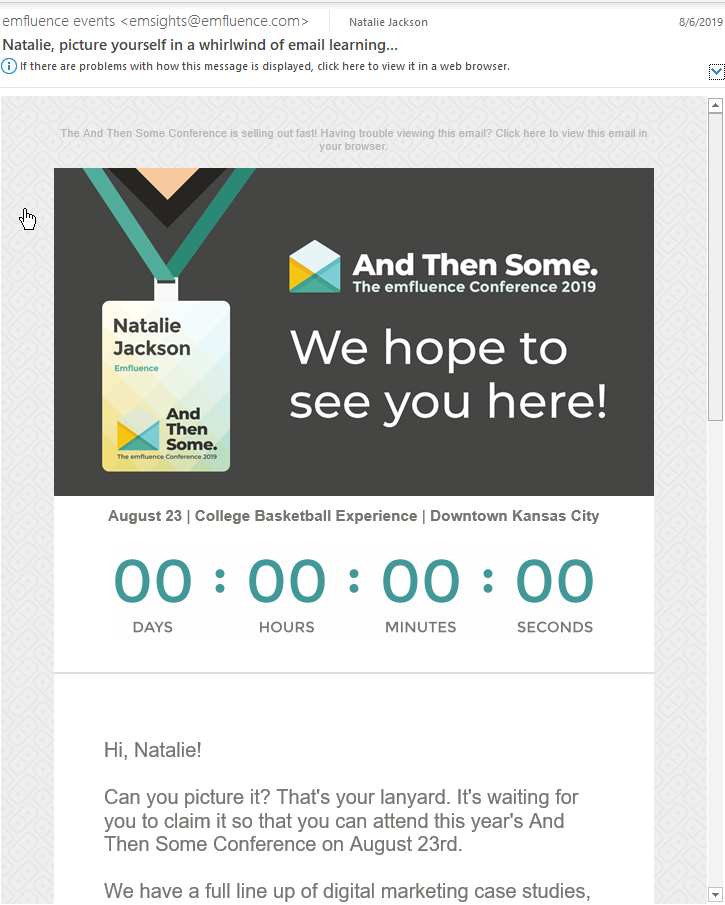 Lead Scoring Outreach: Put that lead scoring metric to use! Using the emfluence Marketing Platform, you can create a dynamic group based on "contact score is greater than" and scrubbing out prospects and clients you already know. This gives you an automated group that you can send a "how may I help you" email to.

Email for Nurturing
The nurture step of the customer journey is where you're having your first conversation with a new prospect. You're getting to know them and they are getting to know you—here's where you'll share what makes you special. For email, that can translate to:
Post-Content Download Campaigns: After someone downloads content, you can send them a handful of complimentary emails that reference case studies, research, or additional learning tracks they might be interested in. Sending between four to seven emails in a nurture sequence can triple your reply rate—just be sure what you're sending is about them and not about you.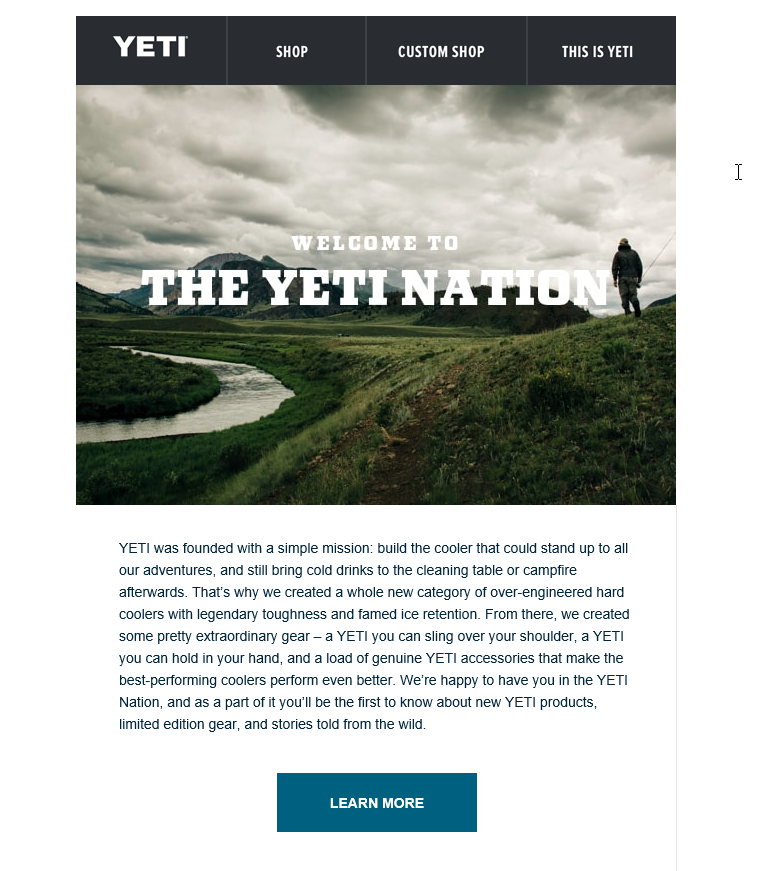 Lead Re-engagement: Got an inbound lead that sales couldn't reach? Schedule a nurture that runs for six months to a year with routine check-ins "sent" from their account rep.
In Competitor Contract Nurtures: This is specific to B2B marketing, but email is a great tool for keeping leads engaged, even if they are stuck in a competitor contract. To do this, have a field in your CRM that designates when that competitor contract will expire and automate a check-in campaign that starts six to nine months before that contract expires.
Website Visit Emails: For B2C marketers, you can make your potential buyers' lives easier by sending them an email full of recommendations based on recent searches. If they didn't buy during their search and you know you have a lot of inventory they probably missed that's related to their search, these emails can help them curate the most popular items that match their search query—which makes you helpful, not pushy.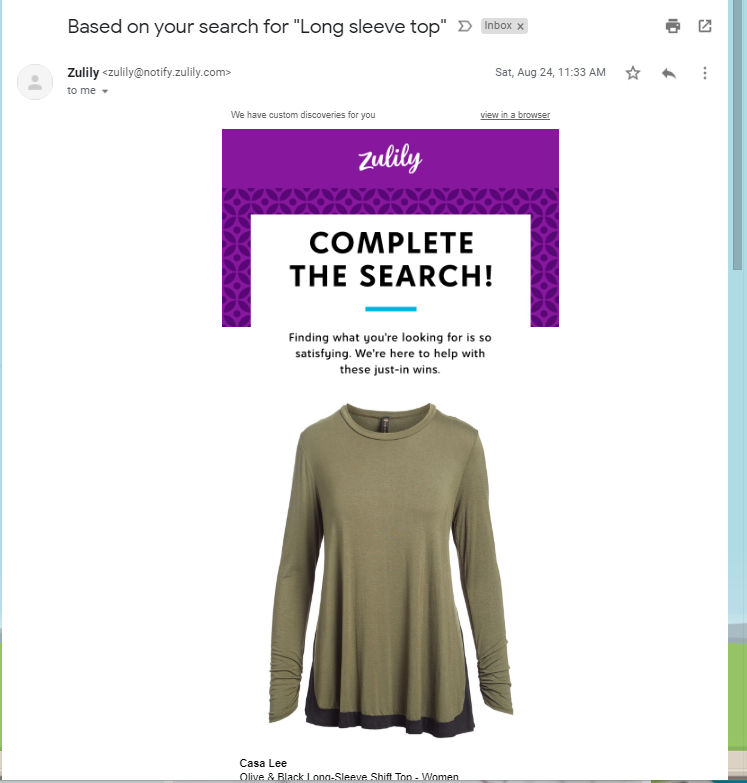 Email for Sales
The sales step of the customer journey helps you facilitate the closing of cold, hard cash. The sales email is a staple for email marketing strategy, so let's look at a few (of many, many) options:
In-Stock Reminders: Running an ecommerce store? You can pair your website tracking with your inventory to show a list of users/clients who searched for an item that was out of stock—once you've replenished said stock, send them an email to let them know.
Renewal Reminders: If your client base is on a contract that doesn't auto-renew, sending emails reminding them of the value of your produce or service is a great way to facilitate a renewal. This works well with "freemium" upgrades as well.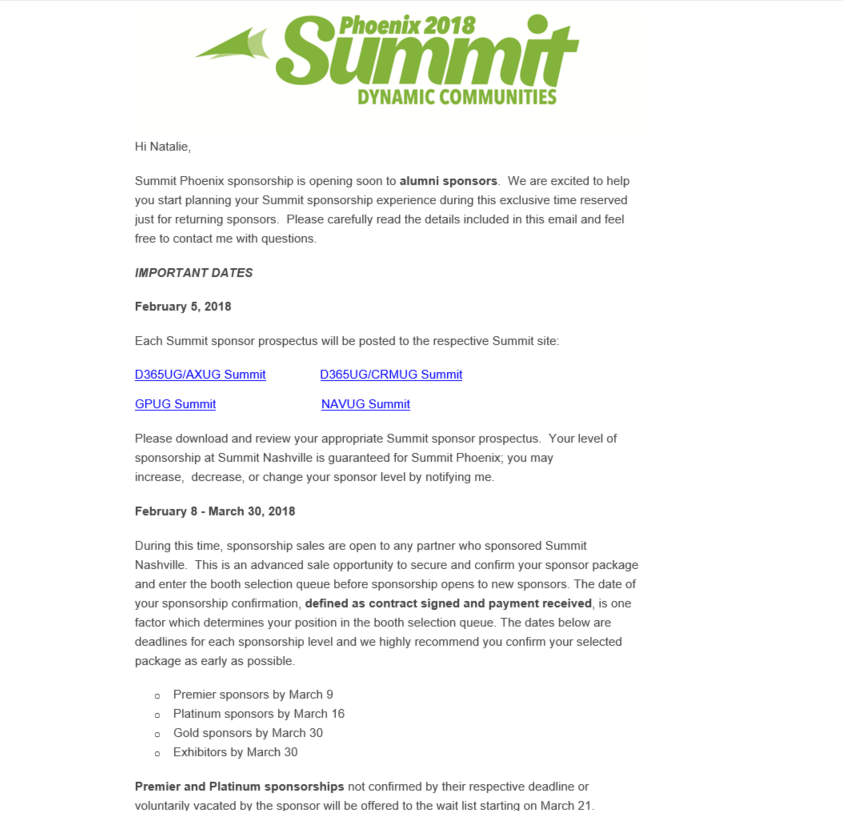 Cross-Sell/Upsell Emails: If you know that most clients who have Product X can get additional value from also having Product Y, you can create campaigns where you're automating that recommendation within an email. This can either be through a purchase confirmation or through an email sent after your new client is properly onboarded with their new purchase.
Winback Campaigns: Have clients that bought before and haven't bought in a while? Run a special offer winback to just that list and see if you can't get them in the door a second time (more on these here).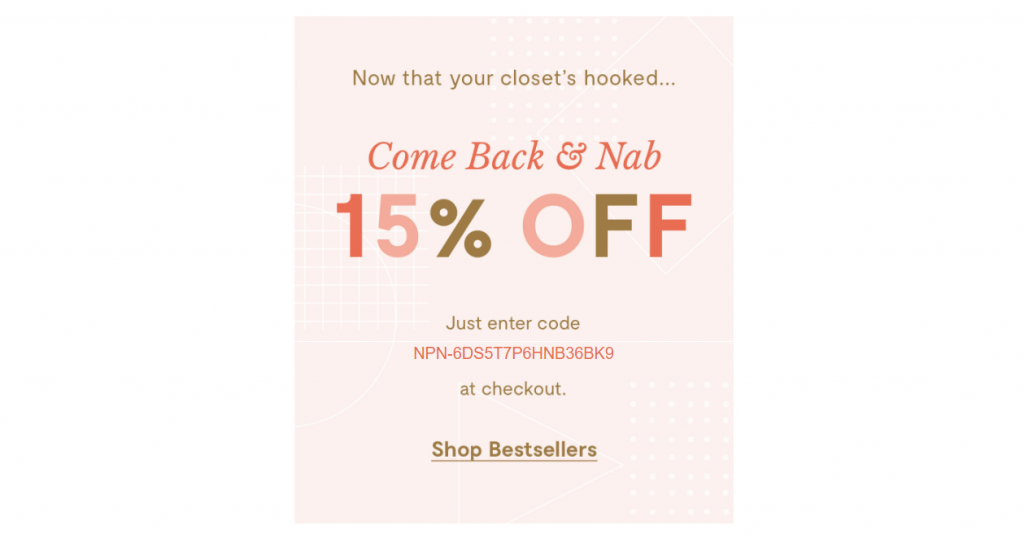 Email for Customers
The customer step of the customer journey is just as important as the buying step—except this time, you're focused on retention. That means your email goal here is to provide value above and beyond your product or service. In email, that can look like:
New Client Onboarding Series: When you sign a new client, automate them into an onboarding series that runs for several months—touchpoints should include what they should expect as they are onboarded, key points of contact if they have trouble with anything, dates or service data they need to know, and surveys to check in on their current experience (more on these here).
Milestone Emails: Have a lot of data about your customers' use of your product or service? You can use a milestone email to send them the exact value they receive from your company, 100% personalized to their experience, like so: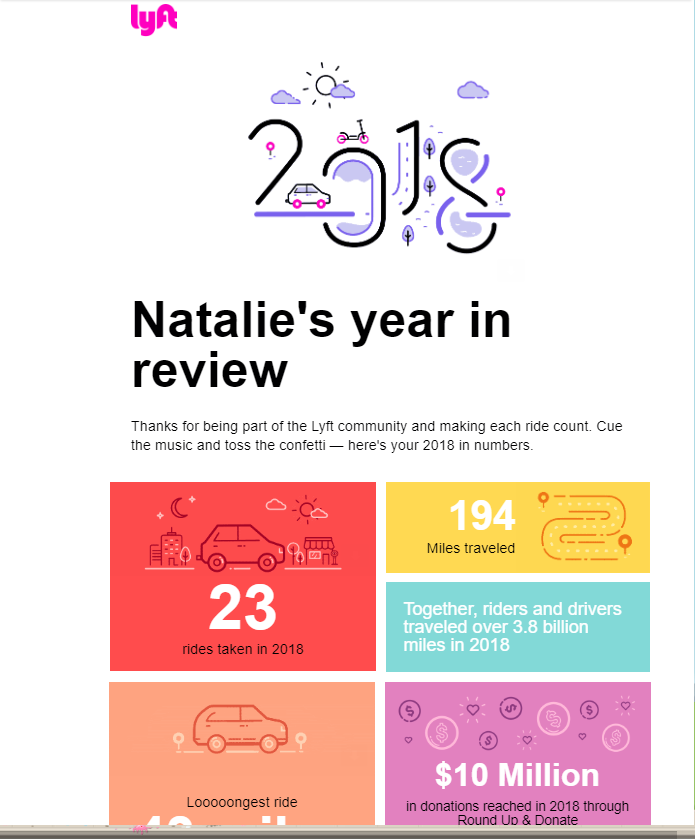 "Gone Silent" Customer Emails: Using the emfluence Marketing Platform, you can create a dynamic group that searches for "inactive in the last six months" and "is a customer"—then automate that group a survey or an email on behalf of customer service to see why they've gone silent and how you might re-engage them.
Mapping out your customer journey is just the first step—once you know what touchpoints are happening as unknown visitors become leads, opportunities, and customers, you can begin to incorporate emails that build trust and deliver value to your base of subscribers.
---