First impressions are everything. That first point of contact is your chance as a brand to really shine and impress current and/or future customers. That's why a welcome email series is so important to have in place! In this blog post, I'm going to cover some of the best practices and most compelling (if not obvious) reasons why you should be incorporating a welcome email series into your new customer or lead acquisition strategy.
Be Prompt with Your Welcome Email
Don't keep people waiting. I recommend sending your welcome email as soon as consumers subscribe to your emails, and it turns out that is what they expect too! As much as 74% of consumers expect a welcome email as soon as they subscribe, and if you're running ecommerce, chances are they are currently on your website looking to make a purchase. Whether or not they receive their discount immediately could make the difference between them completing their purchase or abandoning your site.
This works with new customers in B2B marketing, too—after an often long sales cycle, sending a welcome email series as soon as the deal is closed is a great way to make your new client feel the love. Here's a great welcome email from Mirren, which has all the good basics, including:
Key point of contact
Value
Examples
"need help" call to action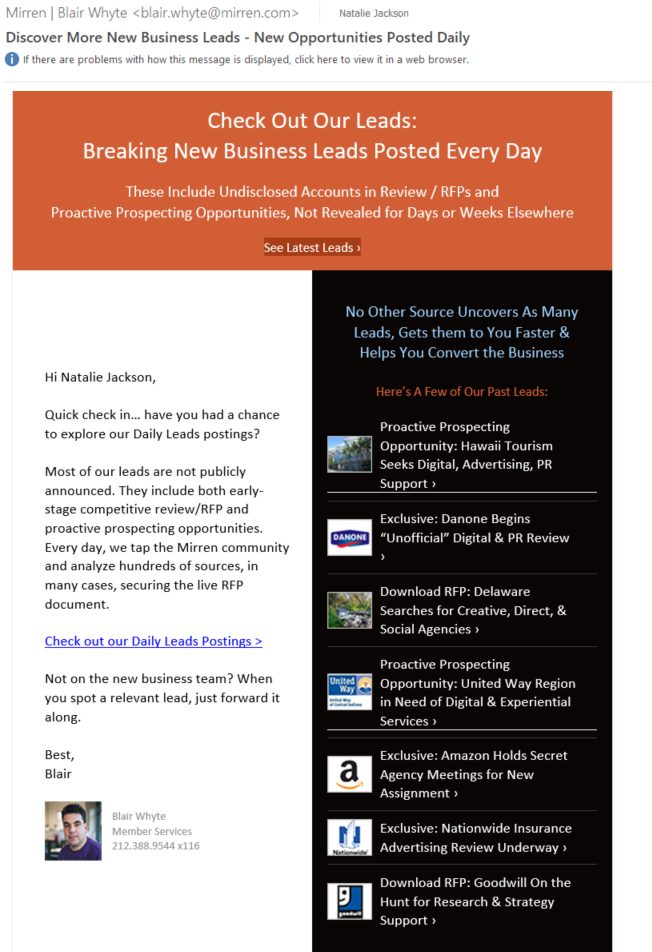 A Welcome Email Is the Nice Thing to Do
For starters, it's just kind of rude not to say hello to people who are new to your brand. They're taking one of the first steps to initiate a relationship with you, so the least you could do is send them a simple note that shows your appreciation for their interest. Plus, the average open rate for welcome emails is approximately 50%-60%, which means that consumers are actually excited and expecting to hear from you! That should make all you marketers out there feel all warm and fuzzy on the inside. Now is the time to share the best of the best with them. Who are you? Why should they love you? Use a little brand personality, and introduce your brand just as you would introduce yourself as a person. Here's a great example from Tension Corporation: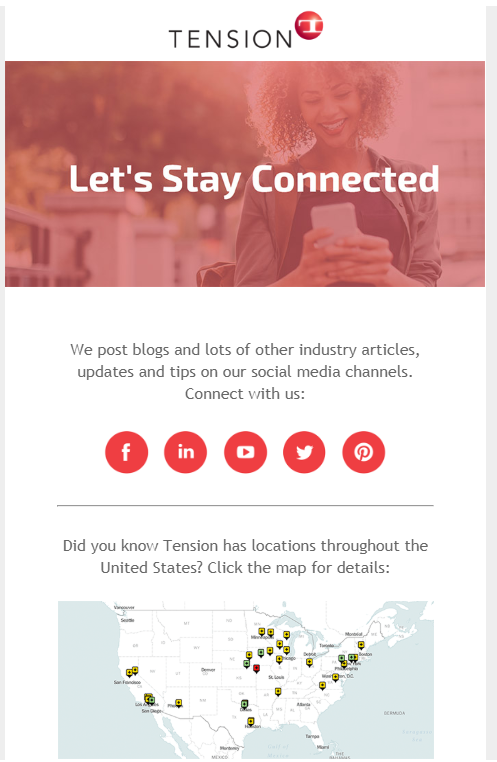 Keep Your Welcome Email Short, Sweet, and to the Point
Your message doesn't even need to be in depth and lengthy. In fact, welcome emails are usually short: 65% of welcome emails range from 50-150 words in length.  During your brief message to them you can simply thank them for subscribing and also set some expectations on how often they should expect to hear from you, as well as what type of content you'll be sending them. This does wonders for your engagement rates, as your subscribers (and your new customers) understand what they're in for from the get go. Check out this simple one from Airbnb, which also asks for a bit more information and helps you get started using the product: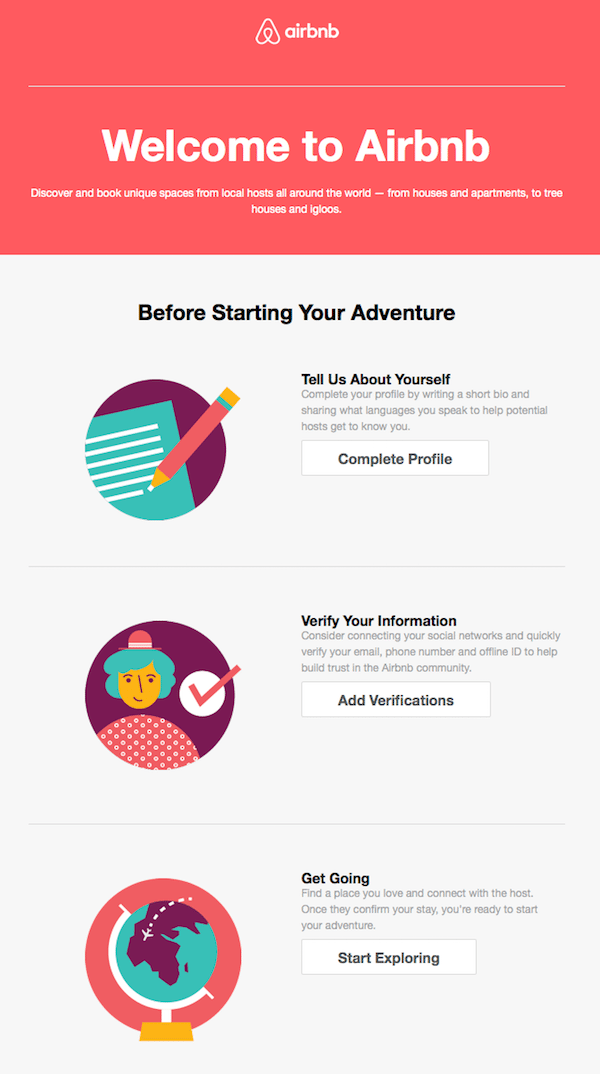 Or this one from Ancestry.com, which provides some guidance on how to get started: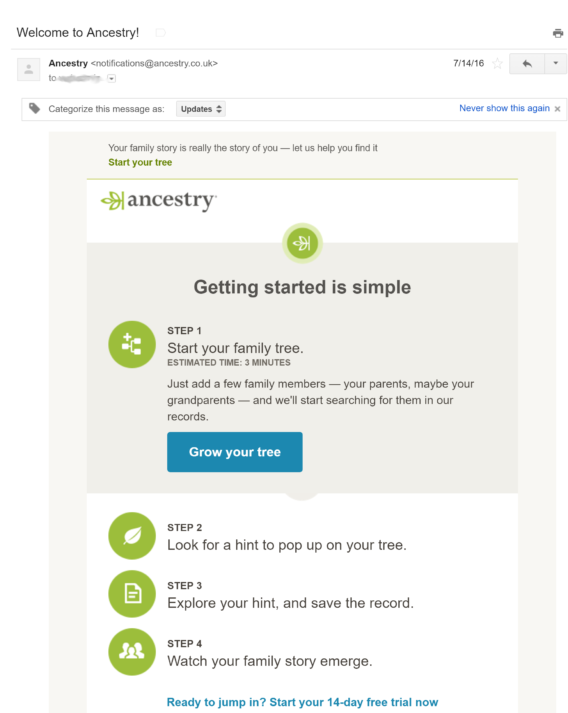 Deliver on Your Promise
If you used some kind of incentive to entice consumers to subscribe to your emails, then make sure you are actually delivering on your promise. ModCloth.com is a great example of this best practice! They promised that anyone who joined their email subscription list would get 15% off their purchase, and that is exactly what happened! It really is as simple as that.
Don't Be too Pushy Yet
You'll eventually want to start gathering more data on your consumers and finding out more about what their interests are in order for you to begin sending targeted messaging, but your first email is not the time to do it. Remember, your first message to new subscribers doesn't have to have a ton of pizzazz (we'll save that for a later email). BUT when the time does come where you want to start learning more about what your consumers like and don't like, here is a great email example from The Roasterie where they share a little bit about themselves and ask that their subscribers do the same (they also offer a discount, which makes it a little bit sweeter of a deal for consumers).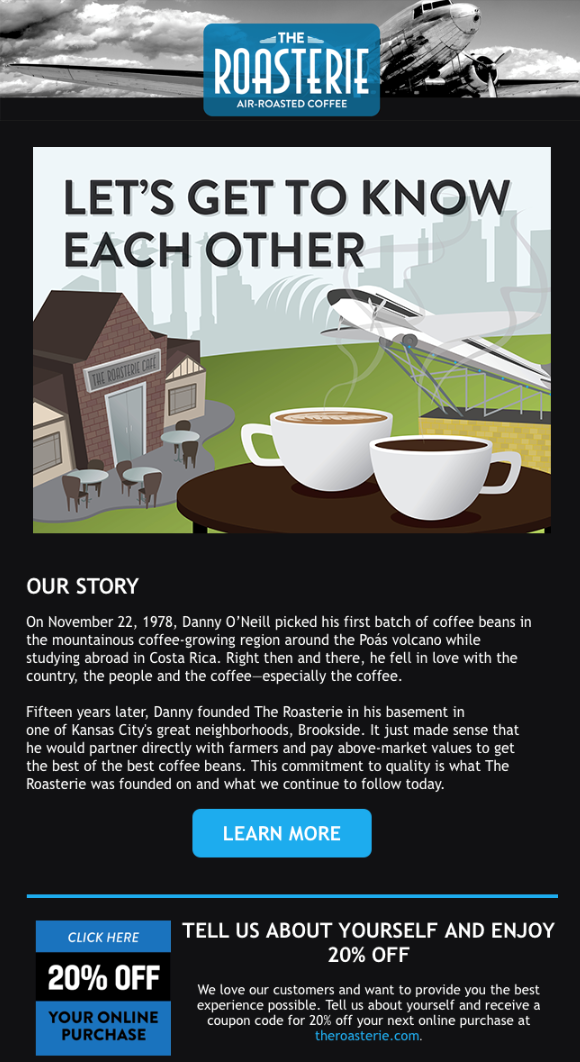 It's not too late to start a welcome series of your own, and I promise you it'll pay off in the long run. It's all about staying connected with the consumers who want to be connected to you, so make sure you're paying extra attention to these subscribers. They're the ones who are going to be with you for the long haul.
---