You've put together a solid review strategy to improve local SEO and build your online reputation, and now you're seeing a few subpar reviews come in – don't panic.
A few negative reviews are inevitable. According to research from TrustPilot, venting frustrations is among the top motivations for writing online reviews. People want to share a notably good or bad experience to feel empowered or help others make a better buying decision. Instead of feeling disappointment or frustration when a negative review comes in, try to see value in the opportunity it provides. An opportunity to learn, calm, convert and grow.
Here are five steps for handling negative reviews:
Listen
What's the problem? Why did it happen?
Reviews are one of the best ways to gather market research and insight into your product or service. Be it issues big or small, content factual or biased, there's something to learn from your customer's experience.
Respond
What can you tell them to ease their angst?
Think about how the conflict can be overcome. Overcoming conflict with customers will strengthen the relationship, and potentially build trust in bystanders who are following the exchange.
Sincerity, personalization and follow-through are the keys to a good response. Avoid over-used customer service phrases that feel scripted and disingenuous, such as, "We're sorry to hear that," Or "Sorry for the inconvenience." Try to be frank and specific in your response, treat it like a friendly conversation, and offer a brief explanation, if there is any, like so: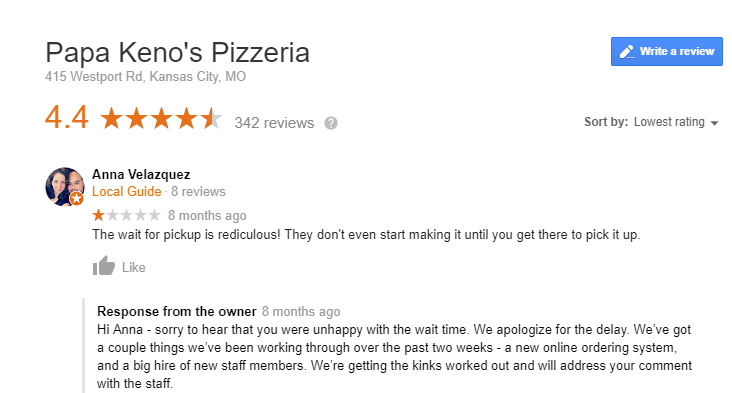 Reflect
How can the situation be avoided next time?
If it's simply a matter of distaste, there may not be much you can do. Maybe they were displeased because they weren't in your target audience. But if their review mentions product flaws or breakdowns in any process in the customer journey, they deserve thanks and attention. There may have been less vocal customers who had similar negative experiences. Simply responding to unhappy reviewers with a heartfelt apology and makegood isn't going to prevent further negative reviews if the root of the problem persists.
"Intellectuals solve problems; geniuses prevent them." – Albert Einstein.
Share
Who needs to know about it?
I'm not talking about a blame game; consider who on your team can benefit from hearing the account, offer additional context around the negative feedback, or help to remedy the situation. Context is important for validating and responding appropriately.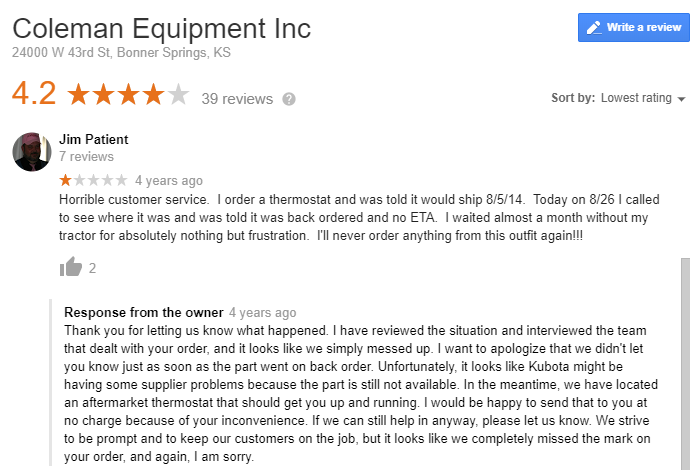 Analyze
Are you seeing any unusual upticks, or sudden improvements in the frequency of negative reviews?
This goes along with the previous two points. Once you've shared and responded to criticisms with your team, look for improvements on any prevention strategies implemented. Keeping an eye on trends will also help you spot sudden breakdowns in protocols or the integrity of your product or service.
The gist: don't ignore the opportunity a negative review provides. If it's handled delicately and the right people are notified to address it quickly, you can rebuild your customer's trust.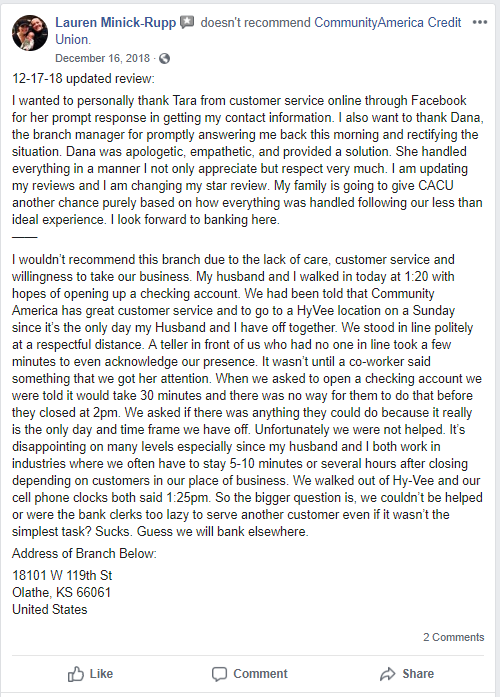 For more learnings on online reviews, check out these other articles:
---