In the last few weeks, companies everywhere have had to make important decisions on how to adapt their marketing strategies to the rapidly changing circumstances surrounding COVID-19. Email, in particular, has been heavily relied on to communicate a lot of information with customers and clients. It's important to note that in many situations, not sending at all is better than coming across as insensitive or tone deaf during a global health pandemic. However, in the event you have important information you must relay to your clients during this time, here are some things to consider when designing an emergency email for COVID-19.
Layout & Design
Keep things simple and copy centric. This is not a time to play with new layouts or add playful visual elements. You want to come across as authoritative and informative for emails sent during an emergency. Consider using a pared-down layout with your logo or a simple hero image at the top, followed by a text block as the main content. During emergency situations, you want the information to overpower the design, not the other way around.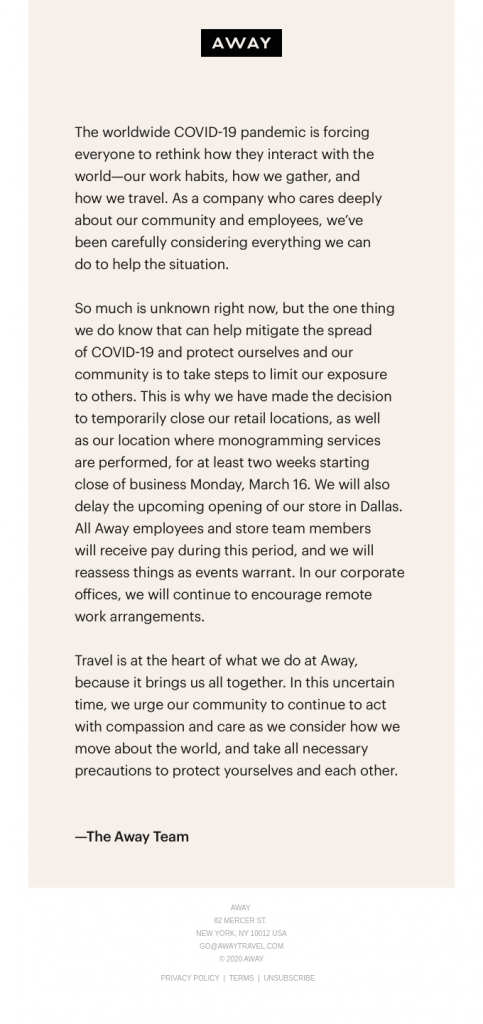 Informative and Valuable Copy
Ensure that your copy is informative and valuable to your subscribers. Ask yourself, "what's in it for the customer?" before sending. Does your company have closures or limited hours? Are services being postponed? Have you cancelled existing reservations? If so, communicate that in a calm, factual way. If your message fails to add value for the customer or doesn't impact them directly, reconsider your decision to send.
Keep consistent with your usual voice and tone, but if you tend to be more cheerful and fun with your copy in your day-to-day emails, try reining it in a bit to convey that your company understands the seriousness of the Coronavirus pandemic.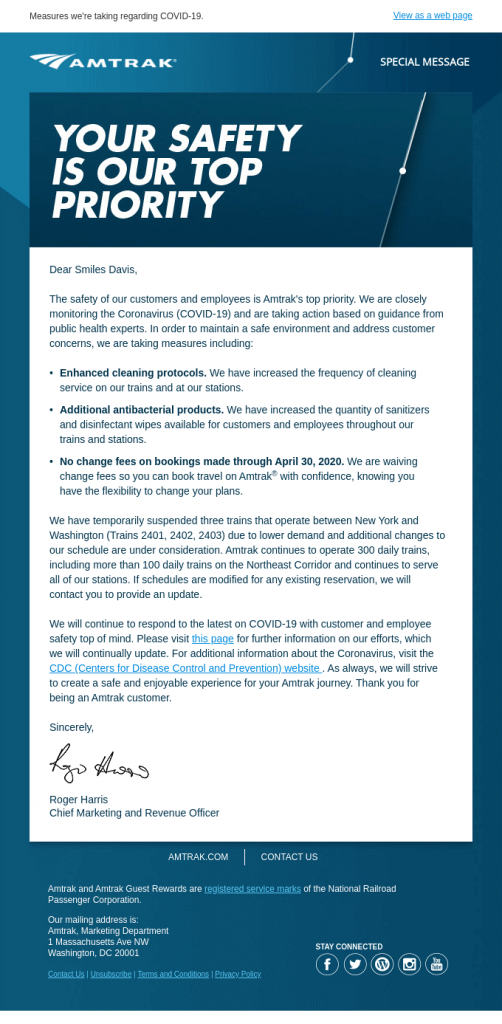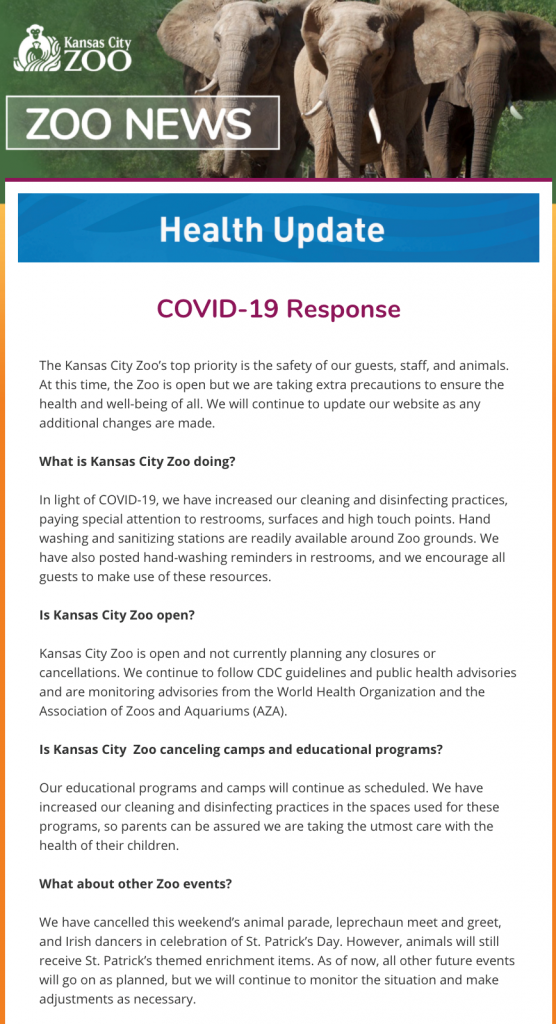 Clear Sender Profile
Make it obvious to your recipients that the email is coming directly from your company. If possible, avoid using personal names in the sender profile, as it may create confusion or get lost in the inbox clutter that is inevitably occurring given the volume of COVID-19 emails being currently sent.
Specific Subject Line
Be clear and concise in your subject line. As marketers, we tend to add more "fluff" or excitement to increase opens. In this case, don't feel the need to do more than describe exactly what your readers can learn from the email. Something simple and to the point, such as "Company ABC's response to COVID-19" is enough. Your engaged readers and loyal customers will likely be interested in learning more and open your email.
Summary
In short, when sending an emergency email, have these things in mind:
Keep your design simple – allow the information to be the main focus.
Make sure your message is valuable to the customer. Don't just send to send.
Be very clear who the email is coming from to avoid confusion
Don't try to overwrite your subject line – Just be clear and concise
For more emergency email inspiration, check out this collection from our friends at Really Good Emails.
---