During the midst of the Coronavirus, we gave ideas on how to improve your analytics data with 40+ items to audit in your Google Analytics account. Today we want to discuss Google Analytics updates that were officially released on October 2020.  Google Analytics has proved to be a great tool for data-driven marketers. Since a major update is only introduced every few years, new releases are eagerly awaited to understand new techniques that may be possible in the coming months after release.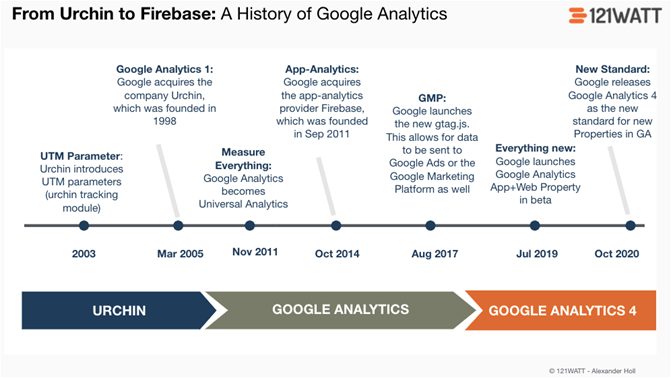 Why the Big Fuss about Google Analytics 4 (GA4)?
Cross-Platform: GA4 can now track both web and mobile app behavior on multiple devices, moving from session-based analytics to user-based events which allows us to track more granular behavior across the customer journey. In addition, it is much easier to stitch user ID login sessions together across devices and platforms!
Privacy/Durability: Google self-describes the purpose of the new Google Analytics as a next generation approach to "privacy-first" tracking.
Better ROI: GA4 builds in Google's machine learning and algorithms to give you the benefits of modeling. For example, identifying segments most likely to convert.
Why is Cross-Domain/App Tracking Important?
In recent years, the user journey has evolved to include more touchpoints throughout the digital marketing funnel. Mobile apps are everywhere today. By 2025, mobile app revenue is projected to climb toward 935 million, up from 365 million in 2018.  Now is the time to unify all digital touchpoints under one analytics profile. This includes apps, websites, and integrating paid and CRM under one source of truth for reporting purposes.
Today we will discuss how this will change the game for companies and entrepreneurs who maximize the perks of GA4 in 2021. This upgrade should not be treated as a marketing item to check off the list like we see some companies do all the time. There are a lot of great features with the new and improved Google Analytics 4, and it is best to get started now rather than play catch up next year.
Can I Still Use Universal Analytics?
YES! Existing analytics accounts will stay put. However, if you decide you want to upgrade and explore the new GA4 property, there is an option under the GA4 Assistant Setup Wizard to keep Universal Analytics while you adjust to the new Google Analytics 4 interface. GA4 is very different from the previous versions of GA, with completely different reports available. So, for ongoing tracking of performance, such as month-on-month or year-on-year comparisons, make sure you retain access to the previous version as you learn the new system.
Does the New GA4 Have Any Sampling?
There is NO sampling for any GA4 standard reports!  While Universal Analytics has a limit of 500,000 sessions for a given data set within the specified date range in the property before sampling kicks in, GA4 reports do not have sampling even with additional dimensions applied.
The two reasons why data sampling is not preferable:
If the selected sample size is too small, you will not get a good representation of all the data.
The bigger your website grows, the more inaccurate your reports will become.
An example of why we do not fully trust sampled data is, say you have an ecommerce store and see your GA revenue reports are not matching the actual sales data due to data sampling. In GA, you may be seeing revenue for the month as $10 million, instead of actual sales of $8 million.
Engagement Metrics for Bounce Rate and Time on Page/Site No Longer Exist in GA4?
GA4 dropped the problematic "bounce rate" in GA4 and instead integrated several new engagement metrics — engaged sessions, engagement rate, engaged sessions per user and average engagement time. These metrics can be found under "acquisition" rather than "engagement". Google defines an engaged session as a session "that lasted longer than ten seconds, or had a conversion event, or had two or more screen or page views."  We believe many analysts will welcome the blend of time and action into a single, simplified metric.
Benefits of GA4: Tracking is New and Improved
In the past, page views were the main method of reporting in the previous Google Analytics, giving reports such as landing pages, top pages, and showing conversions when pages were loaded (such as a 'thank you' page). In GA4, all site interactions are now recorded as an event.
The main out-of-the-box events included are page view, scrolls, clicks on external links, internal website search, YouTube video tracking, and file downloads. In the past, many of these out of the box events were typically set up through Google Tag Manager which involves some technical skills. With Google Analytics 4, every activity taken by the users in GA4 will be considered an event and these events will have more detailed information that you can track from the new interface.
Deep Audience Integration with Google Ads
Here are a few examples of events you should consider building into audiences. Our goal is to get you thinking of ways to use new event tracking for audience profiles in your digital advertising campaigns amongst other things.
Create an event when someone adds a product to their shopping cart but does not check out. You can create a trigger that sends them to a paid media bucket with a remarketing ad that tries to persuade the user or group to come back with a better offer.
Create an event to track returning users who log in from the website or app. This way, you can remove them from paid media remarketing campaigns in the future and prevent returning users from clicking on future PPC ads. In addition, you can separate new users from returning users to have clean engagement metrics in reports for scenarios like AB Testing in Google Optimize.
Create an event that tracks how far someone scrolls down a page, and then visits three pages in a row and/or stays on the website for more than two minutes. To take this thought a step further, you can create a highly targeted engagement pop-up window with an offer the user cannot resist. This method has been proven to work well in the past. It is not just another annoying pop-up window. You know this user is digging for information on your website, so now give them a better offer for signing up or registering on your website.
Track all iPhone users from a city like Austin, Texas who clicked on a specific retail marketing promotion but did not convert. You can create a specific message geared towards Austin and the retail promo this user audience engaged with to bring them back to your site.
Say you work for a healthcare software company and you want to push marketing towards B2B visitors who visit a patient scheduling software page. The visitor watches a demo video, but they do not submit their contact info. You can put those users in a new audience cohort and push a display ad campaign in front of their eyes that says something like "Demo our software for 30 days on us!".
A student registers on a university's website for a tutorial and then watches multiple YouTube videos after signing up. You can build custom events for this audience that promotes new tutorials/programs as they become available.
The bottom line is that you can build better event-based tracking centered on the customer journey and GA4 makes it much easier to accomplish this task. This should be everybody's answer to cookie-less tracking in 2022.
Examples of Basic Items You May Track with Events:
Pages people load on your website
Actions people perform within a page
Elements people have clicked
Information from the URL of the page
Transaction and product details
Elements that are visible in the browser
Details you have collected about a user's behavior
There are plenty of ways to use events, and it comes down to your business, your audience, your objectives, and the type of reporting and analysis you want to perform.
If you are in the retail/ecommerce space, here are a few events that Google recommends that you use for websites and mobile apps.
Our top picks from the list of recommended events include:
The generate_lead event to track the number of leads you have captured
The select _promotion event for tracking the number of times a special offer was clicked
The view_promotion event to understand the number of impressions of a special offer
The select_content event for tracking actions within a page
The view_item event to understand when people view products
The add_to_cart event to track people adding items to their shopping cart
The begin_checkout event to track users who start to check out. If they do not finish the check out process, add them to an audience for remarketing!
The purchase event for successful ecommerce transactions
Once you have found a Google recommended event for what you need to track, you can then choose from the recommended parameters to send additional details to your reports.
Here is a complete list of events and parameters published by Google.
Customer Lifecycle Reporting in GA4
This report will help business owners obtain data to understand how valuable certain users and customers are to their businesses based on their lifetime performance. For example, you can see lifetime value for users you acquired through email or paid search. With that information in hand, you can determine a profitable allocation of marketing resources to the acquisition of those users.
Where has Lifecycle Reporting Been All My Life?
This is an advanced feature that previously was only seen in Google Analytics 360 until now. It is designed to help marketers drill down into aspects of the customer journey from specific channels. The more events tracking we add, the better understanding we will have of the user experience. While the existing version of GA puts a heavy focus on acquisition, the new Google Analytics places more emphasis on the customer journey and recognizes the role of engagement, monetization (turning leads into customers), and customer retention.
Through the user lifecycle report, you can get answers to questions like:
When did a user last make a purchase from my website/app?
When did a user last engage with my website/app?
How can I find users with high purchases and low churn rate?
Which traffic source and/or medium resulted in users with the highest lifetime value?
Which campaigns performed the best in terms of lifetime value?
New AI-Powered Insights and Predictions
As third-party cookies are phased out, GA will rely on machine learning to fill in the data gaps. This technology will be used to predict outcomes, such as churn rates and the potential revenue a business could earn from a particular segment of customers. Your Analytics Analyst can guide the Google AI machine toward making better predictions for your business outcomes before it happens!
How Can Machine Learning Help Your Business?
It can predict the probability of a conversion and create audience forecasts for Google Ads based on that probability
It can warn you about important trends in your data (i. e. products that are in demand at that moment in time)
It can find anomalies in reports
It can predict the likelihood of customer outflows so you can effectively invest in retaining customers
As defined by Google we can learn more about your customers just by collecting structured event data.
| Metric | Definition |
| --- | --- |
| Purchase Probability | The probability that a user who was active in the last 28 days will log a specific conversion event within the next 7 days. Currently, only purchase/ecommerce_purchase and in_app_purchase events are supported. |
| Churn Probability | The probability that a user who was active on your app or site within the last 7 days will not be active within the next 7 days. |
| Revenue Prediction | The revenue expected from all purchase conversions within the next 28 days from a user who was active in the last 28 days. |
Every good marketing team understands that client retention is crucial when marketing budgets are low. Google Analytics 4 can help calculate customer churn probability and guide investment in retaining clients with this machine learning model while maximizing revenue potential.
What is the Limit on Historical Data Inside GA4?
In Universal Analytics 3, you can set your historical data to never expire. However, as of the writing of this post, GA4 data expires after 14 months. On that note, many companies now save their data in a data warehouse like Google's own Google BigQuery. It loads faster, and you can go back to any date older than 14 months.
Google BigQuery
BigQuery is Google Cloud's fully managed data warehouse that lets you run analytics over vast amounts of data in almost real time.
One of the most promising features in the new version of Google Analytics is that BigQuery is there to easily to connect as an integration.  All GA4 property owners can now enable the data export to BigQuery and start to utilize the raw event data collected on their website(s) and app(s).
Why Should I Enable the BigQuery Linking for GA4?
I can think of a couple of reasons:
GA4 allows FREE access to Google BigQuery up to 1 TB a month, perfect for medium sized companies
You can store your data in BigQuery (Google Cloud) and/or send it to your data warehouse in other clouds like AWS, Azure or Snowflake
You can visualize your data in tools like Google Data Studio (free), Tableau, Looker or PowerBI. You can customize what you want to see in your new dashboard tool using one of these visualization products.
BigQuery allows you to do large scale analysis on Google Analytics data. Data loads fast!
Google Analytics 4 is a game changer, and we are here to help you get this data tracking party started! If you need assistance with GA4 setup or help defining analytics goals, we are here to help! Contact us at expert@emfluence.com.
---