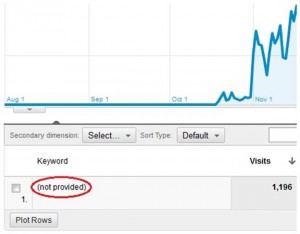 Google recently announced that they are moving to encrypted (https) search in an effort to make searching "more secure" for users. Whether the move actually creates a more secure search experience is up for debate, but for the SEO world, this announcement has created quite a stir.
For many years, Google provided a free keyword research tool that offered insights into the search volume of keywords. Many SEO professionals relied on that data to make organic search strategic recommendations to their clients, and for the most part it's been fairly effective, even though the tool's data actually came from AdWords. (And for current AdWords clients, that data is still available.)
But for many marketers, organic search volume is very different than paid search volume and to put all your eggs in Google's basket (their free toolset) is a mistake. You can still get data from Google if you use and link Google Analytics and Google Webmaster Tools accounts. Getting the keyword rank data does require additional work, but it's there. But, more importantly, there are many other valid sources of data to draw from.
So why is the SEO world upset over Google discontinuing free keyword research? Some say it's a move to monetize something Google's been giving away for free by forcing more people into using AdWords. And to a large degree, that is true. Google is a publicly traded company with shareholders, so they are always interested in creating additional revenue.
But the issue for many SEO folks – and the industry by-in-large – is that they've sold their strategic services and even created their pricing models based on garnering #1 keyword rankings for clients in Google, under the explanation that being #1 for your target keywords meant lots of traffic – and more customers. And in the early days of search, that was true. This change takes away that metric and therefore upends a lot of SEO Strategist's sales model.
Google gave marketers a clear direction on what they expected from websites for ranking, but they didn't have an algorithmic way to enforce their rules. Less-than-scrupulous firms could "game Google's system" and get their clients those coveted #1 rankings by keyword. In fact, these types of firms often put their clients' websites at risk by violating Google's terms of service. At the time, Google didn't have an automated enforcement mechanism, so SEO firms could easily manipulate search engine results and report on high keyword position to justify their monthly fees.
As of this update, Google has finally figured out a way to weed out the less-than-scrupulous and has rolled out changes that have had tsunami-like effects. The Panda and Penguin algorithmic updates, personalized search results for logged in Google users and increased paid search results real estate have made the keyword ranking performance metric a moot point. A #1 position in Google is no longer universal. What used to be 1, 2, and 3 can now appear in positions 8, 9, and 10 below various paid listings, local listings and Google+ listings. So, what is #1 in Google anymore?
If you're focusing on keyword rankings as your measure of success, you're missing out on the true metric of success: what are you doing with the traffic you currently receive from any source? What would you rather have today: more traffic or more conversions? If you want more traffic, you're at the mercy of search engines and algorithms. If you want more conversions, you are in complete control.
You've worked very hard to get traffic to your site, so now it's time to focus on the user experience. There are many on-page details that can make or break whether a site visitor turns into a customer. Google's ultimate goal is to show customers to products that they actually want, and they can tell when a customer bounces or isn't going to convert, so what are you doing on your website to close business from visiting traffic? (Not to mention that once someone becomes your customer, what are you doing to turn them into a repeat customer? What are you doing to turn them into an evangelist for your company?)
Google is not your only source of traffic and now that they are encrypting search data doesn't mean that traffic from Google is going away. Stop focusing on keyword rankings as the only metric of success. You'll still need to analyze keywords and target effectively to attract the right kind of traffic, but you need to spend significantly more time optimizing the user experience on your website. Make it easy for people to do business with you online. Give people a reason to come back. Knock their socks off in such a way they brag about you to their friends. And isn't that what we're hoping to do as smart marketers anyway?
If you want to talk about your own website's search marketing metrics, or better yet, if you're ready to take a look at the user experience on your website, talk to an emfluence expert at expert@emfluence.com or find me on Twitter @douglayseo.
---