What is Share of Search?
Share of Search is an organic metric that allows a company to gauge their brand visibility in organic search and compare with other brands in the industry. It's quick to calculate, based on the number of times the company's name gets typed into the Google search bar.  
This is a way to gain insights on how your brand is doing, especially in the early stages of the customer sales journey, letting you know how you match up to competitors and when you need to invest more into marketing.  
One marketing technique that many will prioritize is search advertising (or search engine marketing) which focuses on advertisements that are found in search engine results. Although Share of Search is an organic metric, investing in Paid Search will lead to maximum visibility for a brand.  
What is Ad Copy?
Ad copy is the description that is meant to invite customers and clients in, getting them to follow through on your specific call-to-action whether that's making a purchase, starting a free trial, or setting up a demo.  
When you type something into Google search, the first few results aren't always top-ranked results. Instead, they're ads that are relevant to the topic you're interested in. These are paid advertisements that are marked as "Ad" and used by companies to sell products, raise awareness, and/or increase traffic to their website.  
Being able to envision what this ad will look like on the internet is a good start to understanding the value of paid ads. A search ad will appear towards the top of a search engine page before the top-ranked results. Its anatomy consists of a headline, the site URL, and the actual ad copy itself.  

Here's the breakdown: 
Headline:

This is the attention-grabbing title that should give a quick overview of your company and the product. It should be to-the-point and include just enough information to encourage the user to continue reading your ad. Character limit: 30 characters each, up to 3 will show.

 

Site URL:

The URL is the site page that your ad links to. Pulled in automatically from the Final URL.

 

Ad Copy:

This is the space where you help your company stand out among others. There are many ways to tackle this description from short snippets of your offerings to lists of products someone may find to the deals you're currently promoting. Character limit: 180 characters.

 
Copy Strategy
There are many components of an ad that make it successful, and the copy plays a major role. It gives you the opportunity to highlight the unique aspects of your brand and show off what you have to offer. 
How to Write Ad Copy
If you're unsure where to start (after all, we know there's a lot that you offer!), you can try using a combination of certain phrases to get your story across. Common categories to touch on include: 
Call-to-action phrases

 

Promotion phrases

 

Trust phrases

 

Inventory phrases

 

Location phrases

 

Shipping phrases

 
You can break down this Audible ad into several categories of phrases. Two promotions are showcased in this ad—trying Premium Plus for free and getting a free credit with the trial. It also includes a clear call-to-action, urging potential users to "get a free trial now" while also emphasizing the ability to listen to favorite podcasts and authors on-the-go.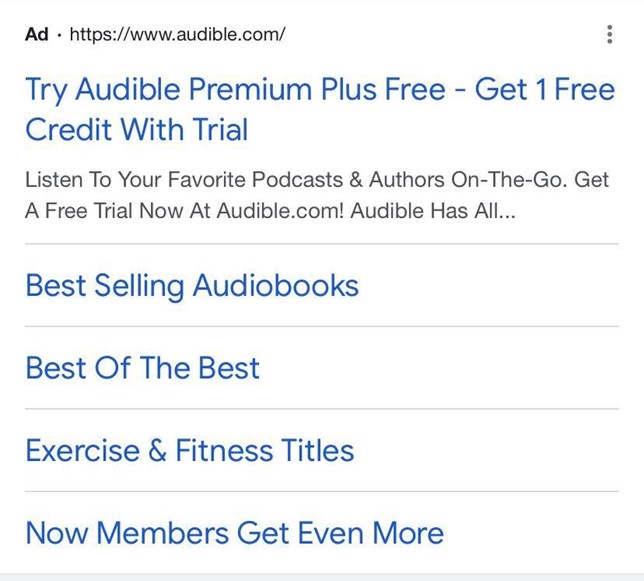 Let's take another ad, like this one for pens, and break it down. "50+ years in business" and an A+ rating creates the impression of a trustworthy company with an experienced reputation. It also includes multiple calls-to-action that center around the idea that you "make your brand personal". The ad highlights the ability to customize pens with your logo and gives you a variety of options to shop for from retractable pens to styluses.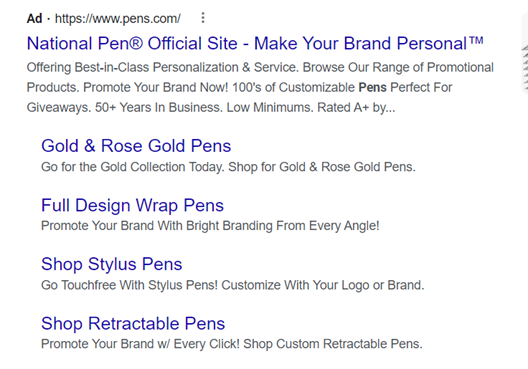 Finally, this Lenovo ad promotes weekly discounts, offering savings on PCs and other electronics while also mentioning the free shipping that is included on all orders. It also takes a spin on inventory and shipping phrases by letting you know about "ready to ship products" that signify immediately available products and quick delivery.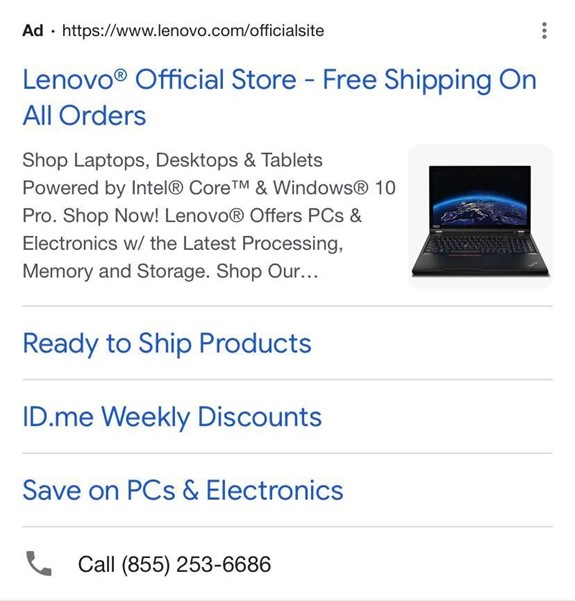 Utilizing these phrase categories is a useful way to piece together an ad that will promote the very best parts of your business while still staying relevant to your consumer. Even seasoned ad copywriters can benefit from referencing this list of phrasing to incorporate in each ad. 
A Note on CTAs
A good call-to-action lets a customer know exactly which steps you'd like them to take next. While it may seem obvious, take advantage of your call-to-action to prompt your audience to take immediate action.  
This ad makes it loud and clear. Get Spotify Premium now, especially before the free trial ends.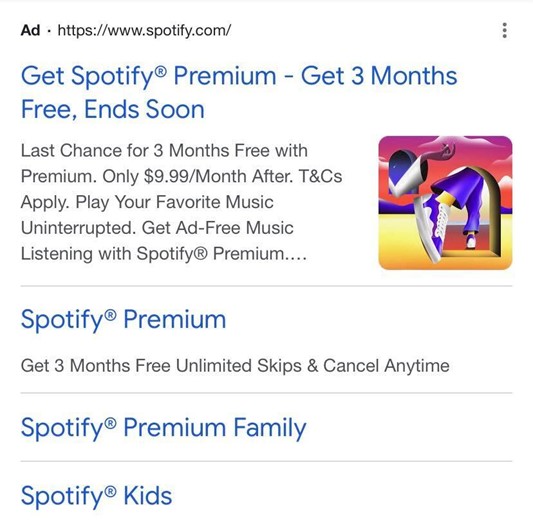 Creating an Effective Ad
At this point, you may be wondering how to formulate great copy. Are you supposed to be able to pull something amazing out of thin air? Some wordsmiths do, but for others who are just getting started, there are elements to include in your copy that will make your ad stand out.  
Staying On Topic 
For one, be concise and be specific. Keep the focus on exactly what you are offering as opposed to flowery descriptions- save all that for later! In addition, being specific about what you offer can be the thing that draws your prospective customers and clients in. For example, "flower delivery" is a bit broad of a category and can encompass local florists, potential Instacart orders, etc. Including "online" or "same day" in your description can narrow this down for those that are searching to fit their specific needs.  
Entice Them! 
Deals are a great way to get that click. Oftentimes, when people come across your ad, they are already in the mindset to make some sort of purchase. Whether it's a deal that is always available or a special promotion, make it known to those that are browsing to get their foot in the door!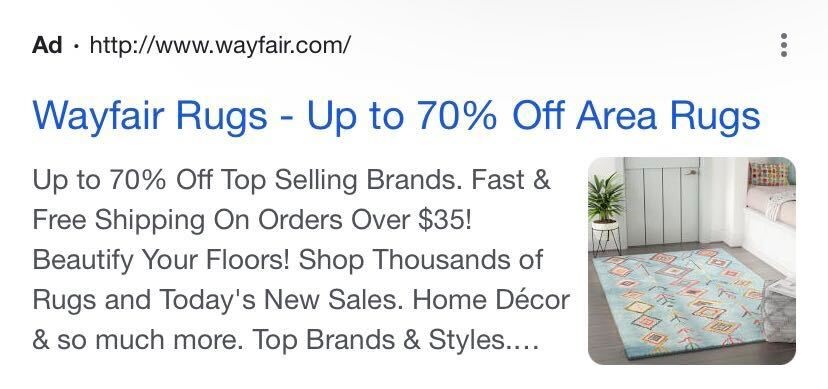 Examples of attractive deals to include are discounts, sales, free trials, or even free shipping. You'd be surprised how much of a difference waived shipping fees can make on a purchasing decision! 
Hone Your Keyword Skills
Another area to focus your efforts is on keyword research. "Keywords" is a term you'll hear all over the marketing world and for good reason. Using keywords strategically makes the user and the search engine confident that you're providing exactly what is being searched for.    
When selecting words to use, create a list of keywords that are tightly related to your ad group. While it may be enticing to include everything that can tie back to your company, this can make it difficult to come up with relevant ad copy and confuse the search engine. Opt for a balance between general and specific keywords that target your customer persona while still creating awareness for your company. 
Once you have your keywords, carefully consider their placement. Try not to overstuff your ad and instead focus on incorporating a healthy mix of keywords throughout. For example, don't use the keywords "tropical plants" in every section of an ad. Stick it in naturally throughout such as in the URL paths, one of the headlines, and one description.  
When thinking about keywords, also check to make sure your landing page is mirroring your ad copy. Make sure to incorporate a similar style and mimic the search intent that the ad was originally created for. Don't forget to use keywords naturally in your landing page as well, inserting them where needed rather than overstuffing.  
Include Personalization Efforts
Opportunities for personalization reach all corners of the marketing world. At a basic level this involves knowing exactly who your target audience is and speaking to their needs. This allows you to craft copy that will resonate.  
Take a look at these Instacart ads that highlight their quick delivery services in different situations. Both scenarios are very likely whether you're stuck with last-minute party planning woes, or you've forgotten it's Mother's Day. While the service that is offered is the same, the execution of ad copy speaks to different pain points that different audiences may experience.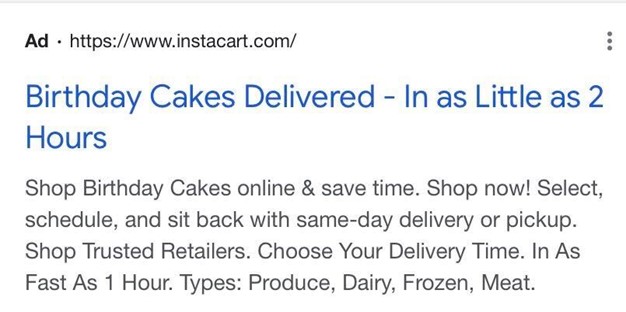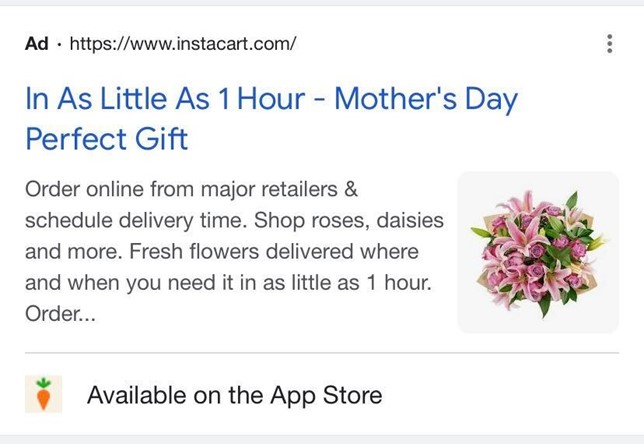 Personalization can also be taken to the next level if you know what tools to use to help get you there. Google's Customer Match tool uses online and offline data to target your ads to specific audiences and engage with those that you already know fall into your scope. Demographic targeting is another way to reach exactly who your company targets. Utilize it to target gender, parental status, household income, or age. You'll be amazed at what you're able to tap into when you leverage these targeting abilities. Take Age targeting, for instance—this gives you insight into exactly where a person is in their stage of life and gives you the chance to engage with them appropriately. 
Keeping an Eye on Competition
It's not just your ads you'll have to monitor but also those that your competitors are running. This can give you insight into what your customers are seeing when they do their searches. From there, you can decide how to pivot your strategy. This all varies depending on the characteristics of your company and the characteristics of who you're competing against.  
Does your competition consist of major Fortune 500 companies and you're striving to reach that level? Or are you all evenly matched and you're looking to stand out from the crowd? Both of these situations could justify creating ad copy that either mimics or differentiates you from the competition.  
Take the Time to Test
While the world of marketing moves quickly, the strategy and efforts behind it are done with patience and intent. This is where tried and true efforts of testing shine and experimenting with ad copy should be methodical to some extent.  
We're all familiar with testing out different landing pages, websites, or emails to garner a bigger audience. Ads work similarly and swapping out calls-to-action, offers, keywords, and other aspects can create ads that get the most done.  
Here's an example of an annual testing plan:

As you can see, testing an ad isn't a one and done type deal. You take it through an entire process from ideation to measurement. To really pinpoint what it is about the ad that will succeed, it undergoes weeks or even months of testing and data collection. A workflow like this is targeting long-term goals of permanent ads with the idea that a five percent improvement can make a big difference.  
The Takeaway
While search ads look like short blurbs thrown together within minutes, there is much more than meets the eye. By taking the time to really practice this skill, collecting the information to back up your copy choices and utilizing the tools made available to you, you'll find that your ads perform strategically and successfully.  
Need help with your paid search strategy? Contact us at expert@emfluence.com!
---