If you're talking about a CRM system, love isn't usually the first word that comes to mind. It's not uncommon for CRM to be a source of conflict for sales and marketing teams, and I've heard members of both teams question why we spend so much time worrying about our CRM systems.
In an ideal world, Marketing deserves at least a 50% stake in every organization's CRM system. It's our source of truth—it's where everything we need to create a custom experience for our prospects lives. We deserve a seat at the table, but we're going to have to earn it. The burden is on us to demonstrate that we have a plan for the data we want to collect—because without a plan, the data we're collecting is meaningless.
But before we can create a plan, we need goals. There are some marketing tasks that CRMs are perfect for, like:
Lead Nurture
Re-engagement of Cold Leads
Creating Custom Audiences for Remarketing Campaigns
Cross-sell and Upsell Campaigns
Customer Retention
Review Strategies/Insight into Influencer Marketing
Evaluation of Marketing Success and Failures
Once you have goals, you can set up a path for your data, like so: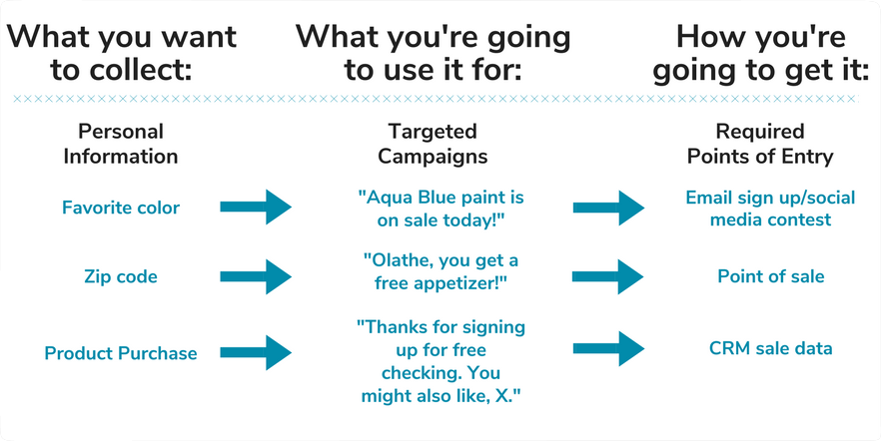 Now you can build that wish list! Here's what you should include to get the most out of your CRM:
An Advocate on the Inside
Make a friend with someone who really knows the CRM system inside and out. Bonus points if that person installed the CRM system in the first place. This person will help you translate what's already in place and what the original intent was. For starters, ask the following questions:
What fields are required?
How does the sales team interpret what those fields are for?
Are there fields not in use that could be activated?
What sales data is currently captured that you can use?
What's the sales definition of a lead?
What steps guide the Lead to Opportunity qualification process?
What happens to an Account after the sale closes?
A List of Custom Field Requests
Think about how you want to segment your sending lists and work backwards from there as you decide what custom fields you want to request. Ask yourself what data you will need to create a custom experience (favorite color? Date of birth? Contract end date? Frequent purchase?). Next, determine how you'll capture that data—is it through an integration? Through a campaign that asks the customer to tell you? Remember you can't ask your sales team to capture everything, and if you ask for too many required fields, you could create CRM fatigue.
A List of Triggered Activities
If you want to build campaigns based on events (i.e., changes in a record), you'll need a list of triggered activities. These can be custom or system defaults, like when a box is checked or when a Lead is qualified or when an Opportunity is closed as won or lost. You can use these triggers to build a post-sale customer retention email series, or a campaign based around contract renewals, accounts in jeopardy, or as part of your review strategy.
Structure Your Sales Data
It's not enough to know if a sale closed—you need to know what type of sale and for what product or service! You can create campaigns from that data, like a "You might also like" cross-sell campaign, or an add-on offer shipping confirmation email. Knowing what the customer bought can help you create more stickiness than simply knowing that they bought.
A List of Required Integrations
Integrations often required technical team hours, so you're either paying someone to do them or using the time of an internal resource. Integrations aren't cheap, and you'll need a use case to sell them. Explain first where each data point needs to map in your CRM system, and determine if it's possible to map them on a regular basis. Easy sells are your marketing automation platform, obviously!
A List of Required Workflows
Because you're going to have to move the Leads and Contacts that match your definitions into a marketing list, and a workflow is your best bet to automate the process! Workflows are a set of logical rules that define the steps necessary to automate a specific business process, task, or set of actions to be performed. You're essentially saying, When Contract End Date = 3 months from now, then move to Contract Renewal Marketing List.
Ownership of Marketing
Obviously, right? But you need to structure the marketing piece of your CRM, too. Set yourself up for success by thinking in terms of two buckets: a big bucket and a little bucket. The big bucket is for what type of campaign this is, not what name. These could be Event, Networking, Membership, Reseller, etc. The little bucket is for the actual campaign, and it needs dates and costs attached. You would have data then that said how successful are events on the whole and how successful was this specific event. Both of these must be required fields!
With understanding of why you want the data you want, you'll have more buy in from your sales team and greater success with your CRM system. Bonus points—you can use the data you're collecting in CRM to demonstrate your marketing automation platform ROI, your search ROI, and more.
Ready for the next steps? Check out our guide to the types of campaigns you can build in your marketing automation platform once you've integrated to your CRM system. Download it here!
---