What is LinkedIn Sales Navigator?
LinkedIn Sales Navigator is a sales management tool designed specifically for lead generation and sales prospecting on the LinkedIn platform. Sales Navigator is available in three different versions, each with varying features, but each version allows users to search for, connect with, and save leads within their LinkedIn account while also offering integration with different CRM programs.
Why You Should Use LinkedIn Sales Navigator
If you have a sales team, you probably already have multiple tools and technologies that your team uses every day. 74% of B2B sales teams say that LinkedIn products top their list of sales intelligence tools (LinkedIn). With 40% of LinkedIn's 260 million active users accessing their LinkedIn accounts daily, it's easy to see why (Kinsta). In today's world of digital selling, emails and phone calls are no longer enough. Prospects are either too busy or not in their office to take sales calls, and emails are getting lost in a sea offers from competitors. With LinkedIn Sales Navigator, sales teams can put faces to their names, be more intentional with their messaging and be smarter about who they are reaching out to. Plus, as an added bonus, Sales Navigator can be an effective way to foster sales and marketing alignment in a single platform.
Benefits of LinkedIn Sales Navigator
Here are six features of LinkedIn Sales Navigator and how they can add value to your sales and marketing efforts:
Saved Searches
This is a must have for prospecting. With Saved Searches, you can create dynamic lead lists based on geography, relationship, company size, title, number of years in current position, and more.

You can then filter results by:
Changed jobs in past 90 days
Leads with TeamLink intro
Posted on LinkedIn in past 30 days
Share experiences with you
Leads that follow your company on LinkedIn
The best part is that you don't have to be plugged into Sales Navigator all day to keep up with updates to your list. You will receive email notifications about new leads and lead activity.
Use Cases
Targeting lists for account-based marketing efforts can come in handy here. Find the key people for your targeted list at companies that match your marketing size and criteria.
If cold outreach is part of your sales process, this tool is invaluable. You probably already have a customer profile that will inform your search criteria. Once you have your search results, you can prioritize who to reach out to and personalize your messaging by looking at leads that you share a connection with, leads that have recently posted something on LinkedIn or leads that already follow your company.
What about sales and marketing alignment? Perhaps your company is focused on regional sales and wants to build brand awareness. A great practice to adopt would be to look at leads in your area that have changed jobs in the past 90 days and send them a card or gift to congratulate them on their new position.
InMail
Sales Navigator InMail allows you to contact anyone on LinkedIn without a connection or their contact information (Note: If you don't see the option to InMail a user, it's because they have opted out). It is straight forward, but a couple of benefits are being able to save a lead directly from your inbox and being able to see whether your message was accepted or declined. You can also look at the percentage of InMails sent that were accepted by the recipient within 30 days. Think of it as an email campaign for people who haven't opted into your email communications.
Use Cases
Perhaps you email a prospect and it bounces. The next logical step would be to InMail them with the hope that they check their LinkedIn account. If they don't accept your message within 30 days, you will know that it is probably time to move on.
If you have already reached out to a prospect a few times using traditional channels, it might be a good idea to try InMail. You most likely won't be competing with as many messages in their LinkedIn Inbox, and once again, you can see whether they accept your message or not.
Don't have an email address on hand? Rather than harvesting or list purchasing (which we strongly recommend against), try reaching out via InMail instead—and remember to add value to the conversation with informational content rather than simply leaning straight into a meeting request.
Smart Links
This may be one of the best features of Sales Navigator. A Smart Link is a link to a document (PDF, Word, PowerPoint or image file) or a downloadable (a video, zip file, CSV, etc.) that you can insert in an InMail message. You may be asking yourself, "Why not just send files via email?". With Smart Links Insights, you can track the following metrics:
Confirmation that the recipient clicked the link, and the number of times they clicked it
Amount of time the recipient spent viewing the content
The date and time that the recipient accessed the content
If the recipient was signed in when they viewed the content, information from their profile—name, title, company and profile picture
If the recipient was not signed in when they viewed the content, the name they provided to access it and their email if they chose to provide it
Use Cases
If sending relevant content to prospects is already part of your sales process, sending it via Smart Links in InMail is a great way to step your game up. Using the metrics provided by Smart Links Insights, you can see how serious a prospect is about your product based on whether they viewed the content and how much time they spent viewing it. You can also use these metrics to inform when and if you follow up with them again. Not to mention, if you know they viewed your content, you can reference it in your next follow up.
This is an awesome way to build some data for the sales and marketing teams as to what kind of proposals and sales materials truly resonate with your prospect base—and using the data, you can improve the items you create for future campaigns as well.
Lists
Lists are like Saved Searches in terms of filters, but they are static lists that you can add leads and accounts to. If you are a Salesforce or Microsoft Dynamics user, you can also use Sales Navigator's CRM Sync to import your existing accounts and leads and track Sales Navigator activity in your CRM. The nice thing about lists is that you can collaborate with other team members by sharing notes and you can see your outreach activity.
Use Cases
If you want to keep track of clients that are leaving their current company, this is a great way to do that. Simply create a list for previous customers and add contacts as soon as you are notified that they will be leaving. You will then be able to keep track of them and see when they start at a new company, giving you an opportunity to proactively reach out and celebrate them.
If reaching out to prospects via Sales Navigator becomes a regular part of your process, you can use lists to track your activity. Within the list, you can see your Outreach Activity next to each lead and track the following:

Connection requests you've sent and how many have been accepted
InMail messages you've sent and responses
Messages you've sent from Sales Navigator and LinkedIn responses
Whether a Smart Link was clicked
Alerts
As I mentioned earlier, you don't need to be plugged into Sales Navigator 24/7 to keep up with your saved search results or your lead lists. Sales Navigator will email you alerts, and you can choose which ones you want to receive.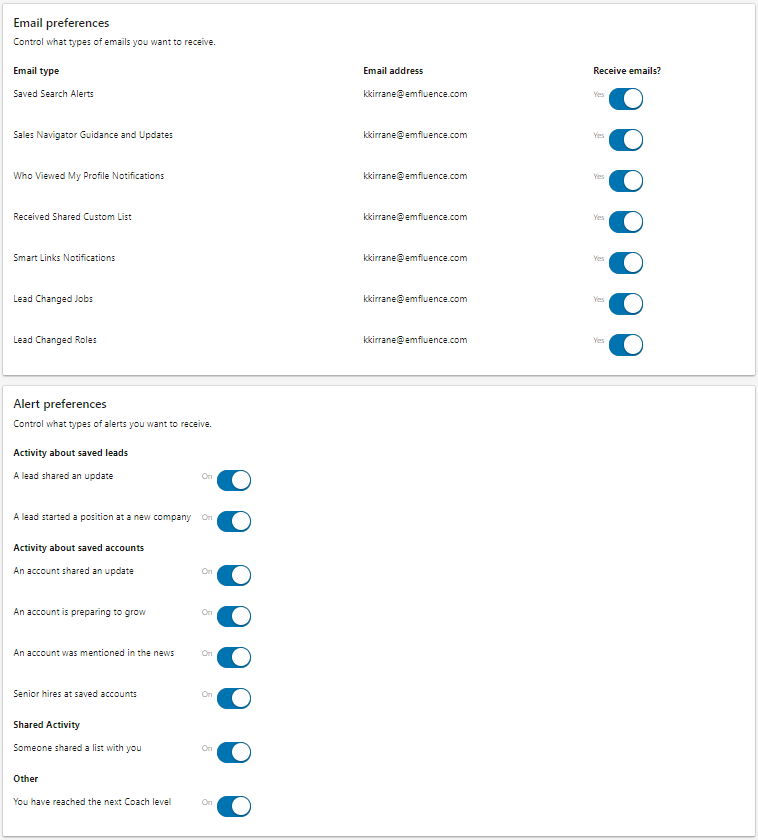 Use Cases
If you like to be intentional with your messaging, some updates to look out for are when a lead shares an update, a saved lead starts a position at a new company, or a saved account is mentioned in the news. These are great excuses to reach out and they provide you with ways to personalize your message.
CRM Embedded Profile
If you are a Salesforce or Microsoft Dynamics user, you can use the Sales Navigator CRM Embedded Profile to view and leverage LinkedIn information directly from your CRM. This is what it looks like in Microsoft Dynamics: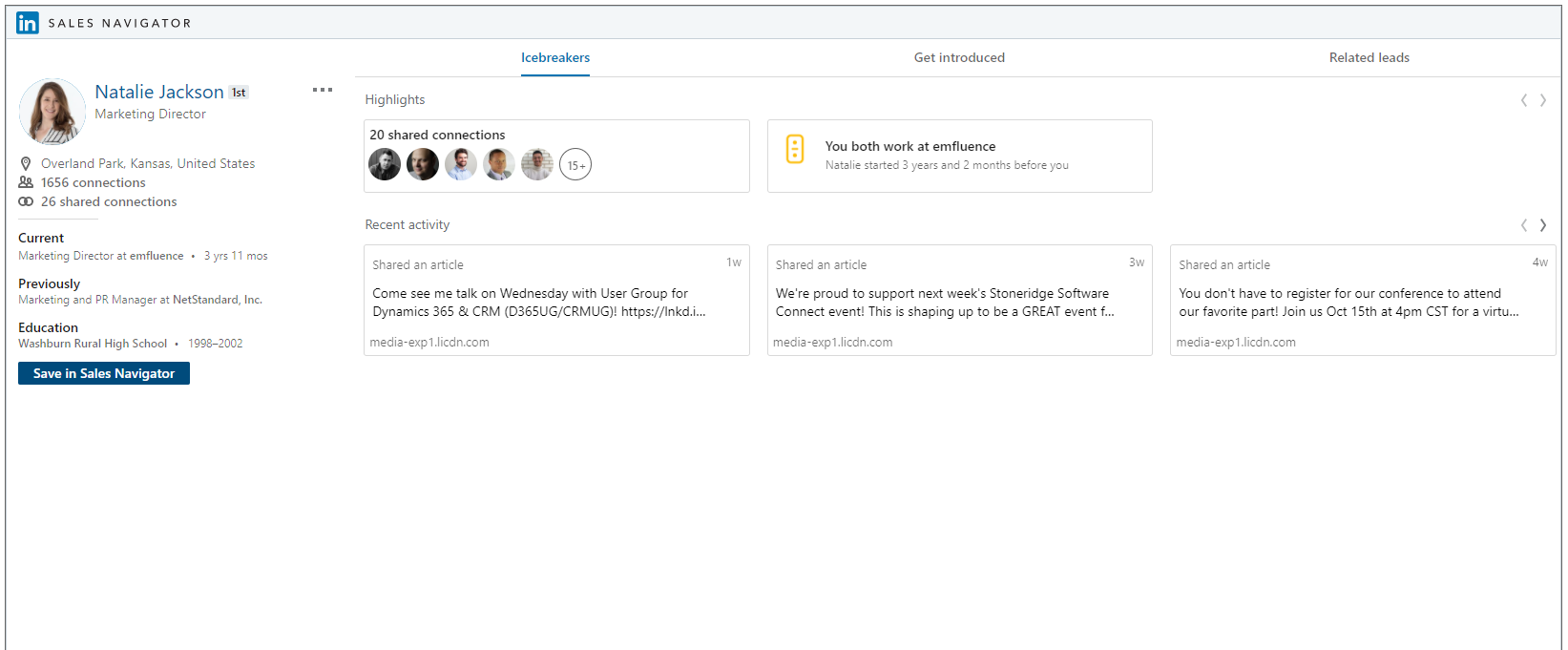 On the "Icebreakers" tab, you can see the lead's profile information, shared connections and experiences, and their recent LinkedIn activity.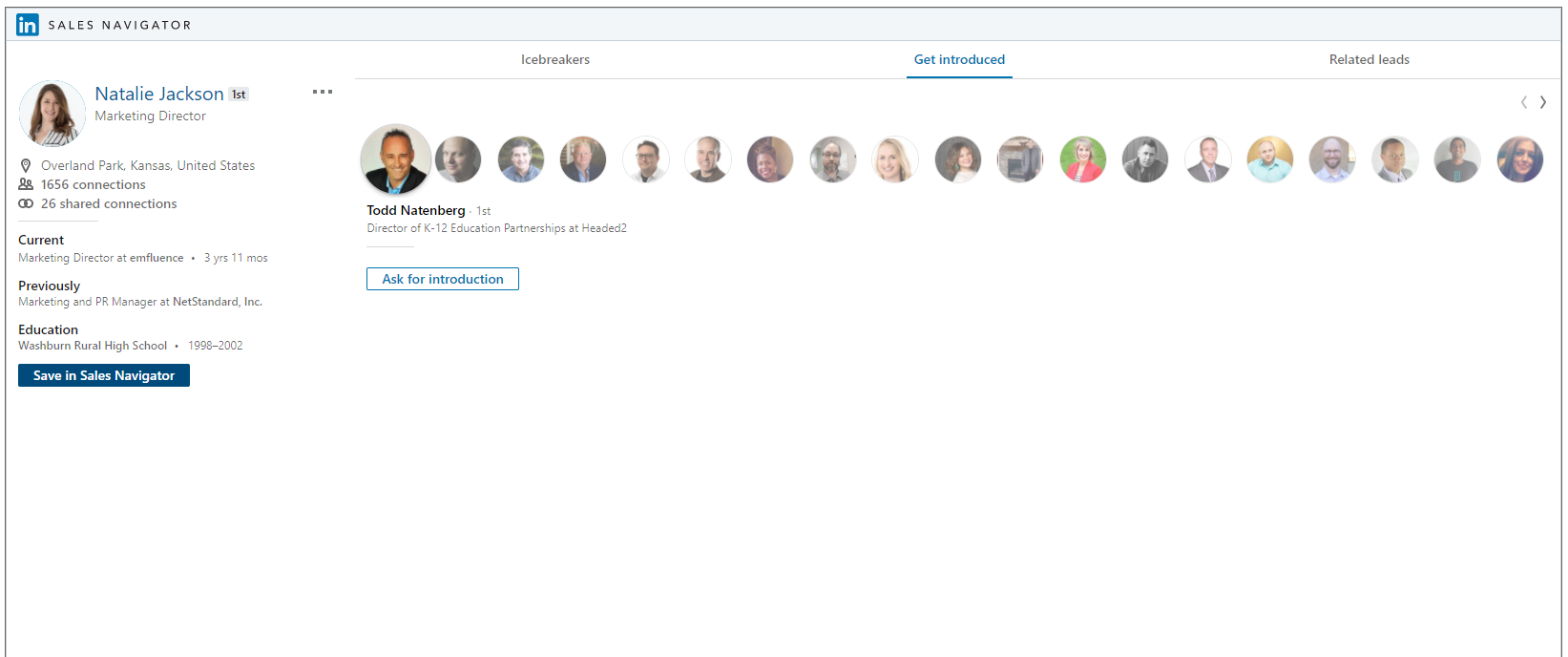 The "Get Introduced" tab shows shared connections and provides a link to ask for an introduction.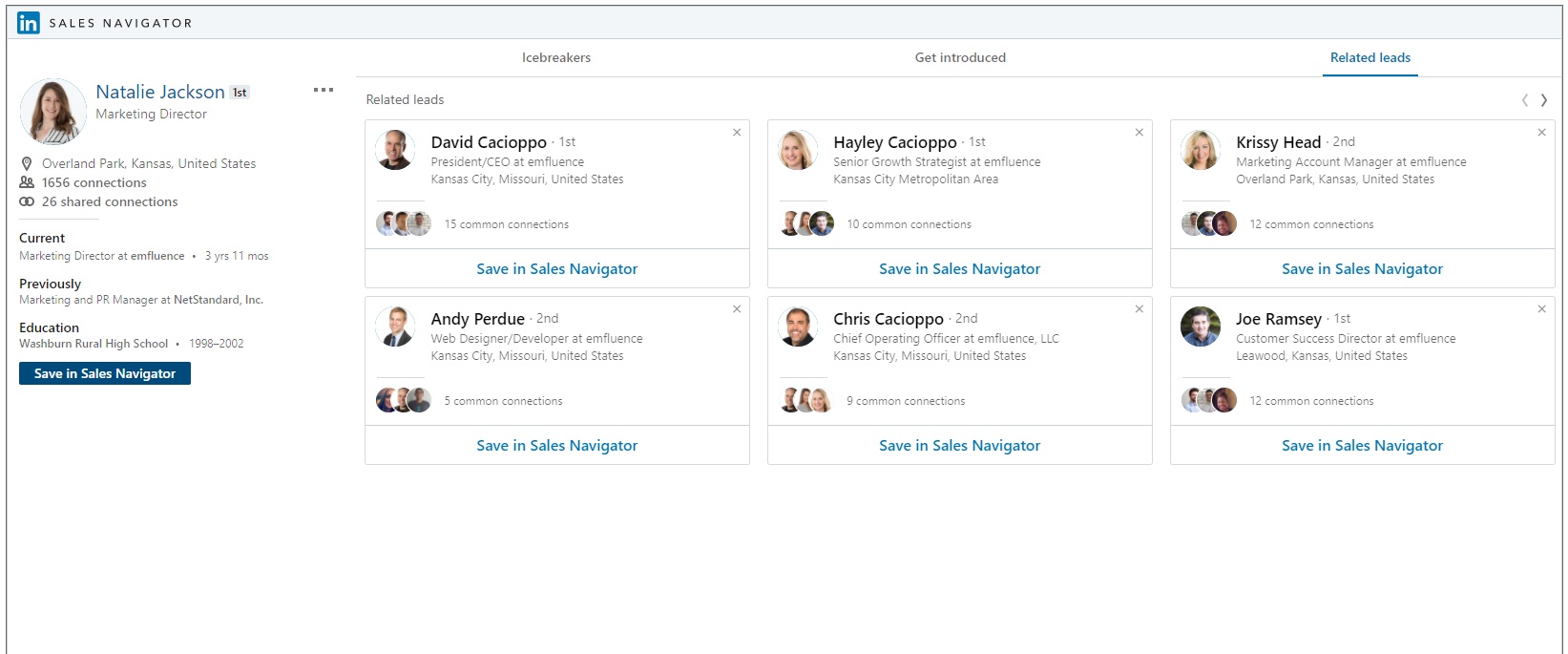 The "Related Leads" tab shows leads from the same company, as well as leads with similar job titles from other companies.
Use Cases
If you rely heavily on your CRM, this simply makes your life easier by having all relevant LinkedIn information in one place. If you are getting ready to reach out to a lead, you likely already have their record open to update it. With one click, you can view the "Icebreakers" tab which will give you something to reference such as where they attended college, a shared connection or a blog post they recently shared.
You can find new prospects within your CRM. Create a list view of leads that previously converted and click into each one to view similar leads under the "Related Leads" tab. You can even save them to one of your Sales Navigator lists directly from the CRM.
When used wisely, LinkedIn Sales Navigator can make prospecting and outreach easier and more efficient. While email and phone calls likely aren't going anywhere, Sales Navigator is there to provide another sales channel, add additional touchpoints, and keep sales teams organized and up to date on their leads and accounts.
Want to learn more about leveraging LinkedIn for marketing? Check out more content here.
---