Another Google Marketing Live is in the books, and we have more insight into the path of Google Ads for the year. Last year was all about automation, and we continue to optimize to those initiatives today:
Developing rich and diverse text ad assets for Responsive Search Ads is an ongoing task in our queue.
Many of our campaigns have moved to Automated Bid Strategies with improved results for our clients.
Attribution past Last Click is gaining adoption.
We are making use of Smart campaigns, specifically Smart Shopping, to widen our reach and grow ROI.
Google Marketing Live sets the agenda for the latest and greatest coming up in the PPC world, and this year should be no exception. This year focused on improving automation and providing better ads. To an observer, the presentation also showed Google as more of a follower in the digital ad space than a leader. This blog post is not intended to serve as a summary of the event, but rather a reaction and tactical roadmap. For your summary needs, we'll direct you to Wordstream or Search Engine Land.
Here are our thoughts:
Best of the Rest
We'll begin by outlining some of the more subtle, or less exciting, announcements. While they may not be mind-blowing new ad units taking up ever more pixels on your smartphone (sorry SEO), these are still noteworthy:
Privacy – According to attendees, Google advised advertisers to expect more and more users to opt out of personalized ads, clear their cookies more often, or change their Google account settings. This topic was not as actionable as it was friendly advice (and an opportunity to use the phrase 'machine learning' a few more times). On the advertiser side, if our ability to target goes down, Google should expect their CPC to drop as well.
App Deep Linking – At emfluence, we do not advertise with many clients that have an app for purchasing, but for those that do, they can now drive users to directly to products advertised in their app from search ads. This should increase conversion rates and provide a better user experience to Google as well as the app, leading to better CPC for Google and deeper ad coverage.
Bumper Machine – I have to admit this is one is really cool! Google is rolling out another machine learning tool that can turn your 90 second YouTube video into three or four variations of six second bumper ads. Once the ads are created, advertisers are able to edit, add text overlay or sound consistent to the message their brand wants to convey. This seems a good tool for Google, as adoption of YouTube ads appears to lag behind their expectations, with generating quality creative listed as the biggest hurdle.
Smart Bidding Enhancement – As an adopter of Smart Bidding strategies for campaigns, it has not always been a smooth transition with rising CPC and performance metrics falling short of target. Google has released a few additional features that were beta tested last year, allowing advertisers using automated bid strategies to omit tracking periods (due to a broken pixel/site or other issue), adjust for seasonality, or anticipate a rise in conversion rate (for an upcoming sale – beta tested on Black Friday).
Discovery Ads
For the longest time Google lacked what could be considered a native ad feature. In fact, as a company philosophy, they wanted to keep ads limited to the SERPs. Well Google, life comes at you fast.
Announced as the biggest change of the year, Discovery Ads are a visual ad format across Google's properties including the homepage. So far, you'll see these on mobile devices in the discover section, but desktop should follow. In addition to Google.com properties, these also display in Gmail and YouTube properties. One could surmise that adoption of ads on these other properties has underperformed expectations, which could be a driving factor of this development.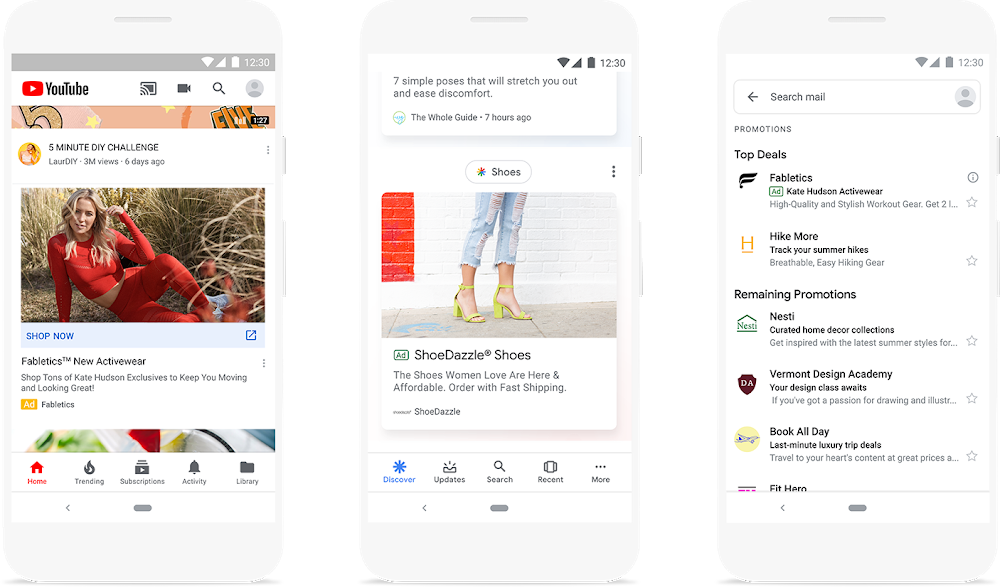 Look familiar? One can't help but compare this new ad unit to those placed on the Facebook and Instagram news feeds. Another similarity is in the targeting of these ads – gone is the loyal keyword and in is the audience. Following Facebook's lead, these ads are targeted based on who the user is rather than what they've directly searched for – Remarketing, In-Market, Affinity, Custom Audiences, and Life Events should all be in play here. A selling point to these audience targeted ads compared to Facebook is how much more data Google has on users than their competitors, though they may not want to brag about that too much.
Creative specs are going to be similar to Responsive Display Ads – advertisers will feed in multiple Headlines, Descriptions, and Images with machine learning optimizing the right ad for the right person. The Call to Action button was a selling point, with over 30 available options to inspire customers to engage.
Gallery Ads
Gallery Ads were announced as a first of their kind ad unit which show a carousel of images on Search Ads. While images in Search Ads have been tested as an Ad Extension (and Bing continues to offer it as an Ad Extension), the carousel feature most certainly is new. I heard rumblings about this in beta as early as summer of last year, and beta testers have reported improved CTR and higher Quality Scores from using these ads.
As with any creative feature offered by Google that offers additional pixels, you would be a fool not to use them. So far Gallery Ads are programmed to show in first position only on mobile devices. While these new ads will surely negatively affect SEO results, it could also drive larger click shares to the top position. With average position going away, you'll want to closely monitor your Absolute Top Impression Share.
Ad assets are going to be familiar to what we've become used to with Facebook. Very familiar. Images will need to be high quality (like Facebook, they simply state the higher the better), original (no stock photos), and with no promotion text. Highlight what makes your product or service unique and interesting, keeping in mind that if customers don't click on it, Google will give the position to someone else (via Quality Score).
Shopping
Finally, Google announced a redesign of the Google Shopping Feed to make it more of a consumer destination. These changes are announced and rolling out live over the next three months. A selling point to this redesign is a consumer feature allowing customers to order products directly from a Google Home via the Shopping Feed. Sound like another company we know?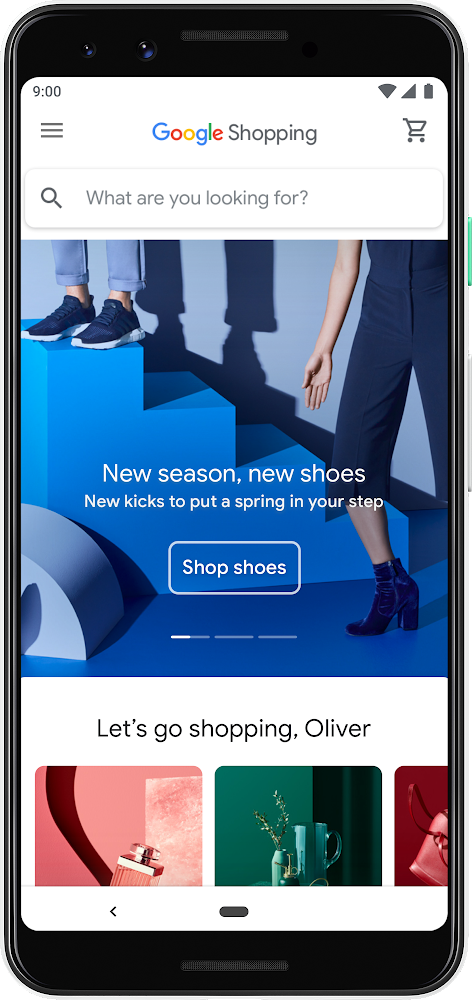 Clearly Google is trying to win some of the online retail business from Amazon with this announcement and redesign. While not mentioned by name, features Google offers not available through that other retail giant were:
Access to More Signals – Google has much more audience data across the web than other closed networks (again, might not want to brag too much about that)
Better Reviews – Google claims better and more complete reviews, as people are tied to their Google identity and cannot review anonymously
More Purchase Options – Customers can buy directly from Google, which competes directly with their retail giant competitor. However, Google can also drive users to online retailers' websites directly or direct users to make in-store purchases, which is better for retailers and local businesses and could be preferable to customers wary of Amazon taking over the world.
As marketers, we should be excited by this development and expect to adjust our Shopping budgets accordingly.
Closing Thoughts
Product launches and events are exciting times, and a lot of information is released and interpreted in real time. Here are a few items to consider:
Google must feel like they've maxed out the potential of text-based search ads. In the last three years we've gone from 95 character static ads to 270 character dynamic ads and have added a few ad extensions to the mix. With images as the next frontier, we should be set for the year in ad copy specs and ad extensions.
Google is trying to close the shopping gap on Amazon – but it feels like it might be too late. Google+ comes to mind from when Google tried to compete in the social space with Facebook, although they have a lot more going for them in shopping than in social.
Google needs to monetize their suite of products, specifically Maps, YouTube, and Gmail. They're making it easier for local businesses to get ads going, giving us tools to create video creative, and placing Discovery Ads in Gmail.
Google are followers in terms of ad types and targeting. And that's okay! Users have become accustomed to the creative they're seeing in their social feeds, and Google is right to show them more of the same. In addition, online consumers have become so dependent on Amazon that they're becoming wary of the power the retail giant wields (not that Google is less intimidating in the world domination space).
Google has grown their ads again, which is another challenge for SEO. Organic visibility is going to get more competitive with fewer spaces.
And what does this mean for emfluence? We're in contact with our Ad Representative to get into these betas as soon as available. Discovery Ads will increase our clients' reach and drive more results. Gallery Ads will help us make the most of the Absolute Top Impressions we win. Our Shopping feeds are ready for a redesigned Shopping experience, and we'll work with our clients to budget for increases. Smart Bidding enhancements will help us succeed in a project that is still underway in our campaigns. And with organic search getting more competitive but still the main web traffic driver, it's a great time to invest in SEO efforts!
---