You've done it! Your campaigns are scheduled and targeted, and ad groups are aligned to your offerings with carefully crafted keywords and ad copy. Time to sit back and watch the results come in, right?
Not so fast! No campaign is ready to go without a full array of Ad Extensions. Ad Extensions are add-ons to your ad copy that can increase your performance, including through improved clickthrough rate and higher likelihood of conversion. Simply put, ads with more information that make use of more pixels tend to perform better than ads that don't.
Just need a guide to help you with options and the necessary assets? We've got you covered. Download our User's Guide to Ad Extensions here. 
You can (and should!) use every Ad Extension available to you – Google will determine which to show at the time of impression based on your AdRank (which should be improved by Ad Extensions) and which combinations are predicted to inspire clicks and conversions. And the best thing about them – there's no additional cost! Let's get started:
Sitelink Extensions
The O.G. Ad Extension, Sitelinks mimic the functionality of organic search by offering the user different landing pages within the same domain. You can use them to funnel users to their most relevant page at the time of search. For example, if a user makes a generic search, you could show specific options in the Sitelinks to get them to the most relevant page without them having to browse.
Sitelinks appear as bolded blue links right below the main ad copy, like so: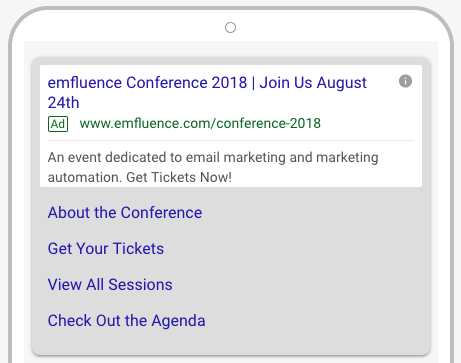 These can be automated, which allows Google to dynamically insert links to other pages under your ad, but it's best practice to manually create the Sitelinks to control which pages you will pay to drive traffic to.
What's required is Sitelink Text (what you want the link to say) and unique Final URLs – only one Sitelink per unique URL will show for any one search. In addition, you can add description text, which while not required, can enhance your Sitelinks and give you additional pixel space on the page. Up to four Sitelinks will display with your ad.
Callout Extensions
Callout Extensions are brief text snippets that can be used to point out unique selling points, offers, or re-emphasize your call to action. They appear as text right below your description, and in the newest iteration of Expanded Text Ads, they can stand-in or replace Description 2.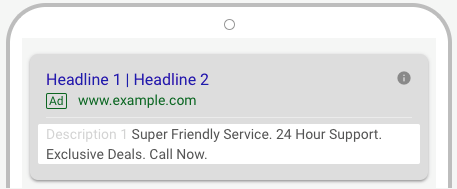 In our example, we have our unique selling points in 'Super Friendly Service' and '24 Hour Support'. We have an offer in 'Exclusive Deals'. And we have a call to action in 'Call Now'. The benefit of Callouts is with 90 characters to work with in description text, you would not be able to include all of these features, so the Callouts are vital to maintaining a competitive advantage.
Like Sitelinks, Callouts can be automated by Google, but it would be wise to manually submit Callouts to control the message. Generally, about four will display depending on the amount of characters being used overall.
Structured Snippets
Structured Snippets can be used to really focus on the unique values of your products and services and appear visually similar to Callouts. What differentiates Structured Snippets from Callouts is the Header, which organizes the values. Rather than calls to action, unique selling points, and/or offers, values will all follow a specific theme.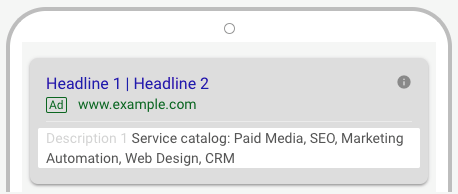 Headers include amenities, brands, neighborhoods, service catalog, and types (among others). Which to use will be specific to your business, and up to two Headers can show on desktop (only one on mobile, optimized by Google). Structured Snippets and Callouts will typically only display one or the other, especially on Mobile, so monitor performance between the two accordingly!
Location Extensions
Location Extensions link your Google Ads account to your Google Business account to help users find your business locations. Linking the two is simple, especially if you're managing Ads and Business with the same account (otherwise it's a request and accept process). If your marketing objective is to get customers into your physical location, Location Extensions are a must!
In addition to displaying address and proximity in Google Search, Location Extensions also bid your location onto Google Maps. You get additional reporting features as well, such as counts of users who requested directions through Google Maps, and (given enough data) store visits using device GPS!
You will want to tailor your Location Extensions to your campaign itself. Is the campaign objective simply to drive online sales? Disable the Location Extensions as you will get maps traffic misaligned with your objective. Are campaigns set up targeting specific locations? Make sure to set up a one-to-one relationship between campaign and location to prevent overlap. If there are multiple locations set up, up to three locations will display sorted by proximity to the user.
Call Extensions
If your marketing objective for a campaign involves tracking phone calls, Call Extensions are an ideal fit your campaign! Call Extensions allow a phone number to appear alongside your ad copy and it is clickable on Mobile to call directly from the SERP!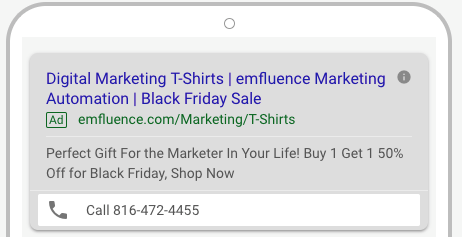 For your Call Extension to be approved, it will need to either appear on the landing page or Google Ads will need to be linked to Google Search Console (to prove domain ownership). This prevents scammers from setting up Call Extensions to misrepresent popular domains.
Calls from Call Extensions can be tracked as conversions as well! When you enable this feature, Google will use their own unique tracking numbers that forward to yours in order to track when someone called by dialing a number or clicking to call. In addition, Google can report on duration of calls and area codes (no full caller ID though).
Call Extensions also necessitate a feature that's available on all extensions, which is Scheduling. If your business is not able to facilitate calls 24/7 but the campaigns are live all the time, you will want to schedule your extension to align with your business hours. This is available in the Advanced Options on the extension set up (for Calls and all other extensions).
Price Extensions
You can highlight specific products along with their price with Price Extensions. These are best utilized when your keywords align to specific products or services, and there are a handful of options (in other words, not a Shopping feed).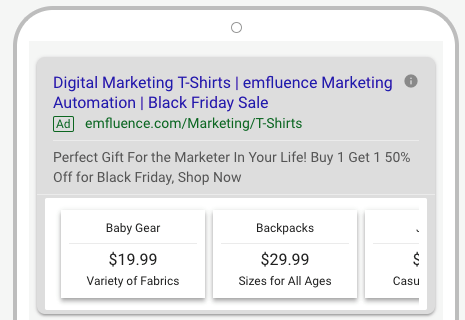 Like Structured Snippets, these are organized by types such as brand, service tiers, and product categories (among others). Prices can be qualified as minimum (From $) or maximum (Up To $), as well as by lengths of time (per hour, per week, per month).
A Header is required (this will be your product name), as well as a Price and Final URL. Unlike Sitelinks, Final URL can be the same for all items in case they're located on the same page. Description is optional but should be included as it delivers more information to the user to help them make their decision. Price Extensions will typically take the place of Sitelinks, as they are clickable to take users directly to the product listed.
Promotion Extensions
If one of your key differentiators from your competition is a special offer you're running, you'll love Promotion Extensions! This extension displays below your description text, prominently highlighting your Promotion: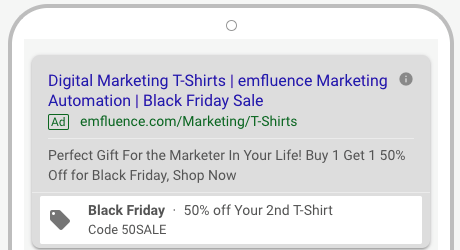 Google allows a number of occasions, such as Black Friday, Back to School, and Labor Day. You can also run a promotion without a specific occasion. Promotions can include Monetary & Percentage discounts, and criteria such as "On orders over."
Use the Item field to let customers know the exact product or service the promotion covers. Promotion Extensions require a Final URL, which can be the same as your ad copy URL, and it will take the place of any Sitelink or Price Extensions.
Message Extensions
The newest ad extension, you can now customize your extensions to allow users to send text messages to your business with Message Extensions!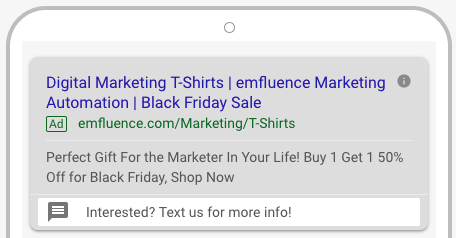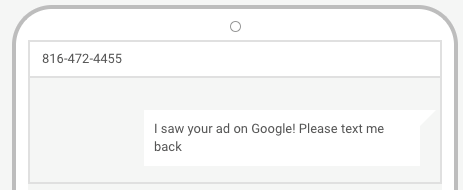 Message Extensions are especially useful if your ideal customer tends to be younger.
Message Extensions require a functioning email address or phone number and someone at your business willing to respond (the quicker the better). You can control the Extension Text (which appears below the ad copy itself), as well as the default message that auto-fills in the users' SMS app. In addition, you can submit an auto-reply message such as "Thanks for contacting us, we'll get back to you shortly." You are able to report on the number of messages exchanged, length of conversation, and customer's area code.
App Extensions
If your goal is specifically to get downloads on your app, Google has an extension for that! The App Extension connects to the Android and iOS stores, and takes users directly to the download page when they click on it.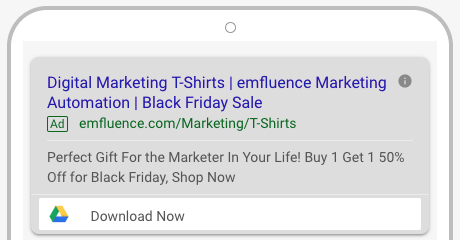 Google will differentiate device type to take users to Android or iOS app stores based on their device itself. In case your business happens to have multiple apps, be sure to set up different campaigns per app as you can only show one extension at a time.
Affiliate Location Extensions
Does your business sell products primarily through retail and affiliate chains? Lucky for you Google has an Ad Extension for that! Affiliate Location Extensions allow you to connect physical retail locations to your Google Ads account.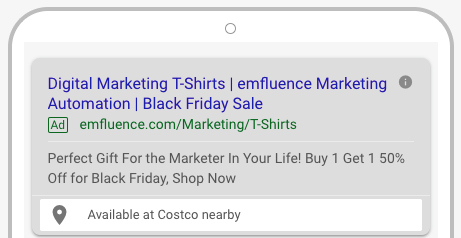 Once linked, Affiliate Extensions function like Location Extensions, except rather than your business locations, they display retailers. You are still able to see directions on mobile devices, and (with enough data) Store Visits are available as well!
At time of publication, there were 457 affiliates available in General Retailers, and 35 Auto Dealers. Simply edit the available retailers and select all those that carry your products.
To conclude, our advice is to use all Ad Extensions that meet your business objectives – they are additional pixels offered by Google for free to enhance user experience. As with any digital creative, always be testing ideas and concepts to optimize towards the best performance. For a quick reference to Ad Extensions, including character limits, download our Ad Extensions at a Glance.
---