If you really break down how B2B and B2C marketing works, the end goal is the same. It seems like the marketing world these days tries to separate the two. Yes, there are distinctions like who's involved with the purchase decision, but at the beginning and end of the sales funnel, you are still working to get someone interested enough to explore your brand and, ultimately, convert. 
In that same breath, we should emphasize that social media marketing should be just as important to B2B marketers as it is to B2C marketers. 
As consumers ourselves, we are exposed to all kinds of products and services as we browse and scroll throughout the day. Even more importantly, we base many of our decisions off the content we see on social media.  
With B2B, it's easy to forget that it's individuals in a company that are coming together to make a decision. A lot of the same consumers on social that are being advertised to by B2C companies are also the ones behind B2B decisions. Whether they're coordinators on a team or hold executive level positions, the content they come across on social media is a huge source of information that can impact their decisions.  
Benefits of Social Media Marketing
Social media may have been a fun way to chat with friends in the past, but it has evolved to include all sorts of use cases since it first appeared. Now there are millions of ways to use social media to interact with others which means plenty of reasons for you to leverage this marketing tool. 
Connection
It's been repeated throughout the ages (or at least in the times of modern technology) that social media is meant for connection. These are powerful platforms that allow us to reach a wide audience and build meaningful relationships with each person.  
Think about the connections you create through social media in your personal life, whether that's networking on LinkedIn, setting up video chats through messaging apps, or following your favorite influencers and brands. These are all consistent interactions that have led to positive associations.  
Now imagine this in a B2B environment. Clients are consumers too and you never know where they might come from. A memorable presence on social media powered by positive interactions and useful or entertaining content positions your company in a better light.
Let's say I work for a company that's been struggling to keep our leads organized and you have just the software to solve my problems. A few animated GIFs, graphics that highlight the best aspects of your product, and some video testimonies is enough to leave a lasting impression. Take that enhanced by weeks of engagement and a great content strategy and it starts to feel less like a cold sales pitch and more of a two-way street. More often than not, people buy from people which is why these social connections are so important to foster. 
Information
Fun and games isn't the only kind of content that performs well on social platforms. Information is also really easy to distribute, building a reputable presence in the industry. Think of all the work you've put into articles, blog posts, and white papers. They don't just have to sit on your website for people to come across. 
Instead, social media is the perfect place to share knowledge and function as a way to get your foot in the door. Like I mentioned earlier, there are millions of ways to interact with an audience on social media. Rather than throwing the link into a post, you can come up with other strategies to get someone to click. 
For example, create a poll on LinkedIn with opposing points of views as the answer options. Share your white paper along with it as a "source of truth". You can also garner interest through a series of Instagram stories that give a brief overview of the topic with a link to a landing page for a free guide download.  
It isn't just industry information that's worth sharing on your socials. Use this opportunity to share more about your company as well— anything from your roots to your mission and values. Social media is a great tool for creating brand awareness so be sure to use your profiles to help your potential customers learn more about your brand and your why. 
Traffic
Getting a conversion straight from social media can seem like a stretch. We all know the amount of digging around that's done before a purchase decision is made. So why bother with social media if that's the case? Beyond being a source of engagement and information, these platforms are also useful for redirection.  
This is a good stepping stone if you're wanting to drive more traffic to your website. It starts with creating an experience filled with positive interactions, useful resources, and insightful content which leads customers to your site where they're able to learn more about your product or service.  
Social platforms are great for directing more traffic to your site. All profiles include website links and it's quick to cross share content from one platform or website to another. A strong content portfolio and a good strategy will get people motivated to learn more and visit your site. When it's done right, these prospects end up coming to you which makes it that much easier for you to show off your products or services. 
B2B Social Media Marketing Strategies
There's no shortage of strategies when it comes to marketing on social platforms and covering them all would make for a much longer blog post. Here are three to hold close when you're navigating your campaigns:
Clear Goals
Social posting may seem all over the place, but you do want to have some sort of strategy and goals in place to keep you on track. Direct sales is probably not what you're shooting for here but if you're looking to guide prospects through your sales funnel, you can focus on creating content that contributes to lead generation.  
Be realistic and specific with your goal setting, such as posting x amount of content with x number of blogs and x number of white papers. This will make it easier to stick to and your objectives easier to achieve. Overreaching can set you up for failure but having a clear path in mind will get you far. 
Clear Target Audience
Social platforms are useful because they can single out the accounts that fit your target audience and have your content appear more to those people either through paid content or the platform's algorithm.  
The key is knowing who you are trying to target. This involves fleshing out your buyer personas and understanding who is on the other end of your content. There's a lot that gets shared on the internet which means if you're not working with clear guidelines of who your content is aimed at, it can get lost in the noise. 
Clear Metrics
It's immensely satisfying to kick off a cool social campaign or post some well-thought-out graphics, but content creation is only the start of it. Posting without factoring in your performance is just posting for fun and not strategy.  
A complete strategy will include methods for measuring your achievements and putting data to success (or failures). There are a variety of tools out there to gauge your metrics whether you're interested in engagements or conversions.  
Once you have the data in hand, you'll have valuable insights into how you're doing and what can be done better the next go-around.  
B2B Social Media Marketing Examples
IBM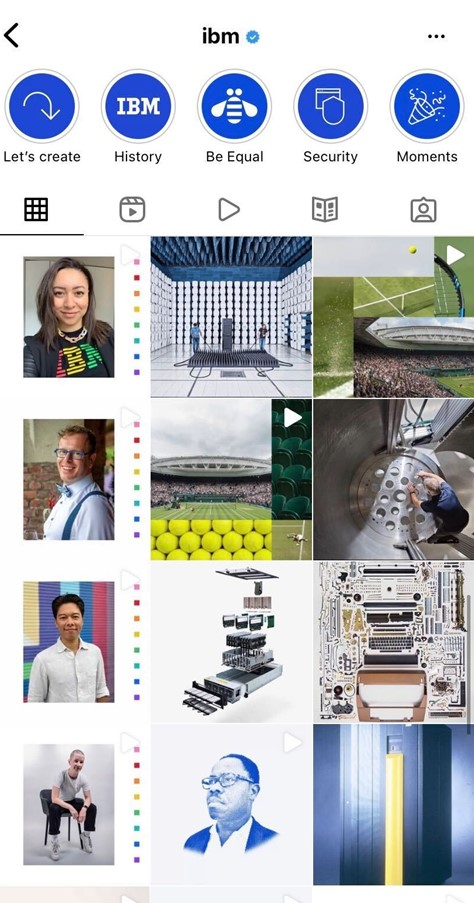 Technology isn't always the easiest to grasp when it's as complex as the work that goes on at IBM. This may make you wonder what they do on their socials to keep everything relatable and fun to digest. Check out their Instagram feed which has a nice, clean aesthetic and includes a mix of creator spotlights, relevant Pride Month content, and interesting videos that break down the tech. 
Shopify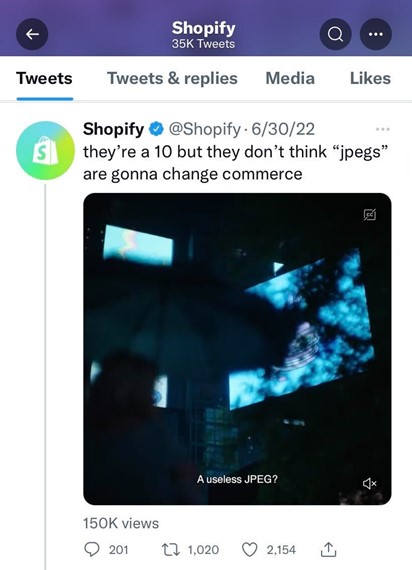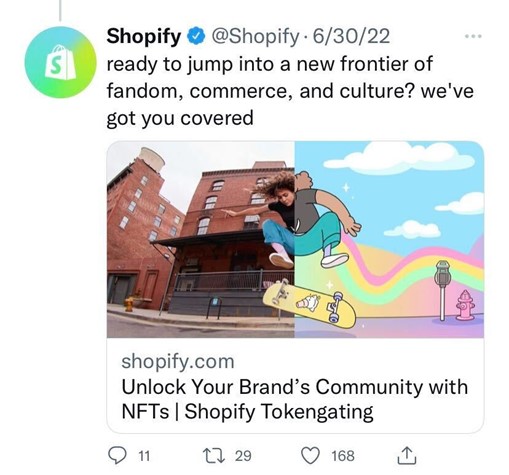 Shopify does a neat job of utilizing their Twitter account to relate to their audience by jumping in on social media trends and supplying eye-catching and colorful videos and graphics to go alongside it. The latest internet meme they've joined is the "______ is a 10 but" that pokes fun at people. Shopify does a really good job of this by then creating a thread that relates to NFTs and their company.  
Zoom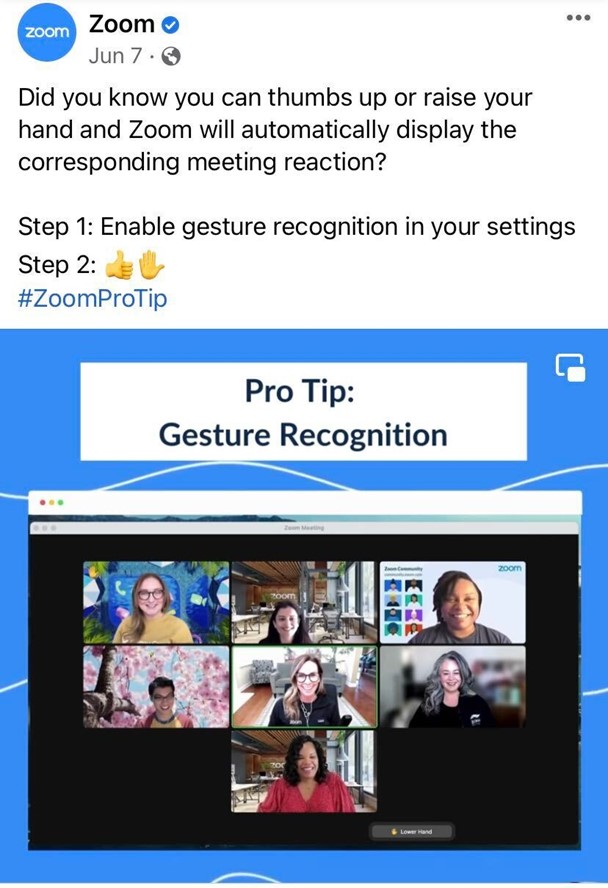 This software company has taken over since the pandemic started a couple of years ago and the momentum they've made could have resulted from strategic positioning on their active social accounts. There's some cool content if you scroll through their pages—take a look at these regular "Pro Tips" they share which consist of quick video tutorials that show off features the software. Paired with the short, clever copy and a hashtag, this becomes super social media friendly.  
emfluence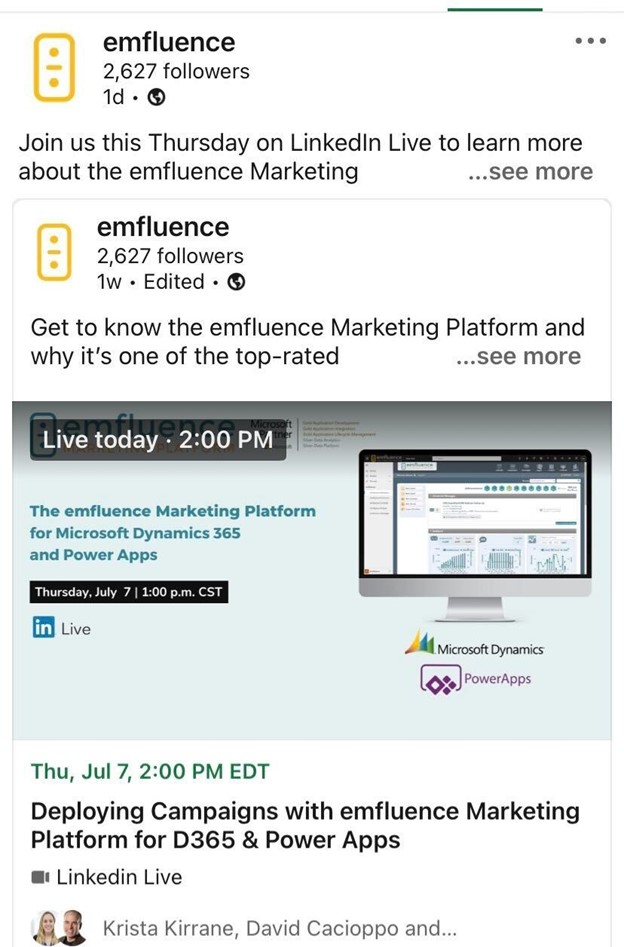 Obviously, we have to touch on emfluence, especially with all the exciting new marketing ideas that have been worked into our strategy lately. LinkedIn is a major platform for B2B business and communication. emfluence has been tapping into LinkedIn Live to help others learn more about the emfluence Marketing Automation Platform for Microsoft Dynamics. We've featured pre-recorded demos with live sales rep Q&As and even had our CEO step in and share, generating all sorts of playback content for audiences.  
The Takeaway
There's a lot that can be achieved through social media if you take the time to explore. While it is known for silly, serious, viral content, influencers, and B2C ads, there's also a complete world of possibilities to try out on the B2B side. At the end of the day, regardless of who you're trying to do business with, it's all about content that makes people stop and care. Nail this part of your strategy down and you'll find that growth follows.  
---