In November, Facebook rolled out a new way for SMBs to support local discovery and ecommerce in a tool you probably didn't expect: WhatsApp.
Long known as a communication tool for your friends living overseas, WhatsApp has taken on a new face of late as users of the Facebook-owned app have taken to chatting with businesses as well. With the addition of the new tool, called Catalogs for Small Business, business owners can link their WhatsApp for Business account followers to photos and product information without having to share that information in a back-and-forth chat.
What Is It: Catalogs for Small Businesses
As you might expect, Catalogs are a visually friendly way for SMBS to showcase and share their products on a mobile storefront—all from within their WhatsApp Business profile. These Catalogs can be categorized and allow WhatsApp users to browse and discover a business's wares from within the platform. Since users previously had to request information and business owners previously had to send photos and information manually in response, the ability to post this information for discovery is a big plus for the user experience.
From within each Catalog, a business can add information like price, description, product code, and more, plus you can share Catalogs or items in a catalog directly with another user. Take a look at how the image library looks from the Facebook announcement here: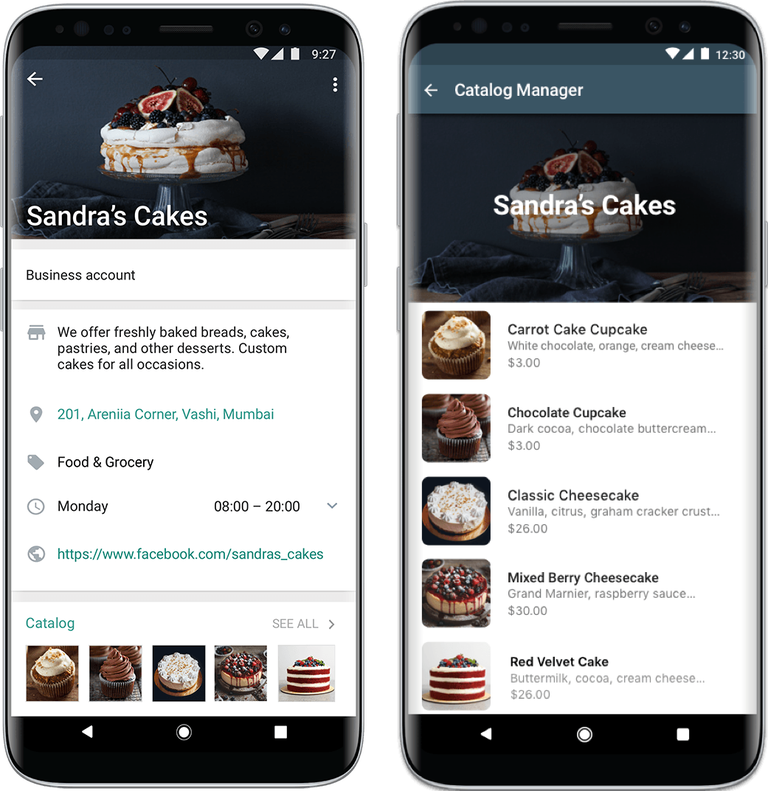 And building a Catalog seems pretty straightforward as well—learn how to build yours in this video:

While the actual cash transfer can't happen in WhatsApp (yet), business users can link to website pages where their products are sold—which brings the tool a little closer to tracking an ROI.
Haven't Heard of WhatsApp Business?
Consider it another tool in your social media toolbox. Although WhatsApp isn't hugely popular in the U.S., the global reach for the platform is pretty significant—WhatsApp has more than 1 billion daily users and more than 1.5 billion users overall.
If you're looking for a social platform with global reach, you might consider adding a WhatsApp Business profile, which would allow you to automate, sort, and quickly respond to messages—which is a good thing if you have a small, photogenic business or a large business that needs to provide quick customer support. You can read more about creating a profile here—and check out the cool features, like the ability to label a chat or create automated messages: https://www.whatsapp.com/business/
---