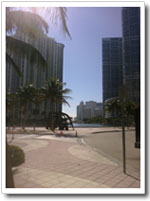 In addition to beautiful 80 degree weather in January, Marketing Sherpa's 2010 Email Summit once again proved to be a fact-packed conference about our beloved email marketing. Here are some of our favorite take aways:
Top Quotes at Marketing Sherpa's Email Summit 2010:
"You're NOT sending too much email. You're not. You're sending permission mktg. Stop fear and self-loathing in email marketing! There's no such thing as inbox overload from real marketers. It's all the other crap out there. You're not spammers!" – Dela Quist, CEO of Alchemy Worx, gives a pep talk to the email marketing industry in Friday's morning keynote.
"How many times a day would you accept an email with a $20 bill in it? It's about value, not just relevance." – Dela Quist, pointing out value's impact on
acceptable frequency.
"Retention is the New Acquisition." – Joseph Jaffe, JaffeJuice. This one was debated in both directions during the conference, but the main point stands: in today's world, you can't afford to lose even one customer. AirTran, one of the conference presenters, states that every 1% of retention equates to $5 million in business.
Take Away #1: Distinguishing Relevance & Value.
Don't get stuck on relevance – it's about value! If all your content was just relevant, people wouldn't necessarily learn anything. Just because it's relevant – it applies to you – doesn't mean that it holds any value to you and it's the latter that will
drive action.
AirTran's "welcome" emails get 3x the open rate of their promotional emails. The relevance is high and it's likely there is something of value in the email: a password reminder, a welcome offer, etc.
Be aware what you put in your order confirmations: they have inbox shelf life. One presenter, S&S, averages an 88% open rate for their welcome emails. You may never have this many eyes on your emails again: use that space to offer value to your prospects and customers.
Great Case Study on relevance that lends value: VisitIndiana.com split their "blast"-style e-newsletter into 3 separate newsletters, segmented by type of content. Then they asked all their subscribers to re-opt in to the list(s) of their choice: discounts, events & trip ideas. Those that didn't choose 1 of the 3 new VisitIndiana newsletters and hadn't interacted with their old emails in 12 mos were removed from list. The result: the subscriber list was reduced by half, but total number of clickthroughs (not just percentage click through rate) jumped over 10x. Ask your subscribers what they want and they'll reward you with desired action… as long as you listen!
Take Away #2: Ask for the Connection.
"Anyone who doesn't do opt-in marketing, there's the door. I hate for you to miss a great session, but I can't help you." – Dela Quist.
Email is not a magazine or website. It's a step on starting conversation.
Indiana Tourism Department asked their email subscribers' interest in type, subject and frequency of emails, looking to segment to increase relevance & value. They found that segmenting by content type, rather than by demographic, was best, with the #1 interest being in discounts (value!).
When Dell negotiated for promo space for an opt-in on their home page, they saw a 38%+ lift in email subscriptions.
An interesting email/SEO tactic: ask recent customers for product reviews. Add new reviews regularly to product pages for fresh, new content.
"You have to *earn* the right to get permission." – Joseph Jaffe on offering value in exchange for the right to enter someone's inbox.
"I'm a customer. You don't DRIVE me. You seduce me." – Dela Quist
Take Away #3: Be Authentic.
People buy from people, not from businesses.
Don't just pitch or promote on LinkedIn, especially within Groups. It's the same as with all social media: be authentic and connect, don't sell.
In terms of establishing trust, the big trend in social media marketing (and all marketing) is service. "The currency of customer retention & acquisition is service." – Joel Book, Director of eMarketing Education, ExactTarget.
Credibility is also a key factor. A big social media network looks good, i.e. lots of twitter followers or fans on facebook, but if your content, industry or followers are outside my subject area, the value of following you or becoming a fan goes down.
"Evangelists in social media can be your best salespeople." – Ellie Mirman, Inbound Marketer at Hubspot, mirroring the sentiment that all your evangelists – no matter the medium – are your best branding, marketing and sales opportunity.
Take Away #4: We're in the Era of Data-Driven Marketing.
10-25% of a Business-to-Business database is made up of bad data. This is a huge lost revenue opportunity.
Email is AirTran's most profitable marketing effort. They saw 7x increase in CTR
in '09 alone.
AOL, Yahoo and Gmail are enforcing engagement-based filtering. All ISP's are enforcing domain-based reputation.
Have a theory before you test. "I'm predicting A is going to win because of XYZ". And don't take the results too early. Then use what you learn from testing to refine future theories and tests.
The most common pattern in email is 1; 1 open, 1 click, 1 purchase.
Opens and Clicks are a stethoscope: it only means you can tell if email subscribers aren't dead. But do you know what percentage of your subscribers opens at least once a year? Measure your desired outcome over time as well as just across campaigns.
AirTran has over 30 data points on their customers. Talk about segmentation possibilities… Thank goodness for variable data.
Take Away #5: Social, Social, Social…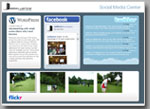 You're 53x more likely to show up on first page of Google if you have YouTube video result – from Forrester Research
Marketing Sherpa research shows that the biggest barriers to social media adoption by email marketers is a lack of strategy and no way to measure ROI.
"With social sharing, email marketing now has a long tail. We may see traction on an article weeks after publish date." – Greg Cangialosi, CEO of Blue Sky Factory.
The entire social media panel predicted that we'll see a swell in "Community Manager" positions to engage the community. A full time person to manage brand, image and interaction with community both on- and offline, and especially in
social media.
"Social isn't a good way to get permission. Email is still king of permission messages." – Sergio Belgno
Social media marketing is more effective at softer objectives like branding and awareness than harder objectives like list growth and lead generation.
"Wide netters" (many friends on many networks) are twice as likely to lead to conversions via social sharing than members of the nonactive silent majority
How does social tie in with email? 50% of the content shared on the internet right now is shared via email.
Take Away #6: Multi-Channel, Unite!
With all the talk about social media, a member of the social panel Friday morning pointed out that Social Media segments won't replace your email segments, they will supplement them.
Social sharing links should drive to custom landing pages that speak specifically to their response behavior. Give them relevant and valuable information based on what you already know about their behavior.
Goal of most email marketing should be to get the click through, not a sale. The sale should happen on the landing page, where you can introduce rich media, collect data, and easily navigate into the rest of your site for limitless information.
More in the way of job creation in the industry: think about a Chief Experience Officer. Someone who can do both social media marketing and email marketing and make sure they tie together. You can't have your PR department handling social and Marketing doing email.
Develop a marketing strategy for subscribers that don't open your emails. Simply your presence in the Inbox drives activity in other channels.
For pictures from Miami and the emfluence booth & crew, visit our Flickr page. See you all next year!
Thanks to all the great speakers and presenters at Marketing Sherpa's Email Summit 2010. And credit/shout out to the tweeps that contributed some 140-character quotables: @gregoryng @matthew_parente @ellieeille @djwaldow @justinpremick @blairgoldberg @gregcangialosi @joelbook @rcallahanbbi @kristinhersant @ivanchalif @jaffejuice @StephanieSAM
Subscribe to emsights and get these great tips and tricks in your inbox each month.
---