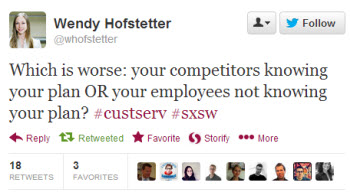 "Which is worse? Your competitors knowing your 'plan' or your employees not knowing your plan?" In a fantastic SXSWi panel on the growing area of social customer service, the people behind the social media voices of Southwest Airlines, Chase Financial and Samsung spoke to a packed room about how the big guys handle (and learn from!) social media. My 3 favorite quotes:
"Your employees are your social brand ambassadors. If you don't trust them you'd better train them." – Brooks Thomas, Southwest Airlines.
"I can teach anyone how to tweet or post. I need someone in social media who can display critical thinking during a crisis and who has strong writing skills." – Bianca Buckridee, Chase. She/the panel also pointed out, she wants someone who is a true advocate of the brand! The right combination of clever, (grammatically correct), caring and quick on their feet can be hard to find for your social media position, but is necessary.
"If you're sending your C-Suite a report on social that just includes audience size or numbers, add sentiment and qualitative feedback to that report (especially if there is anything negative!)." – Carla Saavedra Kochalski, Samsung. It's almost impossible for them to not see the value in hearing and listening to those statements.
We've definitely seen the importance of customer service as one of the 3 key components of great social media: customer service + marketing + research. Another key takeaway from the panel? Each of the three customer service reps sits (and/or works) close to their Marketing team! They talked about the impact that social media has had on the entire business structure for each of their very customer-focused companies.
---