Video is king…. or at least queen. If you haven't started incorporating videos into your social media strategy already, now may be a good time to start thinking about it more seriously. According to SocialMediaToday, video is the best performing digital content type. Which honestly shouldn't come as a surprise to anyone at this point.
Let's just quickly talk about how huge video content consumption is among consumers really quick.
Those are some crazy statistics to consider when thinking about whether or not you want to push video content out on your social media channels. These stats are clearly acknowledging that consumers are open to watching videos, if not actually actively seeking out videos to watch.
So, now you may be wondering what social channel you should start with in your new video content marketing strategy. Well, looking at online trends, it looks like a good place to start would be IGTV or Facebook videos.
IGTV
The initial launch of IGTV last year was not necessarily a great success; however, over time it appears that there is some promise when it comes to this channel. After the initial lackluster launch of IGTV, Instagram made some changes that have greatly increased the performance of this tactic. The benefits of IGTV include:
IGTV supports both horizontal and vertical videos – revolutionary, huh?! (That was slightly sarcastic, as it's 2019, so it seems reasonable to me that we can view videos in both vertical and horizontal orientation.)
Users can post videos up to 10 minutes long with the additional ability to publish 1-minute previews!
You can access IGTV in multiple ways – so versatile! IGTV is available in a standalone app, as well as the Instagram app.
Need some inspiration for your IGTV? Check out how The Food Network has used this channel to showcase their brand in a yummy way!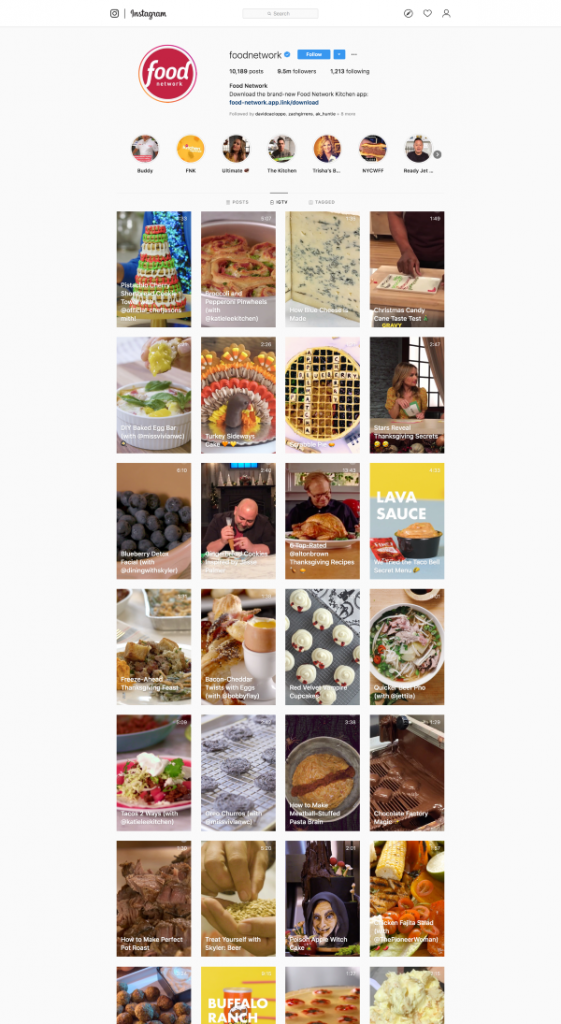 Facebook Videos
Let's start with a mind blowing stat. 62% of people have reported being more interested in a product after seeing it on a Facebook video. That should be incentive enough for all brands to be jumping on the Facebook video bandwagon, right?! Posting a video of your product or brand to Facebook, is an awesome (and proven) way to increase awareness among your audience. So, what other incentives are there to be posting Facebook video content? Let's take a look!
Studies found that54% of people wanted to see more video content from a brand or business they support. People want to see more of you if they like you. Give the people what they want!
There are so many options when it comes to how and what you would like to post. You can post videos in an ad, an organic post or by live streaming. If you're anything like me, then you like to have options.
Increase your conversions and engagement by posting video content instead of static images. Studies show that video assets drive an 11% higher conversion rate than statics. And the good news is that this trend only seems to be increasing over the years!
Checkout how Skittles intrigued consumers with their 2018 Superbowl commercial by using Facebook videos and a guy named Marcus Menendez.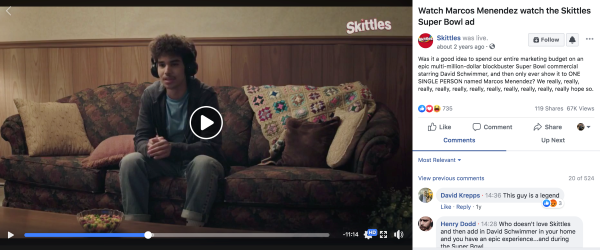 So, if you are looking to increase your engagement and presence across your social channels, then these options we discussed may be a good place to start. With that being said, these aren't the only two channels where video content lives. An up and coming platform for video content that you may want to also keep on your radar for 2020 is TikTok.
TikTok
Some of you may not be familiar with TikTok, but it is a newer platform that is gaining huge popularity for people who enjoy posting short-form video content. While this platform isn't as popular with older audiences, it is still a great platform to engage with younger audiences. The best part? There is already a huge audience that uses the platform and it's only growing for the time being. According to stats, TikTok beat Facebook, Instagram, Snapchat, and YouTube for media app downloads.
Chipotle made the news in August with their #GuacDance challenge on TikTok. This campaign received 250,000 video submission and 430 million video starts during a six-day run. I'd say this is a success story if I've ever heard one.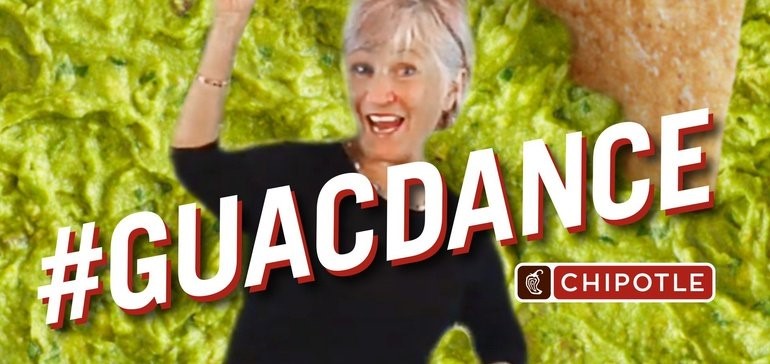 And that's a wrap on the highlights of why and how you should be utilizing social videos as part of your overall marketing strategy. All that's left to do is to decide which platform is right for you to get started on!
---