As marketers, we are all aware that there are restrictions when it comes to the types of content you can post and advertise on social media. However, it's important to note that different social media platforms have different advertising restrictions and guidelines. So before you start posting content across all of your social media platforms, it is important to be familiar with all of the platforms guidelines because what is acceptable on one platform may not be allowed on another. Let's take a look at some of the most prominent social media platforms and see what you can and can't do with your content on each.
A Content Guide for Facebook
Facebook states that their "advertising policies provide guidance on what types of ad content are allowed. When advertisers place an order, each ad is reviewed against these policies." To further help marketers and advertisers understand the types of content that is or is not allowed on their site, Facebook provided sections that outline prohibited content and restricted content.
Under the prohibited content section, there are 30 different categories of the types of content that are not allowed. Most of the prohibited content categories that are listed should come to no shock for most marketers. These prohibited content categories include illegal products or services, tobacco and related products, drugs and drug related products, spyware or malware, and prohibited financial products and services.
However, some of the content that is prohibited by Facebook is a little more open to interpretation and not as straight forward. These prohibited content categories include:
Unsafe Supplements: Ads must not promote the sale or use of unsafe supplements, as determined by Facebook in its sole discretion.
Sensational Content: Ads must not contain shocking, sensational, disrespectful or excessively violent content
Non-Functional Landing Page: Ads must not direct people to non-functional landing pages. This includes landing page content that interferes with a person's ability to navigate away from the page.
Grammar and Profanity: Ads must not contain profanity or bad grammar and punctuation. Symbols, numbers and letters must be used properly without the intention of circumventing our ad review process or other enforcement systems.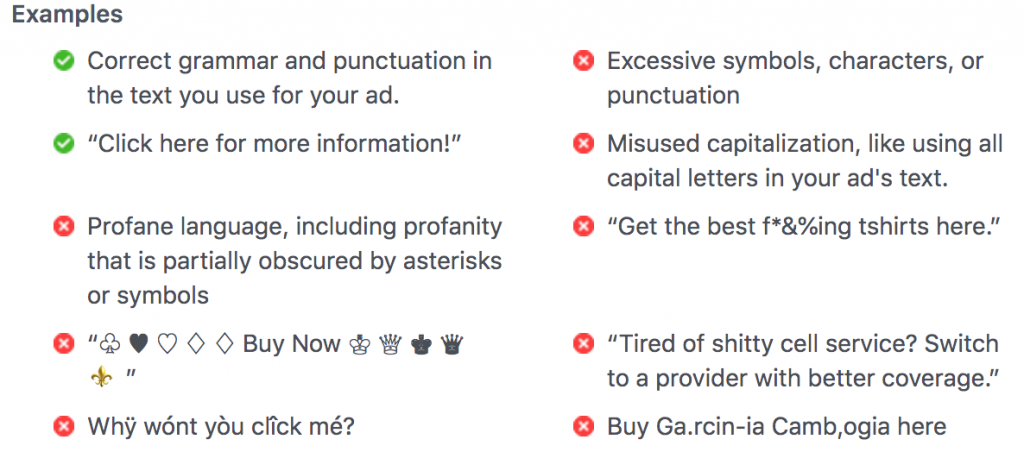 Non-Existent Functionality: Ads must not contain images that portray nonexistent functionality. This includes imagery that replicates play buttons, notifications, or checkboxes, as well as ads containing features that do not work, such as multiple-choice options in the ad creative itself.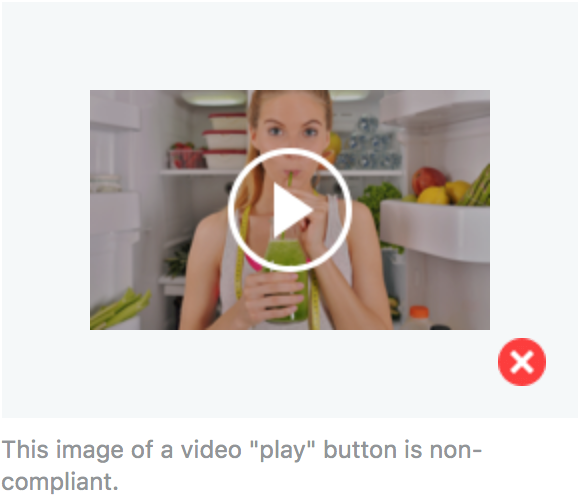 See the full list of all of the prohibited content for Facebook here.
A Content Guide for LinkedIn
According to the LinkedIn Advertising Policies page, "LinkedIn's mission is to connect the world's professionals to allow them to be more productive and successful. We believe that ads delivered through our service should be relevant and useful to our members. These Advertising Policies will help you to determine whether your ad is appropriate for LinkedIn and our members."
While reviewing the list of prohibited content, you will start to notice some of the same content that Facebook prohibits. However, there are a few differences between the two.
Some of LinkedIn's unique prohibited content includes:
Fake Documents and Related Services. Ads for fake documents and related services are prohibited.
Ads for downloadable ringtones are prohibited.
Ads related to the buying, selling or trading of cryptocurrencies are prohibited.

Note: On Facebook, Cryptocurrency advertising is listed as restricted content, which means you may be able to promote cryptocurrency trading or related products and services if you receive written permission.

Occult Pursuits. Ads for fortune telling, dream interpretations and individual horoscopes are prohibited, except when the emphasis is on amusement rather than serious interpretation.
See the full list of all of the prohibited content for LinkedIn here.
A Content Guide for Twitter
The Twitter ad policy states, "advertisers on Twitter are responsible for their Twitter Ads. This means following all applicable laws and regulations, creating honest ads, and advertising safely and respectfully."
Once again, there are some similarities to other social media platforms when it comes to the type of content that is prohibited to promote. Like the Facebook and LinkedIn, Twitter prohibits promoting counterfeit goods, drugs and related products, and weapons.
However, some of the prohibited content that is unique to Twitter is:
Endangered Species: Twitter prohibits the advertising of products derived from endangered species, as well as the sale of such species.
State Media: News media entities controlled by state authorities may not purchase advertisements.
Quality: To ensure that users have a positive experience on Twitter, advertisements must adhere to certain editorial guidelines.
See full list of all of the prohibited content for Twitter here.
Moral of today's blog post – please stay up to date on the latest ad policies for the social networks where you promote your products, services, brand, etc.! By reviewing these policies on a regular basis, you can ensure you are giving yourself the best chance at getting your ads approved. Because let's face it, no one likes dealing with the headache of having ads get rejected.
---