Engaging audiences is one of the top ways to build relationships and grow a business. Your customers are a key to your success and getting them involved is how you stay memorable and increase conversions. Your content strategy plays a major role in this and one idea that many companies have been exploring is gamification.
What is Gamification?
Gamification is when game-like elements such as rewards, competition, or challenges are incorporated into non-game activities or processes. This is a strategy that many will include in their content to enhance customer engagement, drive loyalty, and achieve specific marketing objectives.  
It's a way of transforming marketing activities so that they are interactive and enjoyable for target audiences.  
Why Use Gamification?
Integrating gamification aspects into your content strategy can benefit your campaigns and encourage audiences to click, engage, and add a bit of excitement to their day. Gamification can make impacts in a variety of ways, including:
Making content more engaging for target audiences and encouraging them to spend more time interacting with your content.
Facilitating learning and making it easier for target audiences to understand and retain the key messaging.  
Keeping your target audience intrigued and entertained, increasing brand loyalty and long-term engagement.
Providing valuable user data and insights that can then be utilized to refine current and future marketing strategies.  
Benefits of Implementing Gamification in Content Marketing
Gamification is a powerful tool for running successful campaigns that generate data-backed insights and higher conversion rates. Let's dive deeper into the benefits it offers.  
Gathering Data
You may not realize it, but gamification is an impressive data collection tool. Whether through games or quizzes, challenges or competitions, you'll find that audiences are willing to share more when they're having a good time. You can gather information about your audience's preferences, behaviors, and demographics.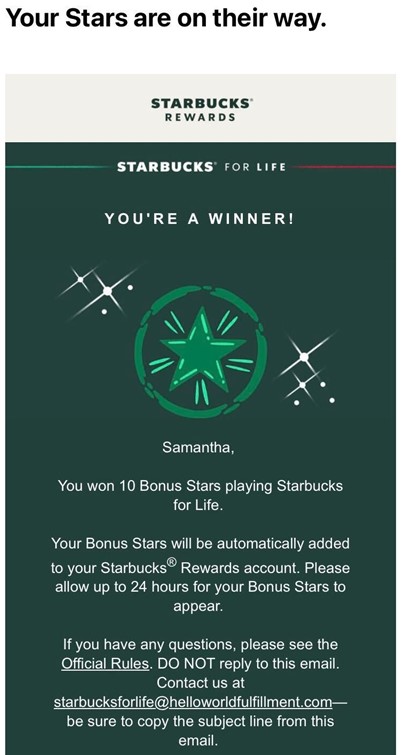 For example, Starbucks hosts a Starbucks for Life campaign every holiday season. It involves reading through stories, playing games, and solving puzzles to earn stamps that could lead to extra stars, special rewards, or even the coveted prize of free Starbucks for life. Along with game features, Starbucks has also sprinkled in survey questions for players to advance, asking about what customers would like to see in the future or their drink preferences.  
Attract Customer Attention
The digital world is filled with all kinds of wonders and attention spans are only getting shorter. Gamified content stands out against the rest. It captures your audience's attention and keeps them engaged. This ensures that they're consuming more of your content while also absorbing your brand message.  
Monitor Campaign Progress
It's easy to know just how well your campaigns are succeeding when gamification elements are involved. You can track user progress in real time, measure the level of participation, and evaluate your metrics for success. Seeing these live can allow you to make tweaks where necessary and continue to optimize as you go.  
Increase Brand Awareness
Interactive content tends to get more engagement on social media, email, and other platforms. This is because when one user is enjoying it, they're likely sharing it with their circle of friends and becoming a brand advocate in a way. This organic sharing boosts brand awareness and reach.  
Think back to when the Barbie movie was going through its pre-release press. How many of these did you see across your feed (featuring a version with my cat and her airplane ears)?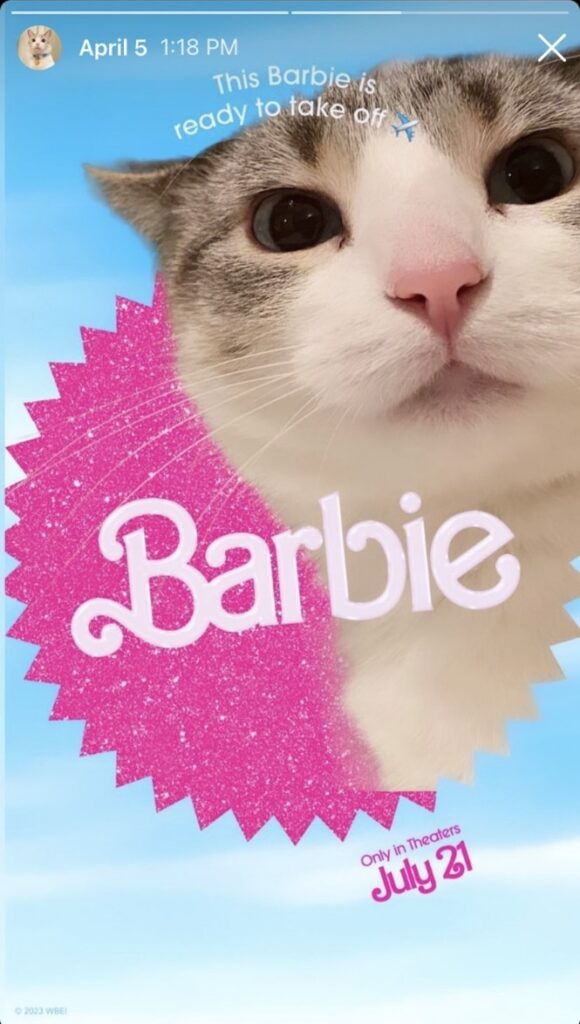 Interactive Content Marketing Ideas for Your Business
Gamification is fun so it makes plenty of sense why you'd be excited to incorporate its elements into your content marketing. Here are some ideas to get you started! 
Scavenger Hunt
Scavenger hunts can take place online just like they can in-person. Create a digital version where users explore your website or social media platforms to find hidden clues. Those that make it to the end can be given a reward such as first access to new products, a sneak peek into a highly anticipated release, or a discount applied to future purchases.  
This could be an ongoing activity or a specific campaign (ex. "Keep an eye on our social media the next few days for hints to a surprise"). Rebecca Yarros and her marketing team at Red Tower had a fun time with this when announcing her midnight release party for her highly anticipated sequel.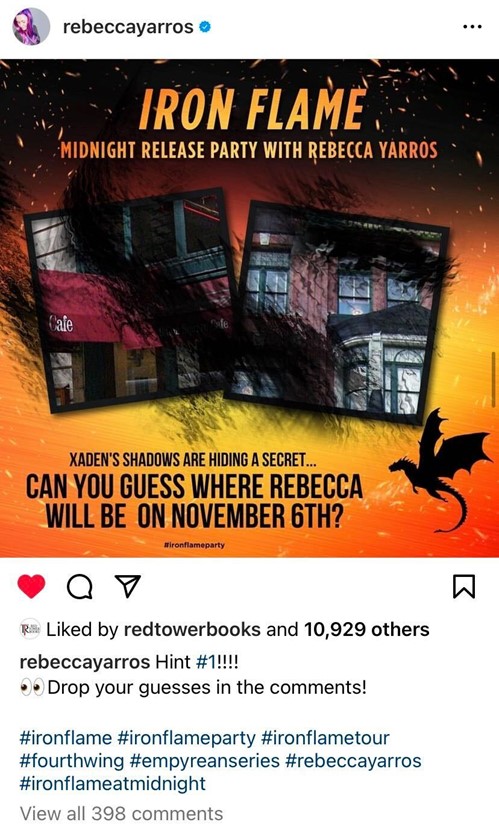 Prize Wheel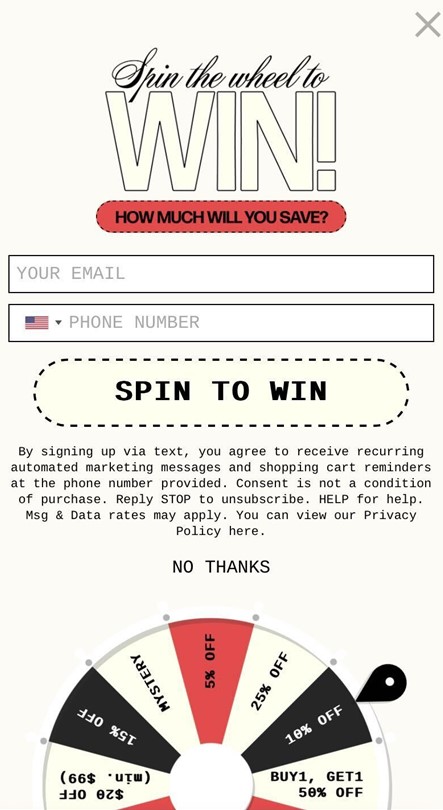 Prize wheels are a quick way to get users involved. You've likely seen these pop up on the front pages of many websites, offering discounts to those that have stopped by to browse. It can be a useful way to encourage audiences to share their contact information in exchange for a prize they've earned.  
Raffles
Offer raffles to users who engage with your content or perform specific actions. These are relatively easy lifts and holding regular drawings can lead to excitement for your audience. Raffles show up all the time, especially on social media. It likely hasn't been too long since you last saw a brand host a giveaway in exchange for follows and shares.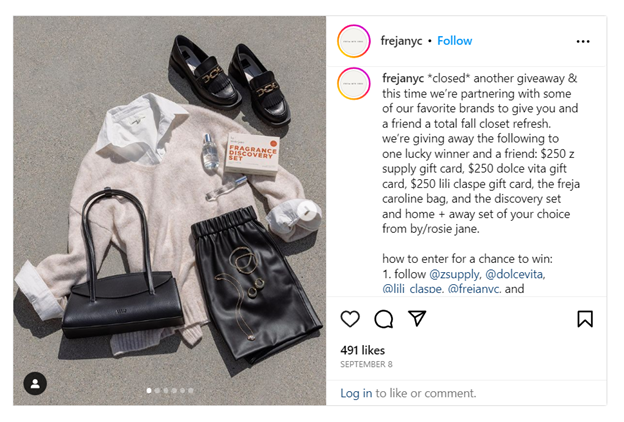 Trivia Contest
Test your audience's knowledge with quizzes related to your products, your services, or your industry. Those that answer correctly earn something special.  
Taylor Swift pulled off one of the largest trivia challenges recently on Google search. Fans were encouraged to solve puzzles and answer questions related to the singer. This was a collective effort by many and once the global progress bar reached the end, she released the titles of her vault tracks for her re-recorded album coming out later that month.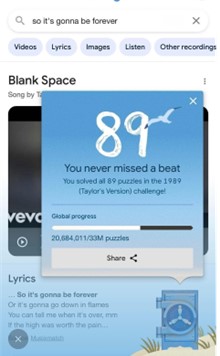 The Takeaway
There are so many innovative ideas and paths you can take with gamification that will breathe new life into your strategies. Not only are you boosting engagement and spreading brand awareness, but you're also leaving your audience with a lasting impression that keeps them excited about your brand.  
Need help with your marketing strategy? Contact us at expert@emfluence.com.
---