Social media has driven the way society interacts with one another. This is a highly personalized world of its own which means making a post is all you have to do to get involved, right? Wrong.
Just like how we as marketers take the time to craft our email personalization and customer experience skills, social media personalization requires the same effort and innovation.
Social media users want to be treated like the individuals they are and companies that take the extra steps to create these personalized experiences can go far with their audiences.
Study Your Audience
Data drives relevance. You need to know your audience in order to personalize for your audience. This is why literally billions are spent on market research each year.
It becomes difficult to create personalized content when you're not sure who is on the other end of your communication. Companies of all sizes can take part in research, and it doesn't always require a massive budget. Quality will be more meaningful than quantity. If you're unsure where to start, leverage your current customer data from your CRM. Data that has been volunteered is also a good source.
Audience insights are easy to glean through Facebook. Look for the "top fan" badge for the people who consistently interact with your page. This appears next to comments, private messages, and mentions that the individual shares on the platform. The top fans list is visible to anyone and is updated weekly. While it can be toggled on and off by each individual, it is still a great resource for marketers.
A note on this: Personalizing content for your audience doesn't (and shouldn't) prioritize intrusive data. Sometimes that can get a bit creepy, and many people are taking extra steps to protect their privacy. Instead, use contextual data to connect with your audience. Utilizing this can be just as valuable as personal data. Location, weather, and time are a few examples.
Take Advantage of Retargeting
You know those situations where you scroll through items on a site, randomly click into a few before exiting, only to find that your Facebook or Instagram is showing you ads for the exact thing you were just looking at? A little uncanny? Well, not so much if you understand social media retargeting.
Retargeting is an advertising tactic that involves reaching out to people who have previously browsed your site and left without taking action. This is typically done through cookies placed on your browser when you are surfing the web. The company can then serve you ads based on your browsing.
Retargeting is a useful tool in reminding people who got distracted in the buying process or for people who are still deciding to make a purchase. Retargeting Case Studies have shown that retargeting ads are clicked on more than standard ads and lead to higher conversion rates.
Lean into User-Generated Content
Taking a semi-hands-off approach to personalization AND your audience taking over the final creation? It's not as unbelievable as it may seem. Whether you have a full-on app to work with or an Instagram page, this strategy is simple to implement.
Has someone geotagged your location, mentioned you in a caption or used a hashtag created by your team? Reply to the poster, show your thanks, and ask permission to repost.
This is also an easy and fun way to generate user-created content. Burberry, for example, created drawings and animations within their app that users could add to their photos. The clever part was that Burberry had incorporated their own brand's style into the drawings. This was great because the photos shared looked really cool to others while also being easily recognizable as Burberry staples.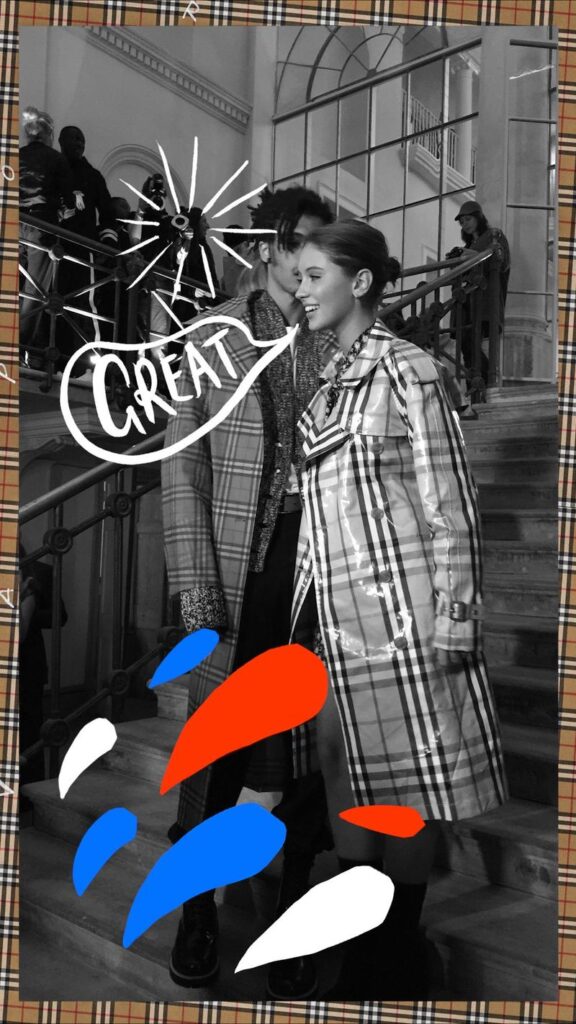 This also works if you're managing a Snapchat or Instagram account. Anyone can create filters and GIFs these days. They're really exciting for your loyal followers to use, share, and rope in others with. The sky is the limit with this, honestly. Say you are a local non-profit animal shelter looking to do some promotion. Start off by finding a day you can align your social ideas with like National Best Friends Day. Take to your social and ask your followers if they are dog people or cat people and then share your collection of GIFs and filters with everyone. This then becomes a fun way for your audience to personalize their own photos, brag about their pets, and spread the word about you!
Creativity is key whether you're working with endless puppy photos, housekeeping hacks, tech tips, etc.
Get Your Followers Involved
Making social media an interactive experience is as simple as putting a poll on LinkedIn. Showing what your team does on a typical day through stories on Instagram and Facebook. TikTok can highlight a new process or fun company-wide event.
Asking your followers to answer a few short questions helps you to create content that is more personalized.
Blendtec, for example, asked their audience to make suggestions for random items to throw into their new blender for their "Will It Blend?" videos. This led to iPads, footballs, pool cues, and other unusual objects being tossed in and destroyed. They were able to show off their high-powered equipment while also keeping audiences engaged. They took a fun spin with their series by incorporating Twilight, Star Wars, and Avengers.
One-on-One Engagement + Some
Consider implementing a dedicated team or individual to monitor social media. Nothing beats conversing with an actual human being. There are many instances when reacting on the spot provides your audience with a truly personalized experience.
Personalized experiences can be created through responding to posts on social media and reaching out to loyal followers. Making people feel special is really what it comes down to.
Following up on someone's tweet about a good time at your restaurant with a word of thanks and recommendations for what to order next time is one way of keeping the conversation meaningful and ongoing.
Reviewers on Yelp that are proactive and helpful receive Elite status and get invited to exclusive Yelp events.
Take a page from the team at Kimpton Hotels & Restaurants. They use a social CRM to save interesting tidbits about customers they interact with. This means each interaction builds on the next and conversations are not starting from scratch each time. Care and attention like this take social media personalization to the next level.
The Takeaway
Social media has completely changed the way we interact with one another. It's also given us a great opportunity to step up our marketing and personalization game.
This may seem like a complex world to navigate with new platforms coming to the forefront and hundreds of trends to follow. But, when you pull back the layers, boil it down, and look at its basics, it is just another way of communicating.
Regardless of how big your budget is or how fancy, detailed, and mind-blowing your content is, the purpose is to make a connection with your audience like you would if you met them in person. The most powerful social media marketers know how to tap into that human connection and strip away all the technology to make it feel like everyone is unique and valued.
What's your plan to make your audience feel noticed and valued?
Need help taking your social media strategy to the next level? Reach out to us at expert@emfluence.com!
---