For those of you still lamenting the retirement of the Products and Services tab from LinkedIn Business Pages in 2014, we have good news for you! LinkedIn is rolling out a new feature called Product Pages (and will soon be rolling out another feature called a Services Showcase Module, which you can learn more about here.). Some of you may already see the new Products tab on your company's page in the Page Admin View, but if not, don't panic—it isn't available to everyone just yet. We've scoured the internet and can't seem to find a timeline for when it will be made available to everyone, but if you're anything like us, you're eager to take advantage of the new feature! We're so eager that we decided to put together a short guide with some important notes.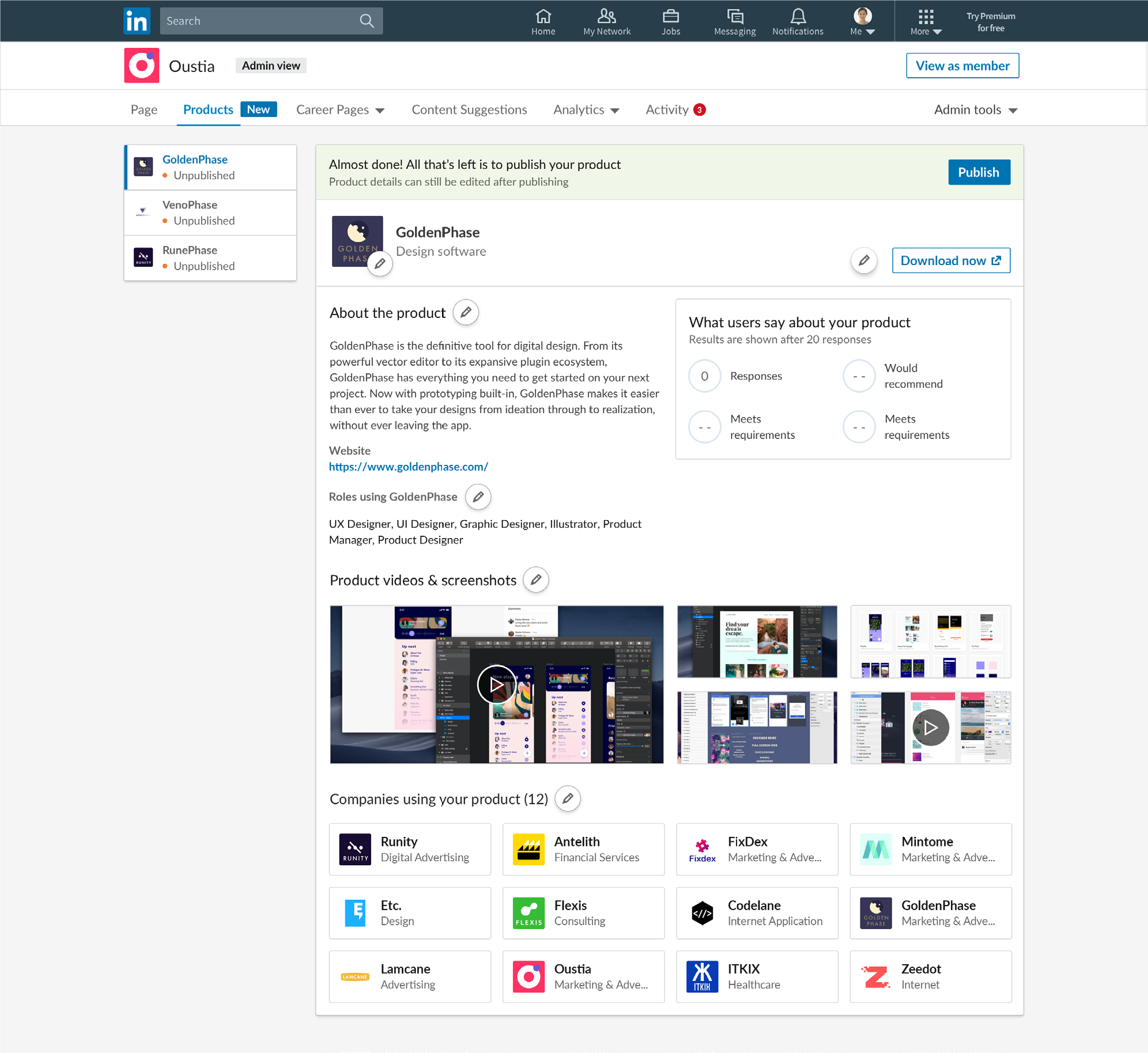 Getting Started
A few notes: 
1)  Products Pages are for B2B products only and do not include services (hence the need for the Services Showcase Module). You can see a complete list of the product categories here.  
2) Part of setting up your Products Page will be listing companies who currently use your product, so be sure to get permission to use their company name and logo ahead of time! 
3) LinkedIn estimates that it will take a member of your team 3-5 hours to set up your Product Page and 2-5 hours per month to moderate it.  
Be prepared to provide the following: 
1) An up-to-date company or product-specific logo 
2) A product description no longer than 500 characters that focuses on how your product benefits businesses. If your company has more than one product, you will be given a page that lists the products alphabetically. 
2) A landing page relevant to your CTA (more on that in a bit) 
3) Your website URL (it can be shortened) Note: You can also repeat the landing page URL you used for your CTA here.  
4) Up to ten functions that serve as the target audience for your product 
5) Up to five files that can be a mixture of videos and images 
6) A list of some of your current customers—LinkedIn recommends adding at least seven  
LinkedIn will pre-populate your product name and product category based on data they have collected. However, you can request to have them changed by emailing productpages-feedback@linkedin.com. 
You will also be able select one of six options for a call-to-action (or CTA) button: 
Download Now

 

Get Started

 

Request Demo

 

Try Now

 

Contact Us

 

Learn More

 
Once you have all the information you need, you or another admin for your company's page can visit the Products Tab and fill out your company's Products Page the same way you would fill out a LinkedIn Profile. Once your Product Page is complete, you will need to submit it for review which could take up to two weeks. You will receive a notification in your Activity Tab once it's been approved.  
What Now?
Once your Product Page is up and running, your product(s) will need reviews! LinkedIn recommends that the first 20 reviews come from reliable users who can provide a well-rounded and realistic review of your product. Note: Employee reviews will have a badge next to them so that visitors can distinguish between employee and customer reviews.  
LinkedIn will be adding something called Product Discovery in the near future, which will allow members to share they use or are skilled in your product. They will also be launching new campaigns and tools you can use to promote your Product Page(s).  
To learn more about Product Pages, you can read LinkedIn's FAQs here.  
Stay Tuned
Unfortunately, we aren't one of the chosen few with access to the Products Tab (yet). But we are keeping a close eye and anxiously awaiting our chance to try it out. And when we do, we will be sure to add step by step instructions and our experience to this post. If you've already created your own Product Page or are lucky enough to create one before us, let us know what you think!  
---