Is this real life?
Boaty McBoatface sounds like something a kindergartner would say, or it may remind us of Theodore Tugboat, but it probably shouldn't be the name of a $300 million dollar research vessel. As the latest instance of the internet getting the best of an advertising campaign, Boaty McBoatface takes the stage as one of many well-planned engagement campaigns that had an unplanned outcome. Opening up your polls to the vast and wild internet can be exactly as it sounds, a trip back to the wild west where any gamble is a risky one. Take the lessons learned from Mountain Dew, Greenpeace and many before as an example of what NOT to do. These lessons below will help provide a cautionary (and funny) tale into the risks of opening up your campaign to the internet.
The Story of Boaty McBoatface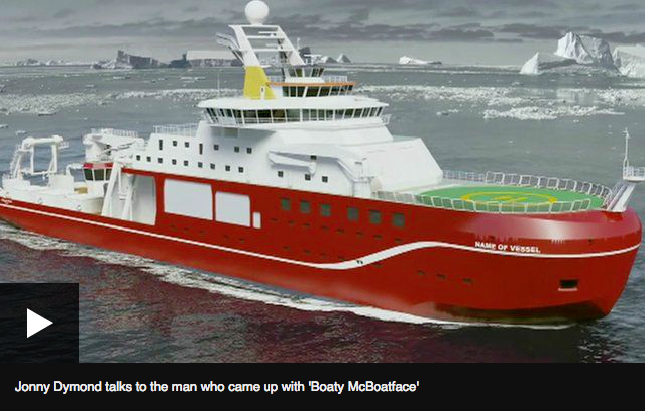 NERC (Natural Environment Research Council) out of the UK decided to be trendy and crowdsource the name of their new ship. Currently, RSS Boaty McBoatface is in the lead by a long shot, and NERC has to decide at some point if they are going to support the crowds of new followers and name the most advanced arctic research vessel on the Earth "Boaty", or do they select a different contender. While this does initially seem to be a major crowdsourcing fail, NERC was fairly prepared and is handling it well and has gotten more attention for their cause than they ever could have without this campaign, which makes it a success in that right.
NERC initiated the #NameOurShip campaign on March 17 and allowed people to suggest a name and reason for their name. The names then went through an approval process before others could vote. So yes, they approved RSS Boaty McBoatface, even though they probably didn't think it would become as popular as has it has. Check out the list of funniest names that almost made the final vote.
Mountain Dew's "Dub the Dew" Campaign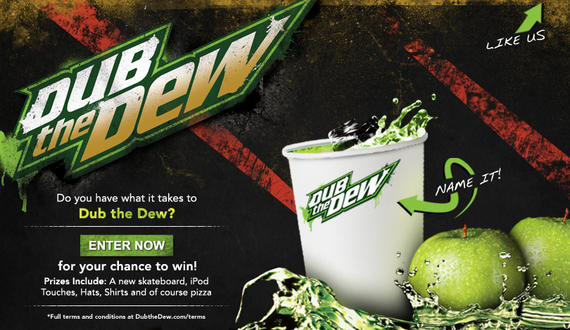 What began as an honest attempt to give consumers the opportunity to play a part in the renaming of their product ended disastrously. In fact, the site dubthedew.com no longer exists because the campaign back-fired so intensely! The idea was a simple one encouraging users to submit their idea for the rebranding of Mountain Dew but took a sharp turn for the worse when internet "Bad-boy" 4Chan flooded the polls with absurd and vulgar responses. We won't get into full detail about the "unique" names that were chosen but you can view more from Huffington Post here.
Greenpeace "Mister Splashy Pants" Campaign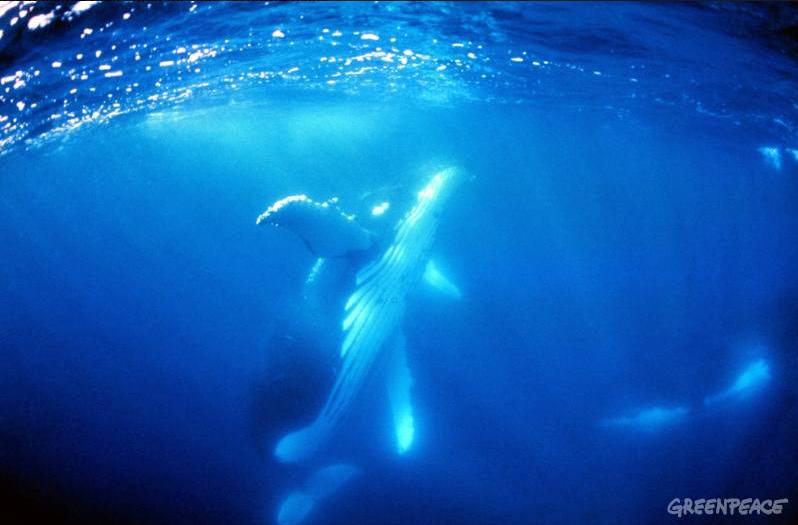 Originally, Greenpeace most likely had something else in mind when starting a campaign to name a whale but yet again, the internet had fun with it. Out of over 11,000 submissions "Mister Splashy Pants" took home over 78% percent of the vote! Fortunately, Greenpeace smiled at the opportunity to humor its audience and did, in fact, name the whale Mister Splashy Pants. This is one of the more tame examples of how the internet can take off without a warning but fortunately, this campaign still had a pretty positive impact. For the full story on the campaign and how the company reacted, click here to read further.
Learning Opportunities
With many examples of how a simple creative campaign idea can turn into something nasty, here are some of my key takeaways to avoid putting yourself in these situations:
Be clear and expect the unexpected
Don't allow ideas to be seen without some form of approval/review process
Keep it interesting in your campaigns and take advantage of positive opportunities (like Mister Splashy Pants)
Monitor the direction of your campaign and be prepared to adapt
Be engaged with your audience throughout the process
In short, planning for anything and everything can save you a ton of headaches when you open up your campaigns to the wild internet but keep a positive outlook! Things can certainly turn out for the best if you are prepared and take the appropriate precautions when creating an open response campaign.
[more]
---