If you have Gmail, then your inbox just got more visual! You may have noticed that Google has made some updates to their Gmail Promotions Tab recently that allow for marketers to display their deals and discounts in a way that may have a better chance at grabbing subscriber's attention.
Visuals for Your Gmail Promo Tab
This update is also geared to adding value in an efficient way to your subscriber's inbox. Here's how the update works: Gmail already uses machine learning to identify what it considers to be the most valuable message and pulls those messages into the "Top Deals" or "Top Picks" category which is now displayed at the top of your Gmail inbox.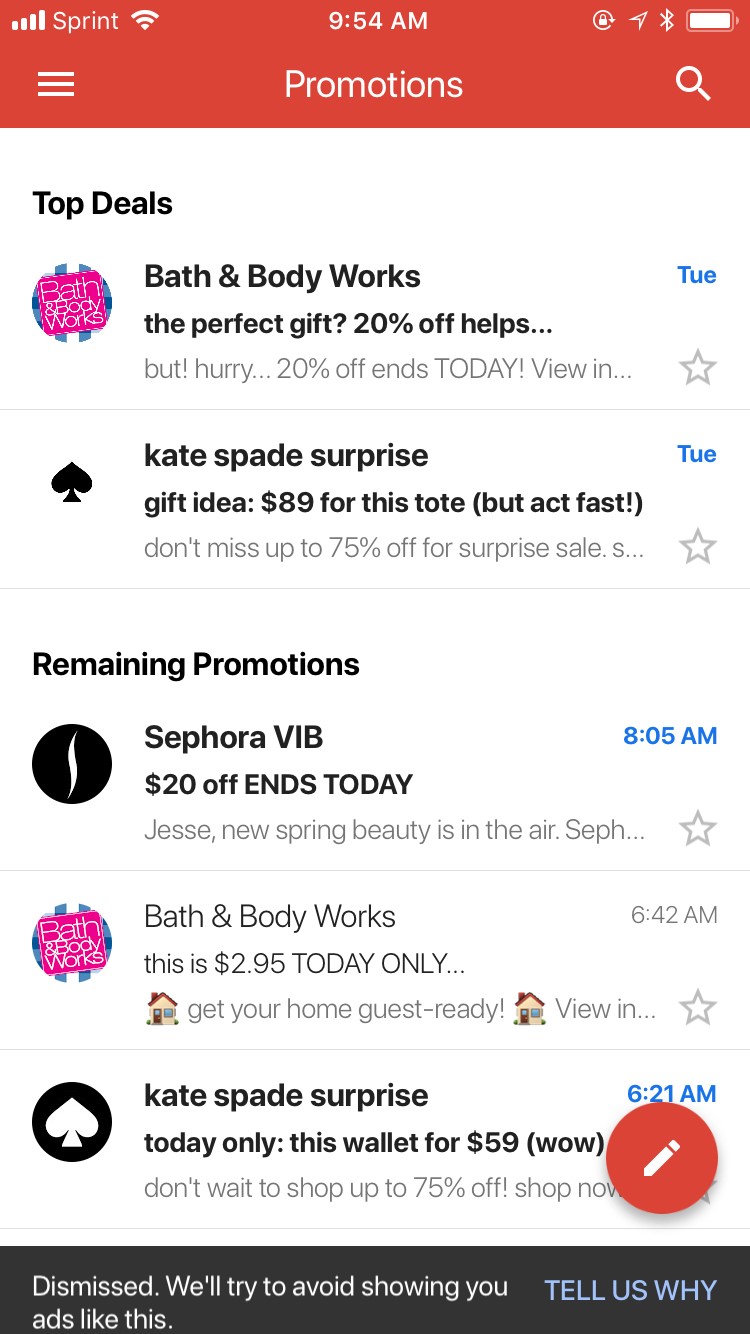 The promotions that are included in the Top Deals section of your inbox now have a new feature available: email marketers can add a more visual aspect to how the email displays unopened in the inbox, including a feature image, an offer code, the primary offer, and an expiration date for when the deal expires.
Jordan Grossman, Product Manager for Gmail, explained it like this: "find the diamonds in the rough, we've got to find those best emails and bring them up to the surface and polish them up and make them look really nice." (Watch his full keynote here: https://www.youtube.com/watch?time_continue=1&v=MBIQ-Kig6EM)
As seen in this Shutterfly email, the extras make this email stand out from the standard subject line and preheader text-only email previews:
The Cool Gmail Features
With this new rollout, email marketers can take advantage of the following when considering how their email will display unopened in a Gmail inbox:
Single Image Preview—add a custom image that represents what the recipient can expect inside.
Green Deal Badge—have a specific promo? Let your recipients know what you're offering before they open the email.
Grey Discount Code Badge—this optional field can let you display the offer code without asking your recipients to open an email. Great from a user standpoint, but as a marketer, you should take into consideration that this could impact your open rates—so you would want a success metric around the code redemption as well.
Logo—make it super easy for your recipients to see your branding without opening an email.
Expiration Date—let them know how long your offers are lasting, and better yet, send a reminder email that says your offer expires today to get those last-minute conversions.
Here's the other cool thing about adding an expiration date: your email will get featured as a Top Pick twice—once when you first send, and again right before the offer expires.
Adding a Little Love to Your Promo Emails
So, how do you actually go about adding these annotations to your email promotions? According to Gmail's guide on getting started, annotations can be added as JSON-LD in a script within the head of HTML of your email (Get started: How to annotate your promotional email). In their getting started guide, Gmail has even given us marketers an easy way to test and preview our own email annotations by just editing a little bit of code. I promise it's pretty easy—just check out this sample for our And Then Some Conference I was able to whip up: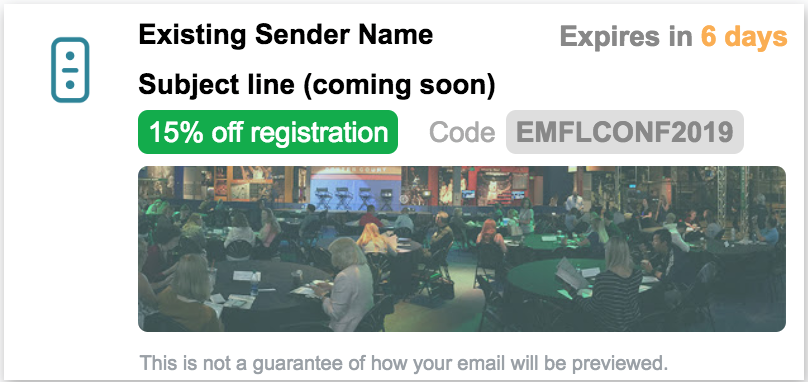 Update: As an aside, testing on this new feature can be tricky. As with anything new, we're working through some of the kinks and have discovered that based on what's a "Top Pick" for your inbox, you may or may not actually see the preview when trying to test before sending. Don't let that stop you from trying.
Now that you're all caught up on what's new in the Gmail world, you can get started on updating your promotional emails to give them the best chance at reaching the Top Deals category of your subscriber's inboxes. Happy emailing!
Want a little help with your Gmail Promotions tab strategy? Let's talk! expert@emfluence.com
---