Last fall, Google announced that they would be phasing out keyword data in its Analytics toolbox, and replacing it with new features for search engine marketing professionals to use. One of these features is DoubleClick Demographic Data. Google Analytics demographics reports offer aggregated age, gender, and interest data that can be paired with other analytics metrics to help understand the personality of your customers. Are they movie lovers? Shutter bugs? News Junkies and Avid Readers?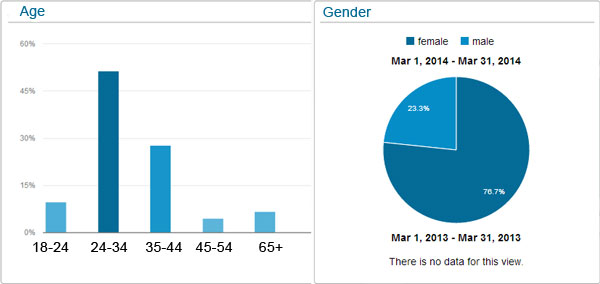 I know what you're thinking: "What is the fastest way for me to find this amazing information about my website visitors right now?!?" Not so fast. First, you'll need to make some changes to how Google Analytics tracks your website. You can turn on this tracking by changing one line of your Google Analytics tracking code. Enable demographic data by going to Google Analytic's Admin and then to the Properties section. Google explains how to enable the data in your Analytics account here.
The setup is a bit technical, so you'll need your website developer's help tweaking that line of code. If you have questions, you can also hit us up in the comments below.
Once you begin collecting your demographic data, click on the Audience tab in Google Analytics (on the left sidebar) to dive into it. You'll see the Demographics and Interests tabs. Start by clicking the "Overview" section underneath Demographics. This provides a broad overview of the age and gender of your site traffic. Clicking on the "Age" or "Gender" tabs under Demographics provides reports that can be segmented to show more specific information about your users.
You can combine Gender, Age, or Technology dimensions together to understand the best way to reach your various customer segments. How 65 + reaching your site? Are they primarily desktop users? What about the 24-34 year old female market? When are 65+ online vs. 24-35 year olds?

Showing traffic by age group can help marketers spot opportunities for the age groups visiting your site.
Demographic data can help determine who your primary visitors are for each segment and better target your Paid Search ads. This information can also help shape your copy and keywords for organic search.
Just getting started with demographic targeting? Here are some useful ways you might use your Demographic reports in Google Analytics:
Are any of your age brackets leaving your site immediately meaning is there a higher bounce rate or fewer pages per visit for one age group vs. the others?
How is your blog engaging men vs. women? Who visits more pages within your site? How long are they staying?
Are your AdWords dollars being spent to target your best possible audience to promote sales?
What age bracket has the highest conversion rate on your website?
When are your older visitors (55+) on your website most? When are your younger visitors (< 54) on the website most?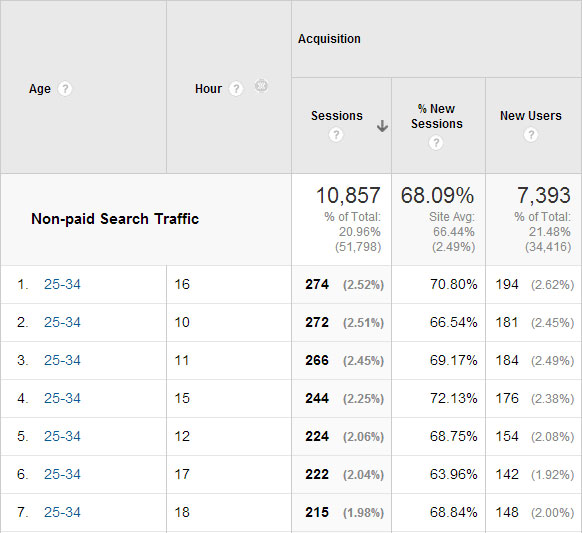 In the data above, we see that 4:00PM (shown here as "hour 16") is the most popular time for 25-34 year olds to visit this website. Engaging that audience between 3:00-4:00 is the most powerful time to utilize Paid Advertising to capitalize on the organic, or non-paid, search traffic.
With Interest reports, you can study your visitors in one of three ways: Affinity, In-Market, and Other. The Affinity segments highlight specific personality traits of your audience. Pairing this information with Demographic data allows you to get a holistic view of where your website visitors "live" online.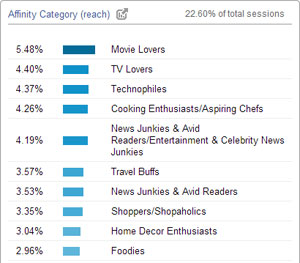 Understanding visitors' – and therefore potential customers' – affinities can help form advanced paid search strategies, better blog posts, and even content testing that can improve your site's conversion rate to improve sales.
If you're ready for the advanced stuff, try using the Geo tab's "Location" report to segment by Location, Demographics and Interest to learn that 25-34 female movie lovers from Chicago buy most on your e-commerce website.
Want to see what else your customers are spending money on around the web? Check out In-Market Segmentation and try out Retargeting, a way to show display advertising to your customers on other sites on the web to draw them back to your site. The possibilities are endless when it comes to demographic data!
Sure it'll help you maximize your own website, but how can your company take Google Demographic Data to the next level? Next week right here on the emfluence blog, emfluence Social Media Strategist, Alyssa, will show you how to utilize this data to rock the socks off of your social campaigns. Stay tuned!
---