Who still uses Bing these days? We do!
We're pleased to announce that emfluence has been invited to join the Microsoft Advertising Partners Program! Over the last six months, we've been prioritizing training and certification for our team, as well as ramping up our efforts on Microsoft Advertising (formerly Bing Ads). Results have followed, as we've been able to allocate budget from Google to Microsoft for most of our clients.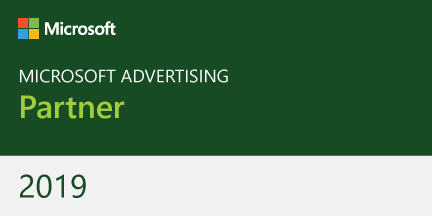 Tactically speaking, moving accounts to Microsoft Ads is easy – it connects directly with Google Ads to import campaigns. Many of the features are the same and you can allow the two to stay in sync throughout the life of your campaign. With that said, emfluence's campaigns will typically not sync after the initial import, as we'll manage the unique features and performance of the Microsoft Ads campaigns themselves for better performance.
Microsoft Ads offers additional features from Google Ads to make it worth our time. Bing, Yahoo, and AOL properties still make up over 20% of the available search inventory and is an audience that can skew older and more affluent. One of these properties is DuckDuckGo, which is increasing in market share with more users opting out of personal tracking. Microsoft Ads itself offers a few Ad Extensions that Google does not have which can boost our results, including the Action Extension, which places a Call-to-Action button on our ads.
With this partnership, emfluence will have access to a number of benefits. We've been receiving consultations from Microsoft Ads support that have helped us optimize our campaigns and take advantage of all their features. We will have access to upcoming webinars, promotions, and contests. We also now have access to a number of industry and marketing insights from their team to assist in projections and forecasting.
So what's next? We will continue to include Microsoft Ads in our search advertising buys and optimize to channels providing the best ROI. And when we are re-evaluated in December, we're aiming for Select Partner status!
---