GIF usage continues to flood every corner of the Internet, and while their popularity can be attributed to the fact that they inject more fun into our content, marketers can also utilize them to better engage their email audience. And with Microsoft's recent announcement that they'll begin supporting GIFs in Outlook 365 in February, now is a great time to consider the possibilities.
Here are four ways animation can improve your email campaign results:
Pull your reader further into the purpose of your email
You sent an email with a purpose, in hopes that your reader will take the action you have planned for them. Rather than hoping they will scroll all the way through your email after opening, you could present it all right at the top.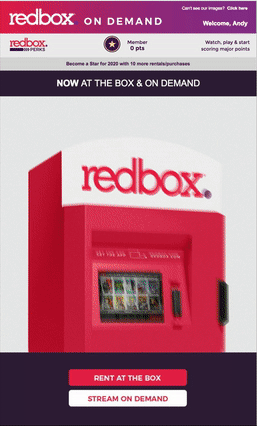 This email from Redbox has a Grinch animation that demands your attention, and very effectively makes you aware of the DVD release.
A CTA bursting with excitement
Sometimes your CTA just can't wait to show your audience what it has for them. We wanted to make sure our holiday card recipients knew there was more beyond the email, so a subtle shake the fortune cookie enticed a click. The result was great click-through numbers to our landing page, which showed their fortune for 2019.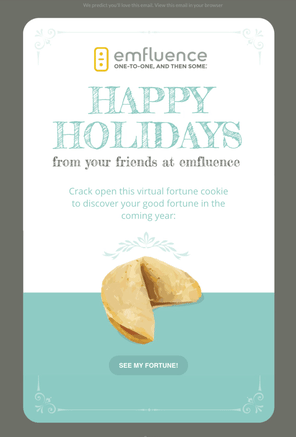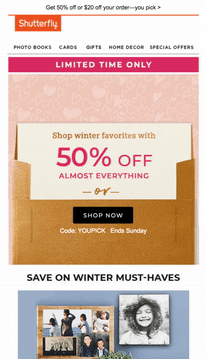 Shutterfly simulates the opening of an envelope to promote a click-through on their offer.
A demonstration that can't be shown in a still image
When a single frame can't quite get your point across, maybe add a few more. You may have an app with some neat new functionality that you want your users to see, or a product that you just have to see in action.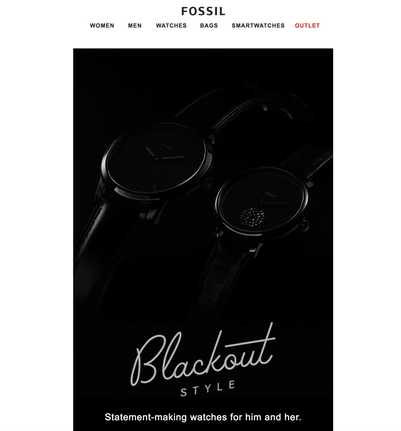 Fossil uses animation in their email to give more of an in-person look at their watches.
A way to communicate that this isn't just another email
Depending on the frequency of your email sends, your audience may have gotten used to seeing the same types of content in the same places in all your emails. If you want to say "hey, this really is something special", it should visually distinguish itself.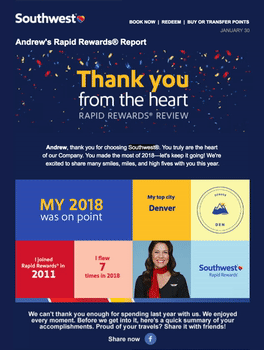 Southwest Airlines is very active in email, so when they want to tell you something that isn't a typical booking confirmation or sale, the experience should be unique. The simple animation here does just that.


A few guidelines to follow
-GIFs can contain a maximum of 256 colors, so animation should be kept to a similar color palette to prevent some ugly results
-File sizes can quickly become a problem with longer animations. It's recommended to keep images below 2mb.
-Inbox support for playing a GIF varies. For those who don't support it, the first frame of your gif will be shown, so make sure it's something you'd want them to see.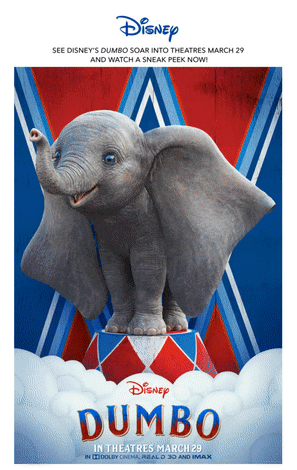 This email promoting Disney's new Dumbo movie uses a red, white, and blue set of colors for all frames, which makes effective use of the 256 color limit.
---