How do you define your brand? Trick question! It doesn't matter what you're thinking. More importantly, how does your audience think of your brand? I'm referring to the collective social audience that consumes and interacts with your brand messaging. They judge how your brand's content is received and they shape how it is communicated between peers. So, they define your brand. This is the (relatively) new reality for all brands that want to survive in a consumer-driven world. At the heart of this power shift are the smart brands who are embracing this disruption on the social media playground. Here are 4 examples of brands using crowdsourcing – asking their audience to co-create with them – at its best:
Wendy's Pretzel Love Songs: Use Fan Tweets to Create Hilarious Jingles
Brands have long been on the bandwagon of using customer images, videos, etc. in their traditional media campaigns, but Wendy's takes the, um, burger for doing it so creatively. Their campaign kicked off last summer with 90's heartthrob Nick Lachey singing an original song about Wendy's Pretzel Bacon Cheeseburger using #PretzelLoveSongs tweets from fans. Embracing the romance of it all, the #PretzelLoveSongs returned again this summer and "got back together" with its audience, showcasing social media comments lamenting the bacon cheeseburger after it was taken off the menu with lines like, "There is a pretzel-shaped hole in my heart."
The more fans saw their peers' tweets featured, the more the #PretzelLoveSongs tweet frequency increased. This campaign continues to work because it takes consumer content and casts it in a completely different, and hilarious, format. Who hasn't been heartbroken when a favorite item was cruelly stolen off the menu?
Lay's "Do Us A Flavor": Let Your Costumers Co-Create the Product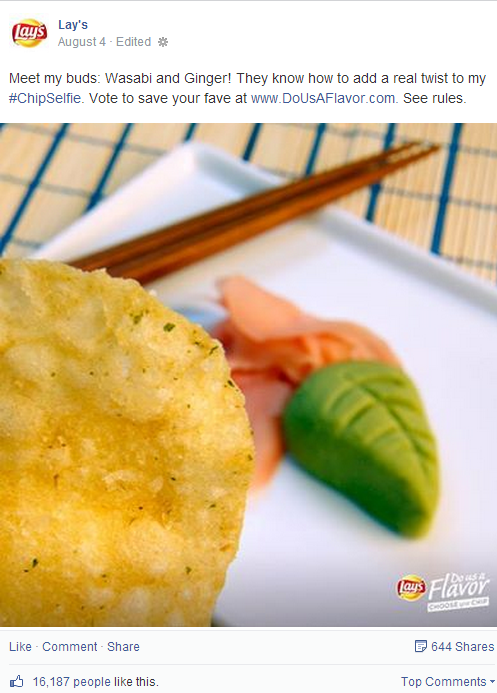 Inviting your customers to take part in your brand's product development engages them on a whole new level. In 2014, more brands are going past listening to customer feedback to actually allowing customers to create their own product. Lay's embodied this new level of crowdsourcing in their "Do Us A Flavor" Choose Your Chip campaign. Lay's asked customers to submit their fantasy potato chip flavor ideas. Then, Lays fans and followers whittled these ideas down to four flavors: Cheddar Bacon Mac & Cheese, Cappuccino, Mango Salsa and Wasabi Ginger. These four flavor finalists were pushed to snack shelves all over the country and on the packaging, Lay's features the name of the person who dreamt up the flavor – a nice, personal touch that's likely to make a fan an advocate for life.
Consumers can vote and rally to "save" their favorite flavors on social media to make them part of the permanent line-up. The winning flavor will stay on the shelves and the person who thought it up will get $1 million grand prize for their flavor idea. This campaign works because it's Business 101: ask people what they want and then give it to them. Customers will feel a deeper connection with your brand and even develop a sense of ownership – a marketer's coveted place in a consumer's heart – that breaches a whole new level of brand interest and loyalty.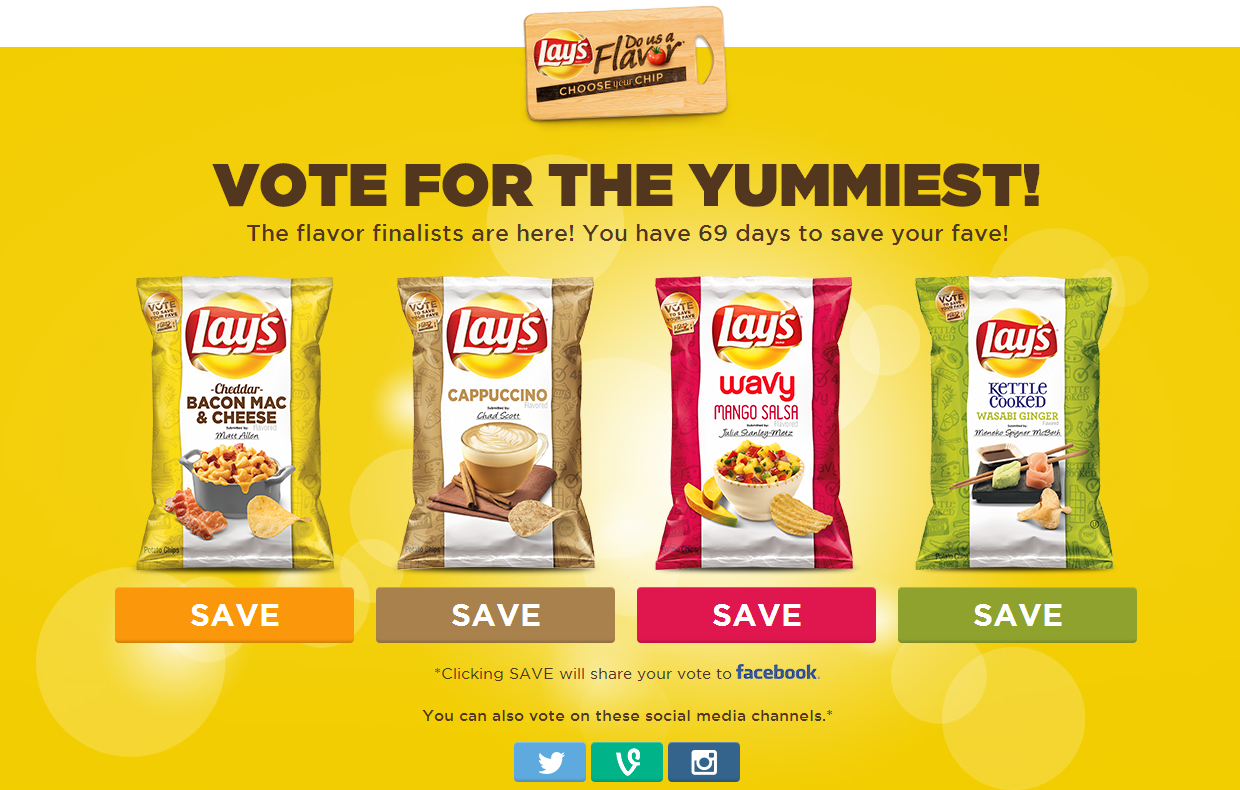 Doritos' "Are You Bold": Create a Brand Experience They'll Want To Talk About
Looking to extend their brand voice to a consumer experience, Doritos is challenging customers to "prove their boldness." Doritos posts its assignments or "missions" on http://www.boldflavorexperiment.com/ Then, they encourage customers to share when they complete the missions for a chance at various prizes. They keep the missions exciting by making them attainable and by clearly defining mission details. They also have fun with missions focused around current events. For example, this is their mission for Shark Week: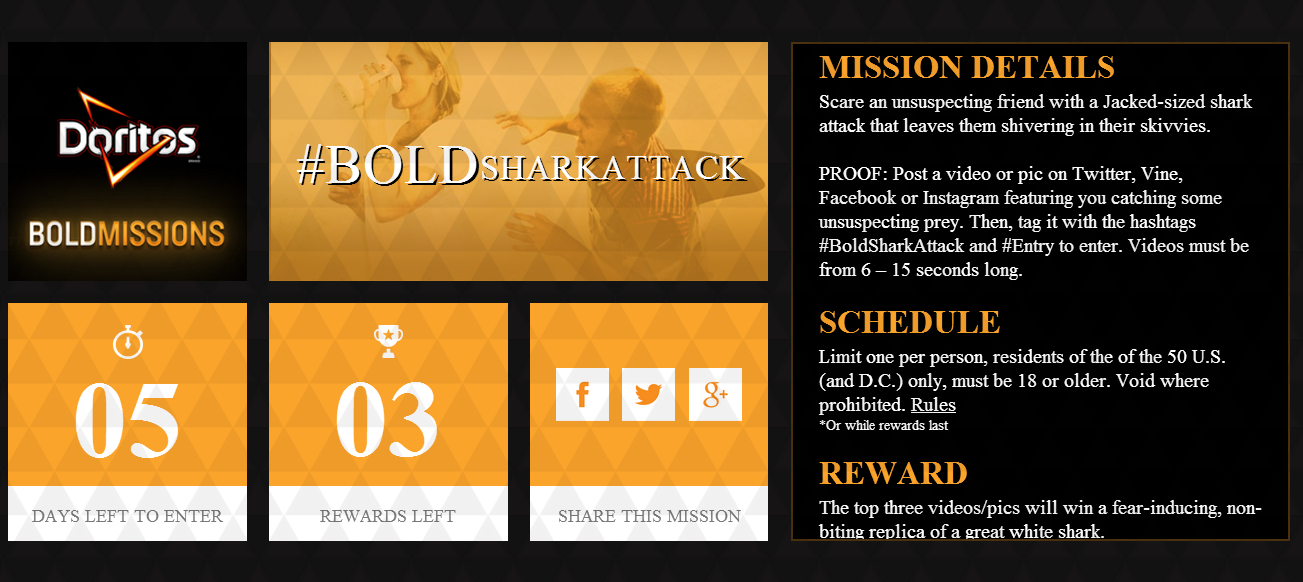 This incentive-based campaign works because it gamifies engagement and encourages consumers to define the Doritos brand personality via their own content and experiences, extending the impact of the brand.
Jimmy John's: Shine the Spotlight on your Customers
Though Jimmy John's doesn't execute individual, flashy campaigns with their crowdsourced content, they are consistent, and there's something to be said for consistency. The majority of Jimmy John's Instagram posts are actually reposts from consumers, giving clear and proper credit to the original photographers of course. They also have a feature on the homepage of their website that constantly updates with the latest pictures from their "Freaky Fans." Shining a spotlight on customer content inspires them to make even more share-worthy content, knowing that it means they might be featured in JJ's own campaigns. With this, Jimmy John's has an endless collection of crowd-sourced content to draw upon.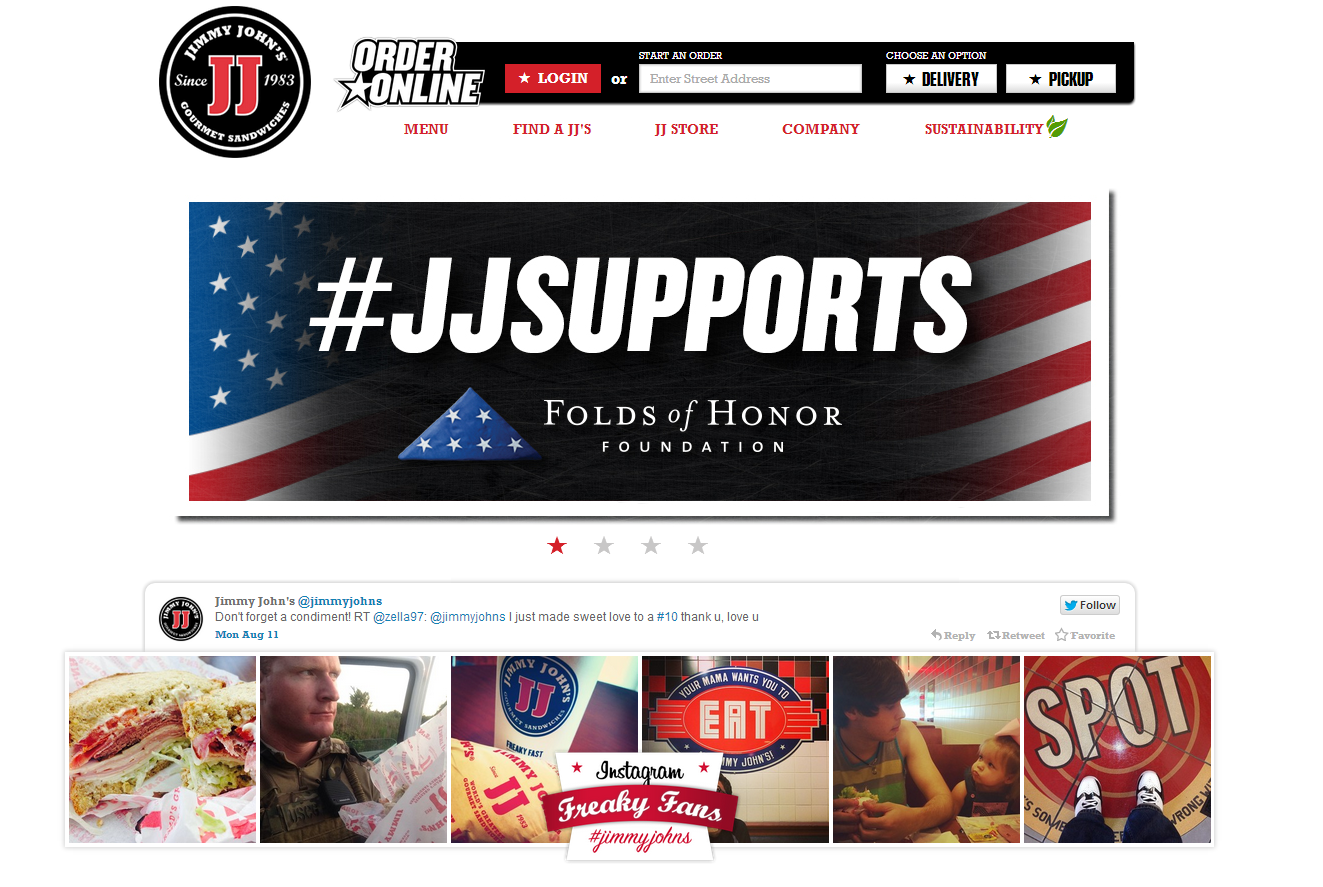 These brands are using crowdsourcing to create a wave of conversation for their brand to ride, rather than attempting to fight the tide. Empowering your audience to take ownership in your brand brings you unfiltered consumer insight and can elevate your brand to wider reach and engagement. Your consumers are already defining your brand. Crowdsourcing campaigns help you leverage that conversation for the better.
---