B2B purchase decisions are typically high value and expensive decisions. These decisions develop over a longer period of time than B2C and require relevant and timely content. The average B2B buying cycle is 6-12 months (Powerpost).
So, what happens during this buying cycle and how can you guide it along? The answer – relevant, timely, targeted and personalized content.
In a study by FocusVision, they discovered the average B2B buyer consumes 13 pieces of content before making a decision, typically eight vendor-created and five third-party created. Vendor-created content is any content you own or create while third-party content is just the opposite—it's content not created by your brand. It can consist of curated content or content published on digital channels outside of your own website, blog, or social media channels.
Where B2B Buyers Find Relevant Content
Most B2B buyers search the digital landscape for all the support they need to make a decision. In fact, 67% of the buyer journey is digital (LinkedIn) and 72% begin their search on Google. According to Forrester research, 74% of B2B buyers do half their research online before making a decision and SiriusDecision says 70% of the journey is complete before they even reach out to sales. All this digital research means having valuable content in the right place at the right time is so important.
According to LinkedIn, B2B buyers are looking for content that demonstrates knowledge and establishes credibility. Your content should show you understand the buyer. It should prove you are the expert in the industry, that you know all the ins and outs of your product or service and exactly how it should be used, and good content should send a clear message about your organization and where you are headed.
Content Marketing Tips for B2B Marketers
While the buyer journey is not linear, a well thought out content strategy will help ensure the right touchpoints are created, no matter if the direction in the buyer journey is progressing or has taken a step back. The majority of these touchpoints occur through two prominent phases in the journey leading up to a purchase decision: awareness and consideration.
The awareness phase begins when the buyer realizes a problem or a need or need exists. Research begin so find a solution. The search conducted is specific. They are seeking facts, statistics, customer reviews and content that relates the problem and provides and answer or solution. Content opportunities at this phase include:
Educational blog posts
e-books, white papers
Whitepapers
Industry research or reports
Surveys
During the research buyers will scour the web to gather content from as many sources as possible and share within. Remember the combination of content you create and third-party content? You want your content to be findable (e.g., promote it well) so that it can be easily leveraged in the buying cycle. You may consider running display or programmatic ads to your target audience, like so: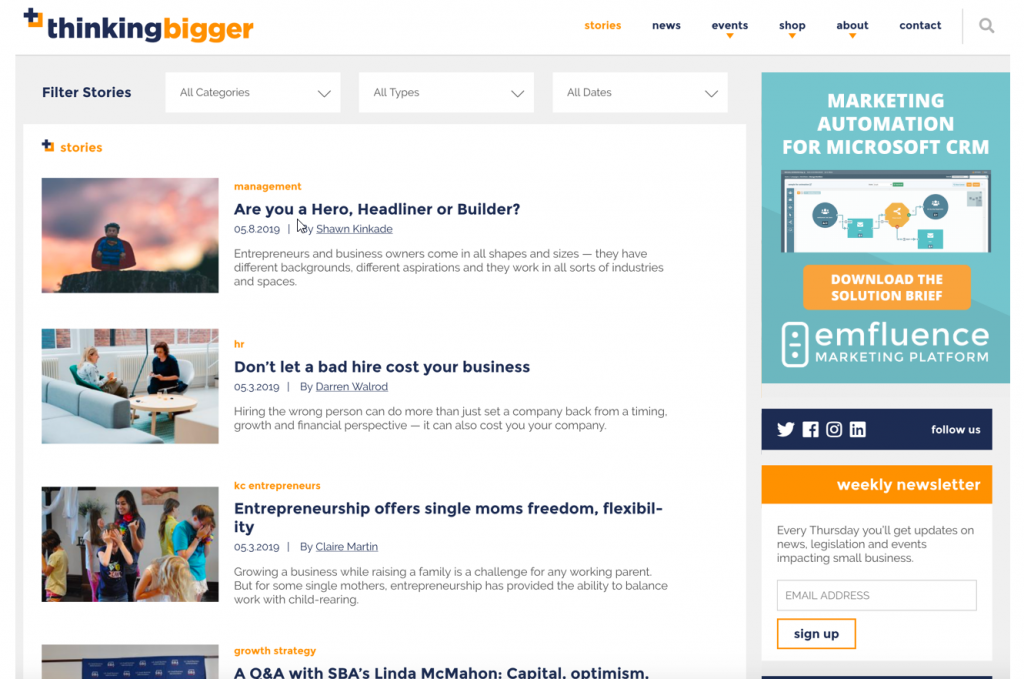 Moving from awareness to consideration, the buyer starts to evaluate the available options or solutions gathered from the research. Now it's time to narrow the list. It's time for the content for provide more depth and specifics. This is also a good time for a personalized approach if an email address was captured from an earlier download. Provide case studies or suggest informative videos. Send invitations to live events or webinars. Share customer testimonials and links to third-party review sites.
To help move the journey along, enable your buyer by providing valuable tools like calculators that help analyze data, an assessment or checklist that helps identify a situation, or data for a competitor comparison.
After consideration and with enough supporting content, a decision is made. You now have a buyer and the relationship will need to be maintained through advocacy and loyalty, two phases of the journey to cover in another blog.
Let's do a quick recap. Understand and learn about your target buyer. Build content to support the journey from awareness to decision. The journey may zig or zag but make sure the content is available when and where it's needed. Provide a good mix, personalize, target and make it shareable.
Not sure you understand your buyer's journey? emfluence can help by conducting a buyer journey mapping workshop. We can also determine how your existing content fits and what gaps need to be filled. Contact us to learn more.
---