When Instagram first rolled out their new Instagram Stories feature in 2016, many people (myself included) were very skeptical. These short videos seemed like a copycat version of what younger generations were already posting on Snapchat, the app everyone used for sharing snippets of their life. In addition, the added idea of saving them as "highlights" on a feed seemed like a desperate attempt to differentiate themselves from the popular competitor platform. I remember actively refraining from using this feature at the time to avoid falling prey to another social media trend.
Now, five years later, Instagram Stories is an essential way of communicating on the platform. There are over 500 million people that are actively using it on a daily basis. It's not just a way for everyday users like myself to share on social media, it is also a convenient and strategic way for brands and businesses to engage and discover audiences. By rolling out Stories, Instagram had created an environment for the best of both worlds: spontaneous, real-time videos and photos combined with thoughtful, polished feeds.
Tools to Take Your Account to the Next Level
Instagram Stories were created for engagement. They require very little professional skill and rely, instead, on creativity. These full-screen videos and photos can be shot in the moment and edited within minutes to convey your message. There are also endless ways to use the numerous tools included like text, stickers, music, polls- you name it! These tools can all be incorporated in unique ways to really show your audience what your company is about.
To Add Some Fun
GIFs and mentions and lettering, oh my! Now that I'm through getting caught up inserting that cheesy intro… it's true, Instagram Stories has countless options of fun elements to include in your videos and photos.
Stickers
You can search for specific stickers using their search bar or go straight into the "GIFs" option. From there, type in whatever you want and there is usually plenty of options to choose from. These can be used to make your post more exciting (butterflies everywhere!) or indicate something important (link in bio, sound on, etc.) If you are within the main screen, you are also shown popular stickers that come in handy like your basic "happy birthday" or hearts.
Mentions, Hashtags, Location Tags
These elements within Instagram Stories can be used to make your profile more discoverable to new audiences. You can tag other accounts within your story using the "@mention" option which then gives whoever is mentioned the ability to share that specific content to their story too. This can be used to tag collaborators, partners, employees, other brands, etc.
The location tag is fun because it can show off your travels or highlight where you provide service. Use it in situations like a company social at a new restaurant, a group hike, or conferences in different cities. Or use it on the job when you're out in the suburbs of Philadelphia going about your daily tasks to show potential customers that you do provide work in their area.
Hashtags can tie you into your community on Instagram. It helps people with similar interests find the content they're looking for and can help introduce new audiences to your work. Anything that you hashtag gets grouped in with other content that shares the same hashtag which means if someone is searching for something specific or is already following that hashtag, your content will come across too.
Text
Text can play as big of a role in your story as the actual video or photo. Instagram Stories has different fonts to choose from and different ways to color and add backgrounds to make them unique. The draw tool can also be used to add or enhance text. Once you've learned where everything is, it is really about what you make of it. You can come up with some really cool designs if your imagination allows!
To Engage Your Audience
The amount of interaction you can have on your feed is limited to likes and comments, but Instagram Stories opens a whole world of possibilities. You can use the tools to create more of a back-and-forth conversation with your viewers and nurture a community among your followers.
Poll Sticker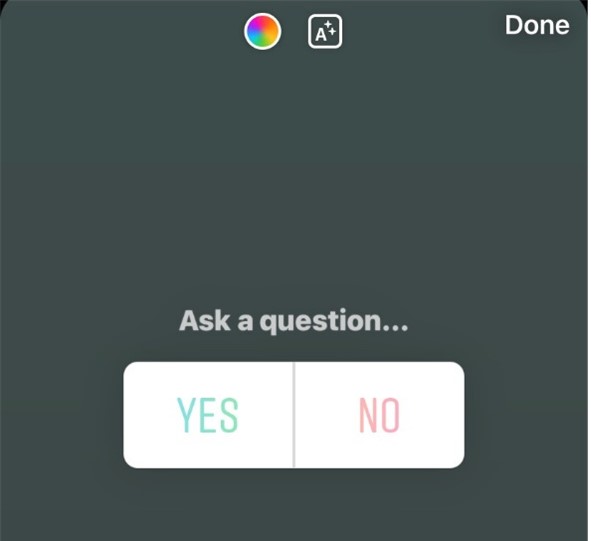 These are quick and easy this or that questions that you can set up. It gives you the opportunity to ask your followers what they like and share their opinions on a situation. You can also add some personality to these polls too. It can be as simple as asking, "who is ready for our new launch?" with the options "I can't wait!" and "👀 tell me more" as the options. They can be applied to any scenario, for example, asking which paint color your followers prefer or if they'd like a sneak peek of your newest product.
Question Sticker
The question sticker is commonly used for Q&A sessions between you and your followers. The best part about this, though, is that it works both ways. You could ask your audience a question or you could open up the floor and let them ask you anything. If you're a local handyperson, for example, you could ask your followers what types of home maintenance tips they're looking for, or if you run a healthcare facility, you can give the mic to your followers and ask them what questions they have for you.
I've seen politicians use this sticker to ask constituents what they want to know about current news, influencers ask followers what types of content they're interested in seeing, and (in the case of the account I used to run) if people had kind words to share with the 2020 graduating class who unexpectedly had their ceremonies canceled.
Emoji Slider
This is a fun tool and is traditionally used for getting quick reactions to what you're sharing on Stories using a sliding scale. Commonly used emojis are ones that allow your followers to express how excited they are like the emoji with heart eyes or the celebration emoji.
However, like all other aspects of Instagram Stories, this can be utilized in so many ways to gauge the opinions of your followers. Beauty brands like Rare Beauty, for example, use it to ask followers what their favorite shade of blush the company has released is.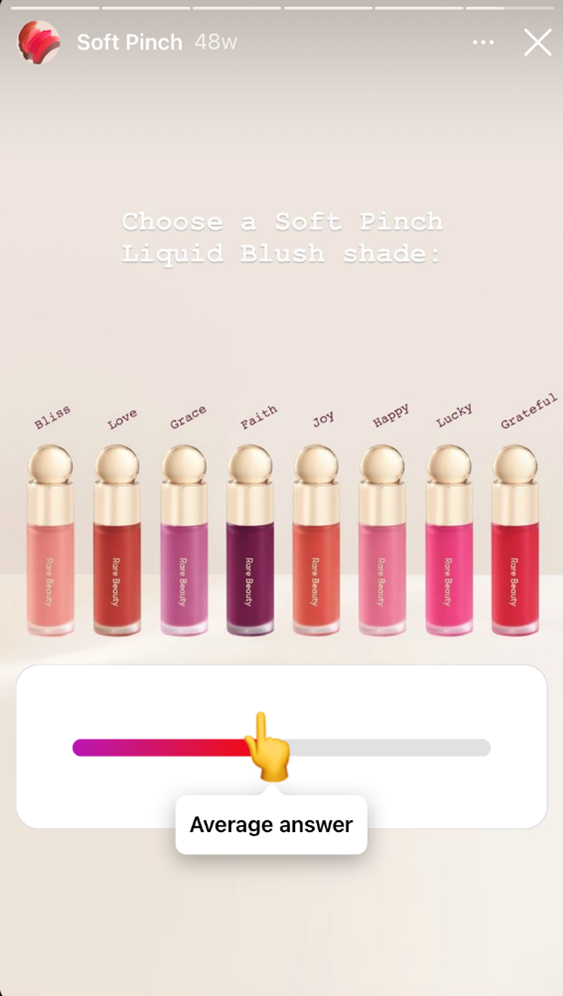 You can make it as simple or as complicated as you'd like. Maybe line up emojis that go from angry to happy and ask people how they are feeling that day. Implementing these tools can serve a specific marketing purpose or they can be used to reach out to your audience and keep the relationship going.
To Share Information
Social media is all about sharing information, right? Whether it is something personal or newsworthy, there are millions of pieces of knowledge flowing through these platforms. Instagram Stories broadens your share capabilities on the platform in ways that just don't function within the feed itself.
One option is to share your own posts through your Stories. Say you have an event that you've planned months in advance and shared content for. As the event is coming up, you could repost that onto your story to remind your followers about it. You can even add a fun countdown sticker that gives them a visual of when to expect it.
You're also able to use this option to alert your followers of a new post. With the way algorithms are set up today, it can be easier for your audience to miss new posts, especially if they aren't interacting with your account on a daily basis. Throwing it into your Stories generates more ways for people to come across your content and gives them a quick way to access it too.
Another option is to share posts to your story from other accounts. You may be wondering why this is helpful for your business when it seems like you are just promoting another company's content. For one, this helps you establish connections within your own industry. You could share the content of vendors, suppliers, etc. Let's say you own a boutique that sources products from local designers as well as big name brands. You can share their content in situations where you know you're going to carry one of their future launches or even to show your support and congratulate another small business on their success. Building a business is also about building relationships and Instagram Stories helps facilitate that friendliness.
Establishing yourself as a useful source of information is also a good reason for sharing other accounts' posts on your own story. The average person, unless in cases where they're some sort of connoisseur, is not going to follow dozens of accounts to get their information. They are going to follow a very small handful, if even that.
Did you know that Instagram is shifting their algorithm to focus on saved posts rather than liked posts? This is a measure of how valuable the content is to your audience and is an indication that our society is focused on what brings us value in social media rather than just aesthetics of a good picture. Your account needs to bring value to your audience—why else would they feel the need to follow? If they can count on you to be a source of useful information on top of everything else you're putting out there, you've hit the mark.
To Improve Your Stories Game
Once you have a feel for using Stories, you will start gaining more insight on the type of content that works best for your business and for your audience. Instagram has a basic analytics report tied into every story that you post.
For those with a general account, you can see the number of people that have viewed your story. A business account on Instagram gives you more insight. You can see interactions like the number of people who engaged with your story or visited your profile right after. There is also a discovery section that helps you track the number of accounts you reached with your story, follows that may have resulted from it, and how people navigated through your Stories.
Something that helps is that all the information comes to you as it is happening, which means you can gauge right then and there how people are responding to your content. This helps you determine what works and what doesn't, and how to tailor your Stories in the future to get the most engagement out of them.
It's a Learn-as-You-Go Kind of World
There is so much more to Instagram Stories and its possibilities than anyone could ever write on. A comprehensive guide for all the options would take hundreds of pages plus as many photos. It's not about getting into every nook and cranny of what these tools can do for you and trying to absorb everything without practice. Getting into the app and exploring for yourself is the best way to figure out what works for your business. Now that you understand what a ginormous content producing machine Instagram Stories is, you can really tackle the feature with the understanding that it can be a powerful addition to your social media strategy.
Like all forms of social media, Instagram Stories will continue to have new updates, characteristics, and tools. In fact, the information in this blog post might be irrelevant in a year or two from now. The important takeaway is that this once underestimated rollout ended up changing the social media game and as long as you see its value, you can continue changing your tactics alongside it.
Need some more Insta tips? Contact us at expert@emfluence.com!
---