Pinterest is upping their ROI game to attract more marketers (and money) to their platform. Brands have already been playing with Paid Pins and now, we are seeing the Buyable Pins working their way into user feeds. With the paid pin campaigns I have done with clients so far, we have found a good deal of success with clicks and engagement at a relatively low cost per engagement (CPE) and cost per click (CPC). If you know that your potential customers are spending time on Pinterest looking at content that aligns with your brand, sign up for the waitlist (if you haven't already) and try out paid pins. Make sure that you have converted your account to a business Pinterest account before you do this. Here are some way to make the most of your next Pinterest Paid Pin campaign:
1. Set Your Goal and Tracking
Before setting up your paid pin campaign, create a conversion tracking tag to measure how your campaign will affect activity on your site. You can access this by going to https://ads.pinterest.com/conversion_tags/. You can create a tag to track a:
Page visit: A visit to a page on your site.

Sign up: A sign up for a newsletter, email, etc. from your site.

Checkout: A purchase of a product or service from your site.

Custom: An action that does not fall into one of the other conversion types.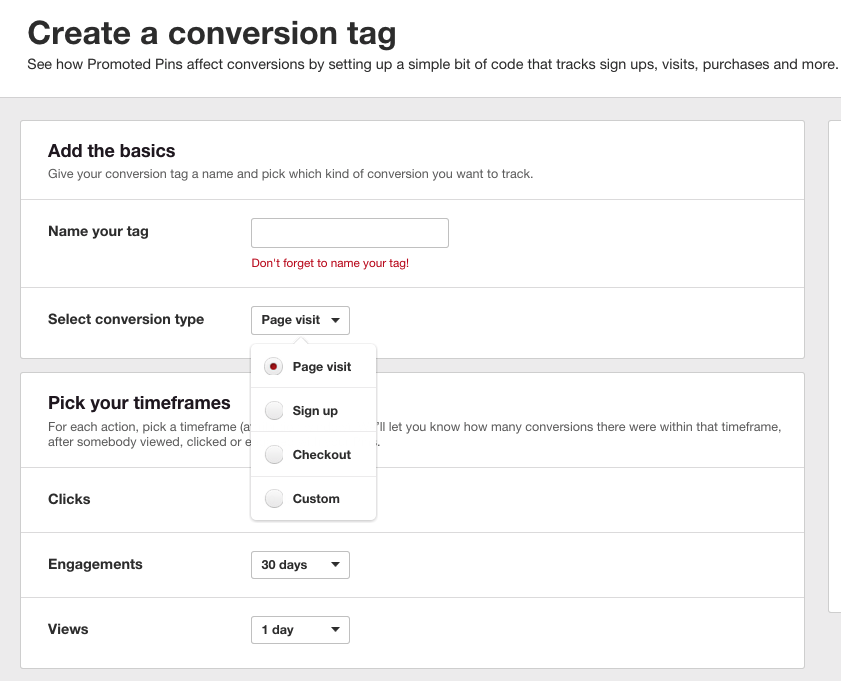 You set the timeframe that you want to learn about conversions. I recommend 30 days so that you can see the after effects of your paid pin promotion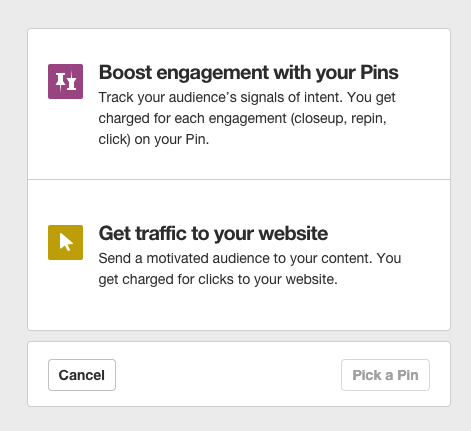 that may occur after the campaign ends. After you create the tag, Pinterest will give you some code to paste on your site. Paste this code just before your closing "<body>" tag (or ask your developer to help you out). If you're tracking a purchase or an email sign up, you'll want to place this code on the confirmation page for these two conversions respectively. If you can, why not set up multiple tags to track all the things you can?
Pinterest now offers two types of campaigns for paid pins that allow you to: boost engagement or get traffic to your website. Choose Engagement or Traffic based on the goals of your campaign and then get ready to pick your pins!
2. Pick the Right Pins
Pinterest gives you a little help and guidance when it comes to picking your promoted pins. When you are taken to this stage of creating your campaign, Pinterest shows you your 30-day most clicked and 30-day most repinned pins as suggestions for paid pins: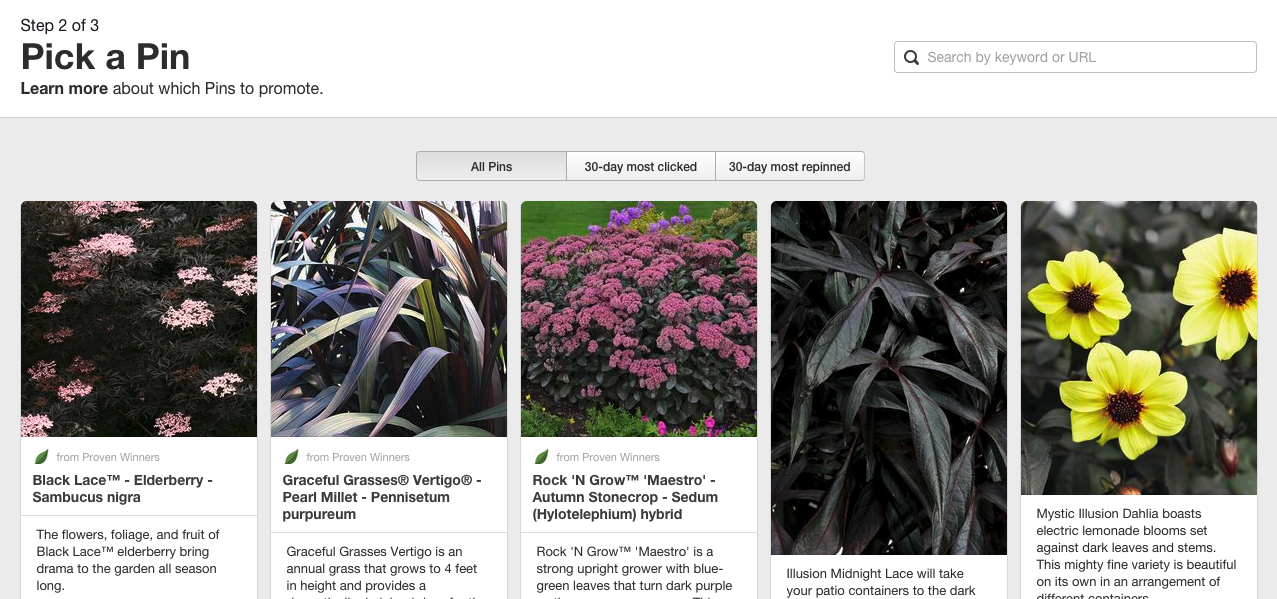 Follow their lead, and pick pins that have already performed well. The most successful paid pins are the right mix of good content and design. So, look at content that has been most successful not only
on Pinterest, but on your other channels, too. Was there a Facebook post that got crazy clicks? Do you have a blog article that is getting a lot of traffic? The content that has performed well on other channels is likely to perform well on Pinterest (as long as the content lines up with what users are seeking on the channel). Make pins around this successful content from other channels.
Design is also important to keep in mind and plays a huge role in the success of your pins. Vertical creative generally performs better on Pinterest than square because it takes up more real estate in the user feed. According to Pinterest, the best aspect ratio for Pinterest images is between 2:3 and 1:3.5 with a minimum width of 600 pixels. You may also try adding copy to your pin to better communicate what the user would be clicking to. To show what I mean, the image to the right is the most successful pin from a recent Houlihan's paid pin campaign that was promoting their new Gluten Sensitive Menu (which you should totally check out).
3. Follow The Rules
Though Pinterest is rolling out all these fancy new advertisement tools, they are adamant about preserving the community their users has built. Therefore, they have some rules they would like all of us marketers to follow when creating paid pins. After you have set up your paid pin, it will go through an approval process with Pinterest. Here are some pointers to make sure your pin passes through:
Don't include these in your pin description:
More than one hashtag (Pinterest hashtags don't work the same as Instagram or Twitter so if you are going to use a hashtag, use your name or something that is commentary on you image).
Improper capitalization or lots of symbols.
Prices (if you are running a contest, this includes the monetary value that might be tied to your prize. Learn more about Pinterest contest rules here).
Exaggerated claims – don't click bait or make false promises!
Shocking content or profanity (duh).
Nudity or sexually explicit content (duh).
Implied Pinterest affiliation.
Don't include these in your pin image:
Promotions like 10% off or "2 for 1." These are likely short-lived and could be expired by the time the pin is served to a user.
Calls to action like "Sign up" or "Buy now."
Testimonials and ratings.
Pinterest also has specific rules around the destination landing page you send users to and what kinds of products and services can be promoted on the channel. Click here to see the full list of rules.
4. Choose the Right Terms
Unlike other platforms that may limit your audience as you add keywords, Pinterest terms build on one another to create a larger audience. Pinterest recommends choosing 15 to 20 terms to help expand your reach. You can import terms, or search Pinterest recommendations to find terms. I would recommend:
Starting out with the pins that you know you want included in the campaign. You can click "import" and then paste your terms in. For Houlihan's, we knew that we wanted to target terms like "Gluten Sensitive" and "Gluten Free" based on the content that we were promoting.

Use the Pinterest suggestions to find terms you may not have thought of. These suggestions look at what you have typed out and see what Pinterest users are searching for and pinning, so these suggestions are great guidance for your campaign terms.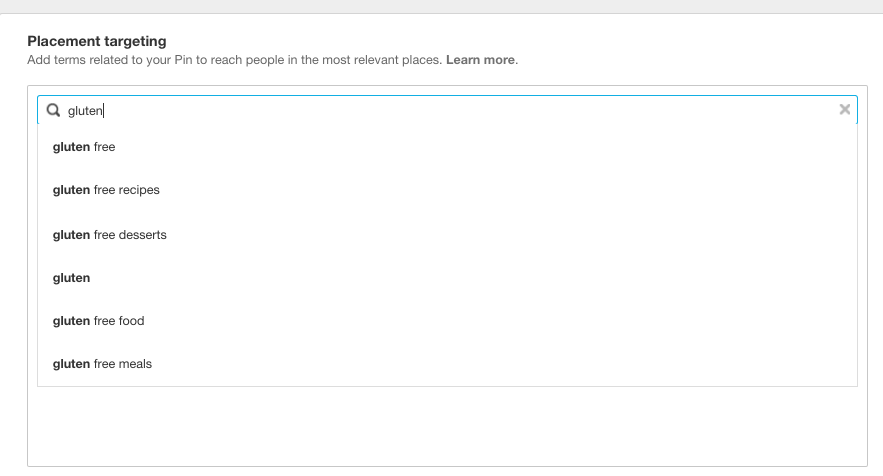 Pinterest also offers clusters of related keywords that you can add in one click. Add clusters of terms that Pinterest suggests and then delete the ones that don't match up.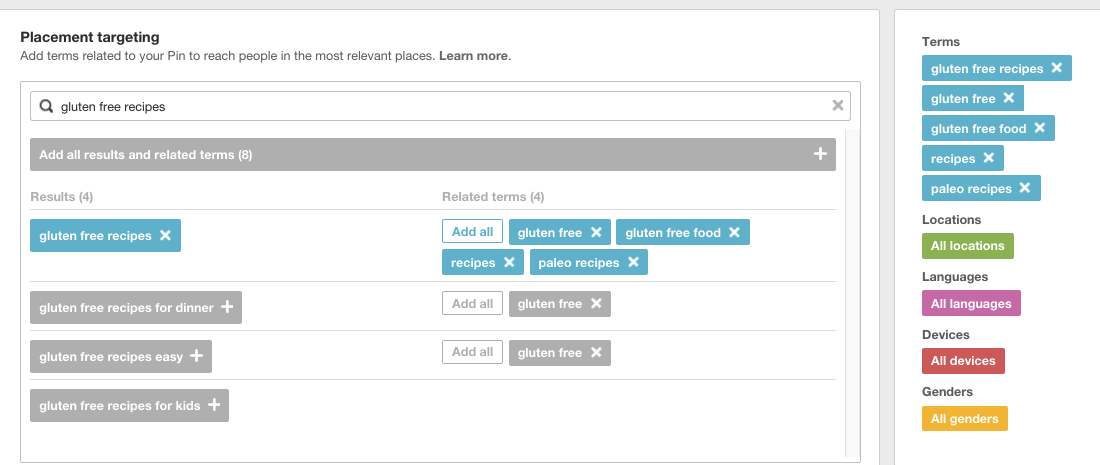 You can also target by location, language, device and gender. Unless you have a product or service that is limited by geographical location, gender, etc., I would recommend that you not limit targeting in these areas so that your promoted pin has the opportunity to be served to as many users as possible. This bottom area is also where you can set your Maximum CPE or CPC (depending on your campaign goals) and the destination URL (if it's different than the original pin's destination). I would recommend starting your CPE at $.50 and then working up or down based off how the pin performs, but we'll get into that in the next section…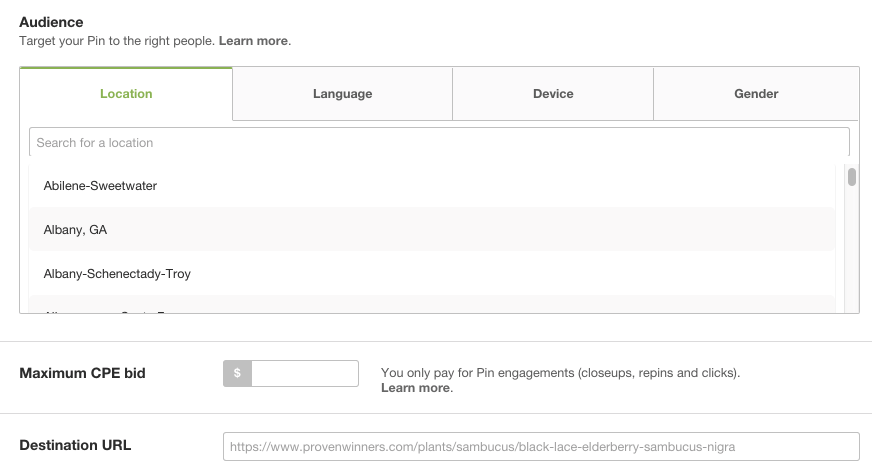 5. Adjust As You Go
This is not a "set it and forget it" advertising channel. Observe what is going well and what isn't going well in your Pinterest paid campaigns. Then, adjust. If a pin is performing very well, bring down the CPE or CPC. You may also try identifying what design or copy elements are working well for your hero pins and then, create another pin with those positive features to add to that campaign. Vice-versa, if a pin isn't performing well, take it out of the campaign and replace it or modify it for success.
You will also be able to see which terms are performing the best during your campaigns. You can add and subtract terms during a promotion so if you start to see that "Gluten sensitive recipes" is performing well, see if there are more terms you can add that are related. Pinterest allows you to take away and add pins during a campaign so take advantage of this. Just keep in mind that any pin you add will need to go through the approval process like the ones before it and this generally takes around 24 hours.
If you are doing a traffic-focused campaign, also be sure to look at how users are behaving when they get to your site. Are their high bounce rates? Are they moving on to other sections of the site? You may want to adjust your destination landing page if you see that users are not behaving favorably when they land on your site.
[more]
It has been exciting to test out this new social advertising platform and they continue to make changes and improvements. I have seen generally low CPE and CPC on these campaigns so I would recommend your brand giving it a try if your content lines up with what Pinterest users are seeking. If you have any questions, or builds for this piece, I would love to hear them! Tweet me at @alysmurfey. You can also sign up for our emfluence emsights newsletter to get insight like this delivered to your inbox. Happy pinning!
---