Over the last year, I've attended a few banking conferences and a hot topic that's often brought up is the future of the bank branch. In a recent survey performed by Javelin Strategy and Research, 23% of consumers said they prefer to bank online over the in-branch experience. 40% of millennials would consider banking without a branch, according to Accenture. While banks have responded to the growing demand for online banking preferences, such as mobile deposit, the big question is what is to become of branch banking?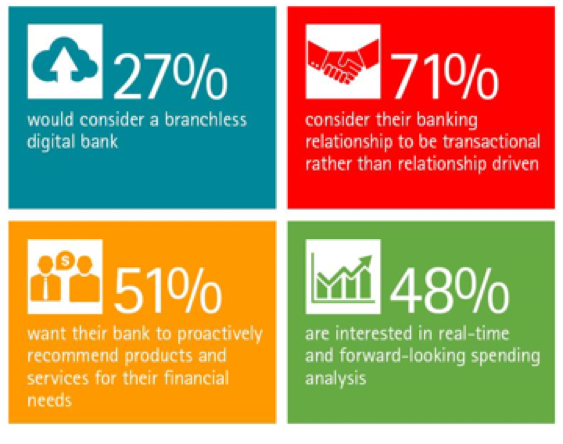 Source: Accenture
Last year saw the highest level of bank branch closures in the U.S. in history, according to FDIC data. TD Bank announced in May this year that they were moving toward a "fitter and faster" model, scrapping some of their previous plans to open new US branches. The brand also rebranded its locations as "TD Bank Store" to follow retail industry trends. Theories abound that the future of branch banking will look more like a coffee shop environment, where like-minded business owners or first-time home buyers will congregate to be educated. Umpqua Bank has redesigned its branches as "community centers." These concepts are fairly forward-thinking for the banking industry.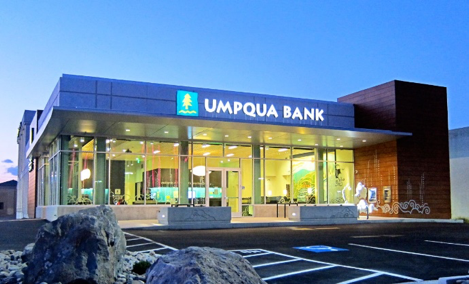 Source: Kellyreidgroup.com
But the design of the branch isn't necessarily THE problem: It's the perceived inconvenience. If we can simply use available technologies to make a deposit or pay our bills, then what purpose does the bank branch truly offer?
High touch-point service offerings such as business loans, mortgages, insurance, and investments may be the answer to that question. These types of service offerings require a level of trust and education that are best suited for in-person meetings with bank officers. And while the future of bank tellers still hang in the balance, the re-purposing of the branch location to be a meeting place for niche service offerings is feasibly the way that brick-and-mortar banks will exist in 20 years.
Keeping this trend in mind, what steps can your bank put in place now that will ensure that the branch provides convenient and expedited customer service for your high-touch/high-margin services?
Here is one free idea:
Create a landing page for each service your offer. Place text, video, and infographic information about the service on the landing page. Also, create a landing page with a data collection form for your customer service reps to use internally.
Utilize tablets to greet customers and access the data collection form. Collecting information when the customer comes into the bank will allow the bank to send them follow up materials or direct them to the service offering landing page for more info.
Have the information that's collected on the customer be routed to the loan officer- immediately. When the customer is ready to speak to the officer, he or she will have enough information to get a conversation started, thus reducing the amount of time the customer has to spend in the branch ("I was in and out of there in 15 minutes!"). The most aggravating moment for a person who spent 30 minutes filling out a loan application is for the loan officer to ask them "So, how can we help you?
Designated areas in the lobby that showcase loan offerings, credit lines, and account types will provide your customers with education while they wait for their loan officer. It will also reduce the amount of customers who are awkwardly standing in the lobby, not knowing where to go. Think of the last time you went into a cell phone store to get an upgrade. You waited. And while you waited you shopped. Run with it…
Using variable fields/content and automation, the bank can pull information from the data collection form to send a personalized, informational email to the customer within minutes of the customer leaving the branch. Bonus: Include a one-question survey in exchange for a local business discount. It may be you get very few responses from the survey, but the tie-in with community businesses will leave an impression.
Provide monthly educational sessions for your customers but stay away from making them commit to a series or charging them for the sessions. Provide recaps of the sessions to attendees via email immediately after the session.
This is one of the many things banks can start doing to prepare for the future. And even if the trend changes, you've still collected solid data on your customers and began a multi-channel dialogue. Sounds like a winning strategy to me.
How is your bank changing the branch experience? Send your feedback and tips to mtipton@emfluence.com and your ideas could be featured in a future blog.
[more]
---