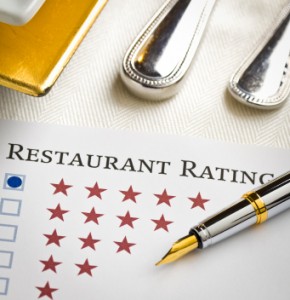 Everyone shares opinions. From raves to rants, true to false, opinion authors have technological advances to thank for their proliferation and dissemination to a global army of smartphone-wielding, review-seeking foodies or casual diners.
An amazing 61% of smartphone web searches were for restaurant reviews, and research shows that for every one-star increase in a rating, a restaurant can improve profitability by up to 9%. Reviews have a significant impact on the bottom line. A highly regarded business has a lot to lose. A poorly rated business has a lot to gain. It's a game of maintenance or improvement for the marketing plans of restaurateurs in 2014, especially for those seeking to survive and thrive in a competitive market.
Focusing on the review sites that customers are likely to interact with every day is key. Yelp has approximately 47 million reviews on their site, almost double what they had two years ago. How are your restaurant locations being reviewed? Do you know?
Nobody is perfect. Even if you manage a top-performing restaurant chain, mistakes happen. But it's important for all managers to take an active role in ensuring that reputation monitoring is part of the restaurant marketing plan for 2014. And when slip-ups happen, what's the next move?
Here are 3 simple steps that restaurant marketing managers should take when a negative review shows up on a review site:
1. It is important to apologize publicly to a negative comment. The old newsroom saying "if it bleeds, it leads" persists precisely because bad news historically gets the most attention. So knowing that review readers will find a bad review and read it, it follows that they'll also see your very public apology right below it. Even the most jaded consumers appreciate a company that publicly acknowledges and remedies a mistake.
2. Reach out to the customer privately to resolve the situation. Be open and honest about how the mistake was made and what you have done to correct it. Keep in mind that with sites like Reddit.com, these private conversations can go immediately public, as the entire communication thread between you and the customer might be posted after the transaction is complete. If that happens, you want the transaction to be as open and honest as your public apology.
3. Publicly acknowledge that the customer's concerns have been resolved. This let's anyone following the thread on Facebook or Reddit see that you and your business were in the moment the whole time – that you didn't simply come to a secret resolution and abandon the public conversation. Every beginning needs an ending.
Need some more hands-on insight about your own restaurant reviews and response planning? Reach out to an expert@emfluence.com or call us at 877-813-6245.
Learn more about Hospitality and Food Service Marketing Plans and these statistics by downloading the emfluence Restaurant Marketing 2014 white paper here.
---