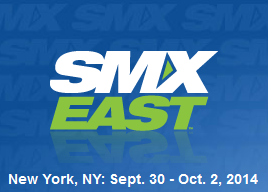 Taking the stage on the first day of SMX East is Marshall Simmonds, famed CEO of Define MG and longtime SEO professional. I am excited to be reporting from New York all of the excitement and adventure surrounding this years Search Marketing Expo! Blog posts will be coming rapidly and I frantically try to share all of the valuable information shared for the next four days.
The battle of SEO: Google says it has found more than 30 trillion unique URLs on the web and crawls 20 billion pages per day. The Google search team made 530 improvements in 2012 and every year following. As all of this is happening, more and more companies are beginning to suggest that Google has killed Search with their update to show keyword "not provided". But Google still changes at a rapid pace, from Google+ Authorship going away (last year's newest thing) to image and video search, knowledge graphics and the other 600+ updates they make each year. They don't seem to be slowing down any time soon, and so, the importance and art of SEO is far from diminishing.
Google has been tweaking One Boxes for images, video, and general information to find a perfect mix of Universal Search elements. One Boxes are the areas of Google search results that show other areas of the Google knowledge base, such as images or videos or news articles. This is helpful for the user to get information faster and in a more holistic format (thus the name "Universal Search"). How often are One Boxes appearing? Image results show up for 38% of searches, video 70-80%, and shopping about 10%. Google Webmaster Tools representatives describe Universal Search to be based on Google's relevancy score, stating that what shows up in Universal One Boxes is a competition between Search, Image, Video, News, Maps and Knowledge for which is more relevant to a specific query. Only the most relevant results make the top of the list, which are generally Search queries due to the broader use of keywords. Optimization for Universal Search is a new opportunity to grab search attention in a meaningful, useful way.
Each new change to the SEO landscape makes us as practitioners stronger. It gives search experts a chance to do what we truly love: research! We love to learn how to work with (and sometimes battle with) Google to get the most out of our websites.
Simmonds' keynote was a wonderful look at future plans for search. He also covered specific tools he's using to track Google crawl rate, giving special shout outs to www.splunk.com and the WordPress.org plugin hotlink-defense to help combat low clickthrough rate on Google image search.
Stay tuned for more posts, live from the SMX East conference! Follow along with the tweets at the hashtag #SMX.
---