8 aspects of your search engine optimization to review on a keyword-by-keyword basis
by Corey Morris, emfluence Search Engine Marketing Strategist
Your e-commerce site competes in every channel, not the least of which is Google's organic rankings. To get over the hump of being indexed and found, you worked hard on your keywords, picking 8 that helped the search engines identify and categorize your site and content.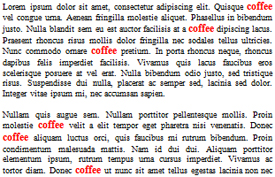 Let's say one of those is "Coffee". And let's further say your SEO (search engine optimization) team advised you to write 10 pages of coffee related articles for your site. And they also advised that the word "coffee" should appear 12 times in a 300-375 word article. That's a lot of writing, and a lot of coffee! But you have the strategy, so off you go.
Another keyword of yours is "Air Roasted Coffee". Some people might think they should write 10 pages of Air Roasted Coffee articles, with that phrase appearing 12 times per page of 300-375 words.
Those people would be incorrect. Not all keywords compete equally.
Ranking well across different high value organic search terms means avoiding the temptation to adopt a one-size-fits-all optimization strategy for a website.
Different sites rank well in different searches. And here's where it gets a bit technical. Each keyword has a different "norm" that is shaped largely by the sites that are ranking well. For example, if the top 3 sites in Google for a term each have about 10,000 pages, then the norm has been skewed from what we'd likely consider a best practice (unless your vertical lends itself to that many pages naturally).
Some examples of things to consider on a keyword by keyword basis:
Keyword usage in title and meta tags, plus the length of the tags
Keyword usage in heading (<H>) tags.
Number of words on the page (the page ranked in the search engine results)
Number of pages on the topic within the site – and on the site as a whole
The architecture of the section about the topic – and on the site as a whole
How Google PageRank (link value points) is managed throughout the site
The number and value of links are pointing to the page – and to those that funnel PageRank to it
Keywords in anchor text of links pointing to the page
The list above is not all-inclusive, and not all of those items apply in every situation. On your next copy writing voyage, remember the norms are different on a keyword-by-keyword basis – they are often shaped by the sites in your market at the top of search rankings.
---