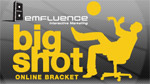 As some of our readers already know, emfluence has an online bracket called Big Shot Bracket. For those of you who didn't know, well, now you do. Every February, we kick off our call for bracket and group entries. Generally, we get a great response to the campaign as a whole because we're sending timely, relevant email to those who have said they were interested in the past.
The challenge we always face, however, is that after 9 months of silence, our list isn't pristine and our email address is slightly suspect with the major ISPs. Best practices say that consistent and relevant messages are key to your deliverability and ultimately your email success. But who wants to hear from Mr. Big Shot in October? Besides a few key fanatics, we can't think of anyone.
Because we'd been quiet for awhile, our first send to the list this year saw a 3%+ bounce rate, more than twice the average bounce rate outside of 4th quarter (MarketingSherpa, 2010 Email Marketing Benchmark Guide). Our ReturnPath monitoring tools estimated that barely over half the list got our email in their Inbox. Ouch!
After seeing that, we started ramping back up for Big Shot Bracket 2010, putting our best practices to work for us and boy did they work. We've put together a case study on Big Shot Bracket and what we learned about deliverability through a case of extreme seasonality. Download the case study now and leave your feedback in the comments below. We'd love to hear your stories of seasonal challenges.

Sign up to receive our monthly newsletter, including announcements when we release new case studies at www.emfluence.com/emsights
---