Ok, so the time to get local was last year, or the year before. But if you haven't taken the time, or are new to the search marketing arena, here's some insight that you want to take note of: local search is changing. Components are merging and the lines are blurring in the search world and businesses that aren't paying attention are falling behind. The good news is, this is a good — no, a great opportunity to get on board. And when better than at the start of a new year?
Where to Start?
Mapping websites were popular before we all had GPS devices in our cars, on our phones, and built into every gadget within reach. Don't ask me how long directory sites have been around. Why it has taken so long for the two to merge? I don't know. Maybe out of necessity as phone books became obsolete (mostly due to ad revenues moving to mobile mapping devices)? It is time to create or claim, and really own your listings.
If you're only starting with one, start with Google, the search traffic giant. A few years back, Google Maps became Google Local, and now the business side is labeled as Google Places (http://google.com/places). This is where you should go to create an account and find and claim your listing. Have more than 10 locations? Lucky you, they have a bulk upload and verification process. No excuses not to do it, even if you are a mega-sized corporation with retail outlets all over the country.
Why Now?
As Google and others are refining their products, Google Places has recently been integrated more deeply into organic (non-paid) search results. In a recent update, Google even placed the Local results map above the paid search results in the right hand column. You'll notice it if you type in a geo-targeted search. Read more from Google on layout change.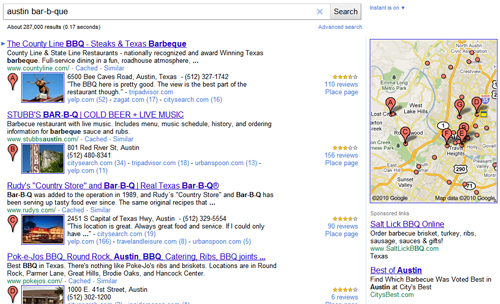 Not convinced this is the time to get into local? If you are asking how much this will cost, consider this, Google Local listings cost nothing to add, claim and update. More importantly, with Local listings showing up in the organic search results above even highly ranking organic results, you need to be working in this space.
What Else?
There's more to ranking well than claiming your location(s) and updating the addresses, but the first steps are important. Get to know the factors that influence your rankings in Google Local. There's a lot of reading you can do on the topic, but your best bet is to look at the other sites that provide content for your Google Places page like Yelp and others. See if you can claim and update your company's listings on those sites. Also, make sure the information on your company's Google Places pages and your website match. The more consistent you are in all places, the more Google knows you are really about what you say you're about. Get the drift?
Need Help?
Getting started is pretty easy. Branching out to the content provider sites is another thing entirely and is where it can start to get overwhelming for an individual marketer. If you need help, there are some savvy companies out there that specialize in everything from strictly local search to full service digital marketing. As the lines of search results blur, Local is a component that any good SEO specialist should have in his or her toolbox. Don't be afraid to reach out for help if you get overwhelmed, but know that even the basics will help and you can get started any time. If you aren't moving forward, you're getting pushed back by those that surf the changes in the local search landscape. Don't get left behind!
Shameless plug time: emfluence is a full service digital marketing agency. Our search marketing team has experience helping clients create, claim and optimize local listings, as well as work with external content provider sites that influence rankings in local search. If you'd like more information on the services available and how we can help, let us know!
---