In the spirit of giving this season, we thought we'd share a few bonus How-To Holiday tips (check out our other post on the importance of timing to holiday promotions):
Holiday Tip #1 Holidays aren't just about gifts. What else can your company offer consumers and business people during the holidays? B2B companies: what are the humans that are in your target market experiencing during this time and how can you help them with their own holiday work/life?
Holiday Tip #2 Don't forget your website can be your most important sales tool. Email, Search and Social Media Marketing are all great ways to share your products and offers and drive traffic, but even if you don't have an e-commerce site, your website will be where customers can comparison shop, read reviews and testimonials and learn much more about your products and services. Maximize your web experience by making the layout conducive to spending more time within the site/store. Place tile ads throughout the site to spotlight super deals and best sellers. Suggest other items shoppers may like based on what they're reviewing now. Have a way to capture their email address easily and pain-free: holiday shoppers aren't usually leisurely shoppers. This way, you can reach back out to them if they abandon their online cart or to offer a bounce-back coupon on the item they were reviewing when they opted in.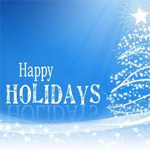 Holiday Tip #3 Think Holiday, not Christmas. Be sure you know what all the holidays your shoppers and prospects celebrate. Your marketing plan should have calls to action and discounts planned around each of the holidays this season, not just the week leading up to Christmas. Food for thought: some people may not celebrate a holiday at all, but can always use a good deal on electric blankets. Here are a few of the big holiday dates this season:
Hanukkah – December 1-9, 2010
Winter Solstice – December 21, 2010
Christmas – December 25, 2010
Kwanzaa – December 26, 2010 – January 1, 2011
Holiday Tip #4 You don't have to discount. The National Retail Federation's survey says that 40%+ of shoppers plan to use more coupons this year and 50%+ think sales, discounts and overall low prices are the most important factor in their buying decisions. But that doesn't mean you have to beat your competition out solely on price. One thing marketers are focusing on this year is adding value. For example, offer a free product or service with a purchase of a featured item or a certain level of spend. Or give the gift buyer a bounce back voucher that is valid for January 2011 as a way of boosting typically slower Q1 sales.
What are your best tips for marketers around the holidays? Any lessons learned or tricks to share?
---