The internet is a big place. According to estimates from Internet Live Stats, there are over 1.8 billion unique websites in existence today and this number is only going up. This mind-boggling statistic is awe inspiring but at the same time more than a little intimidating, especially for local business owners.
If you are a local business owner, you may be wondering how your website is supposed to compete in a search landscape that can contain literally millions of competitors. This is where local search engine optimization (SEO) comes in.
What is Local SEO?
Local SEO is a search engine optimization strategy that focuses on improving the search engine visibility of a website or webpage for location-specific search queries. Generally speaking, this process is used to boost the performance of a business in the area immediately surrounding its physical location(s).
Why is Local SEO Important?
Local search engine optimization is important because over the years, the way people search has evolved to depend on it, but don't just take my word for it. The following list of statistics from Think with Google tells you everything you need to know about the importance of local SEO:
Mobile searches for "store open near me" (ex. "grocery store open near me" and "auto parts store open near me") have grown by over 250% in the last two years.
"Where to buy" + "near me" mobile queries (ex. where to buy flowers near me, where to buy stamps near me, where to buy pumpkins near me) have grown by over 200% in the past two years
Mobile searches for "on sale" + "near me" (ex. "tires on sale near me" and "houses on sale near me") have grown by over 250% YOY in the last two years.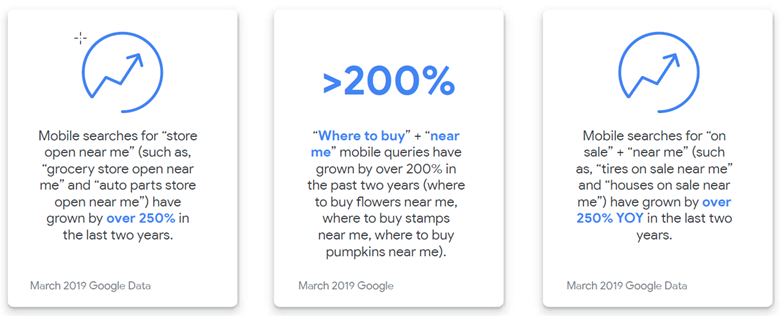 Mobile queries that contain "insurance near me" have grown by over 100% in the past two years.
Mobile queries that contain "bank near me" have grown by over 60% in the past two years.
Mobile queries that contain "repair near me" have grown by over 110% over the past two years.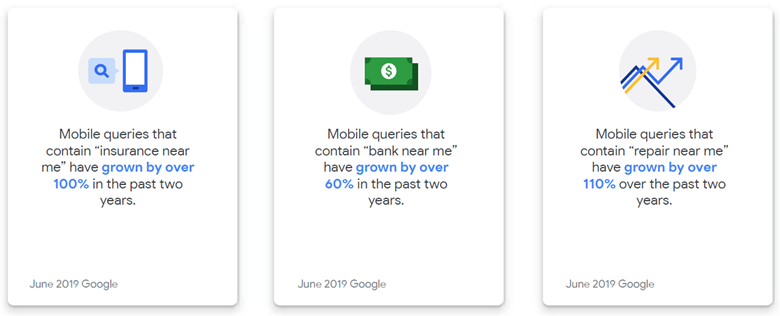 Keep in mind these statistics only pertain to mobile searches, if we were to factor in desktop searches with local intent, these numbers would be even higher!
So, to really sum it up: users understand and expect localized results when using search engines. If you aren't adjusting your SEO strategy accordingly you are missing out on valuable traffic and potential conversions.
Local SEO for Small Businesses
Unsure of where to begin with local SEO? Here are some steps you can take to help boost local traffic to your website:
1. Create Accounts on Major Web Directories
The first step you should take when focusing on local SEO is to create and optimize business listings on major web directories like Google My Business, Bing Places, and Apple Maps. Out of all these directories, Google My Business should be your highest priority as it directly influences how your business ranks in Google Maps and local Google search results. That said, the more widespread and consistent your business information is across the web, the better. If you don't already have them, I recommend creating accounts on Facebook, the Better Business Bureau, Yelp, and any other directories your customers may frequent (like NextDoor for businesses that serve homeowners).
How to Create a Google My Business Account
To set up a Google My Business account, you can either claim an existing business listing through Google Maps, or if your business does not yet have a Google Maps listing you can follow the steps laid out by Google here. The process is fairly straight forward, but keep in mind that you will need to verify your business after completing your profile setup either by mail or through Google Search Console.
How to Create a Bing Places Account
The process for setting up a Bing Places account is essentially identical to the process for setting up a Google My Business account. First, you will need to either claim an existing Bing Maps listing or create a new one. Then you will need to complete your profile setup and verify your listing through your business address, over the phone, or through email. You can visit Bing Places to get started.
How to Create an Apple Maps Account
To create an Apple Maps account, visit Apple Maps Connect and sign in with an existing Apple ID. If you don't have an Apple ID, you will need to create one as it is required to complete the setup process. After signing in you will be prompted to enter your business information and then asked to verify your business over the phone using a PIN code provided by Apple.
2. Complete Local Keyword Research
For this step, you'll need a keyword research tool. I prefer to use Ahrefs, but basically any tool will work. If you aren't looking to shell out the cash for a paid one, you can try a free tool like Google Trends or Google Search Console, or even the free version of Ahrefs, or another tool like Moz or SEMrush.
After you've decided on a keyword research tool, you should start by making a few lists: a list of the main products or services you offer, a list of the areas you serve, and a list of any major local competition. Let's say you run a lawn mowing service in Kansas City. For you, your service list would obviously include lawn mowing, but don't stop there—think about the other services you offer. Maybe you offer landscaping, lawn aeration, lawn seeding, tree trimming, shrub removal, snow removal, and pest control. Be as specific as possible. If your business does it, then list it.
Once you've created your lists, you should start plugging these service terms into your keyword research tool. Make note of which keywords have the most search volume—perhaps "lawn mowing service" has a higher monthly search volume than "lawn care service" or vice versa. Be sure to look at keyword difficulty as well—maybe "lawn mowing service" is more frequently searched but "lawn care service" has a more attainable keyword difficulty. Not sure what an attainable level of keyword difficulty is for your business or want some help polishing your list of services? This is where your list of local competitors comes in. Use your keyword research tool to examine your competitors' service pages and homepages and make note of the keywords they rank for, their respective search volume, and keyword difficulty. Use this information as a guide for your own website.
For each of the services you defined, you will want to find three to five keywords that have a good mix of search volume and keyword difficulty. Be sure to also include a few local-specific keywords for each of these services (e.g., keywords like "landscaping Kansas City" or "shrub removal KC" if we're sticking with our Kansas City lawn mowing business example).
3. Optimize Your Site for Local Search
Create a Service Area Page or Separate Location Pages
Hopefully you've already got this covered, but if not, this is a simple way you can greatly improve your website's ability to compete in local search results. Depending on your business type and size, how this looks will vary but the principles are the same. If you run a business that only makes residential visits (like our example lawn mowing company) or one that specializes in events or commercial spaces (like a caterer or photographer), you should probably stick with one service area page. If you run a business that has a physical location or locations that customers can visit, you should create specific location pages.
Regardless of which category your business fits into, the core components of each of these types of pages are the same. In an ideal world, your service area or location page(s) should include all of the following:
Name, Address, and Phone Number (NAP, as this is affectionately referred to in the SEO community)
Your hours of operation
A unique photo or photos
A unique description
This description should include the services/products you offer along with any other information that customers may want or need to know, such as directions from nearby landmarks.
You can embed a simple one location or service area map through Google Maps or you can create a more complex map using the Google Maps API.
A call to action (CTA), like "Request a Quote" or "Make an Appointment"
Optimize Metadata, HTML Headings and On-Page Copy Based on Your Keyword Research
The goal here is to align the verbiage of your meta titles, meta descriptions, HTML headings, and on-page copy with the search terms you defined in step two. In keeping with our previous example, if your homepage's H1 HTML heading is simply "Bob's Lawn Mowing," based on your research you may want to update it to read "Bob's Lawn Mowing: Kansas City's Premiere Lawn Care Service". Of course, the specifics of this process will vary greatly from website to website but the gist of it is that you want to use the same search terms throughout your site that users are using to search for these services on Google and other search engines. Within this same vein, I strongly recommend updating the web directory listings we discussed in step one to reflect the updates you make throughout your site.
An important note: there is such thing as too much of a good thing when it comes to keyword optimization! Don't go overboard by putting "Kansas City" in every paragraph on your site (search engines don't like this type of behavior, and your well-intentioned optimizations might end up getting your site penalized instead of boosting its performance). A good rule of thumb here is to ask yourself if what you're writing will be conducive to a good user experience. This should always be your primary goal, and as Google has stated time and time again, this is a major component of their search quality rater guidelines.
4. Manage Your Business's Reputation
Another easy way to boost your site's local performance is to encourage and reward reviews from your customers. Google itself has said that reviews are a component of local search rankings, clearly stating that:
"Google review count and review score factor into local search ranking. More reviews and positive ratings can improve your business' local ranking."
Going back to my point about providing a great user experience, you obviously don't want to require that your customers submit a review of your business, but there are ways that you can incentivize users to submit reviews in a natural way. Such as:
Sending feedback requests via email
Including a review call to action on business cards, receipts, in-store signage, and other business materials
Providing easy links to review platforms throughout your website
This could be links in the footer of your site, on your service area or location page(s), or even a dedicated review us/customer feedback page.
Asking for reviews from customers in person, or having your staff mention to customers how important reviews are
Aside from encouraging reviews, a big piece of managing your business's reputation is to make sure you respond to the reviews you do receive, especially the negative ones. By responding directly to negative reviews and addressing the concerns within them, you may be able to win over an unhappy customer, and if not, you can at least leave other customers with a good impression of your business. Similarly, responding to positive reviews with a genuine thank you can go a long way when it comes to acquiring repeat customers and creating a positive image of your brand online. In fact, according to BrightLocal, "79% of consumers say they trust online reviews as much as personal recommendations from friends or family," which I believe is another statistic that speaks for itself.
Running a local business in this internet age is far from easy, but hopefully these local SEO tips give you the edge you need to beat out the competition, and if you're truly looking for a leg up, contact us! We excel at uncovering businesses' unique needs and building customized digital marketing solutions to meet those needs.
---