More and more, audience members want to spend their time and money with brands that create a relationship. Companies offering valuable content for consumers, in return for desired traffic and/or conversions, form deeper connections with consumers and are more likely to stay top-of-mind. This approach, content marketing, is becoming an expectation for how brands interact with their audience members. The Content Marketing Institute defines content marketing as:
"…a strategic marketing approach focused on creating and distributing valuable, relevant, and consistent content to attract and retain a clearly-defined audience — and, ultimately, to drive profitable customer action."
Instead of force-feeding company updates and new product announcements to audiences, content marketing-focused brands are exploring new ways of showcasing their information in ways that both parties benefit. Here are some examples of brands demonstrating killer content marketing.
1. Nike
To spark inspiration and product purchase, Nike set the scene for summer workouts by putting together "Training Kits" for users. A standing piece of the Nike strategy has been producing workouts that users can access through the Nike Training Club app. Semi-recently, Nike also started featuring famous athletes as the stars of these workouts and then creating month-long challenges with fully-flushed workout schedules that target the theme of the month. Nike continues to add layers of value to this area of their content strategy by pairing products and playlists that target different types of consumers.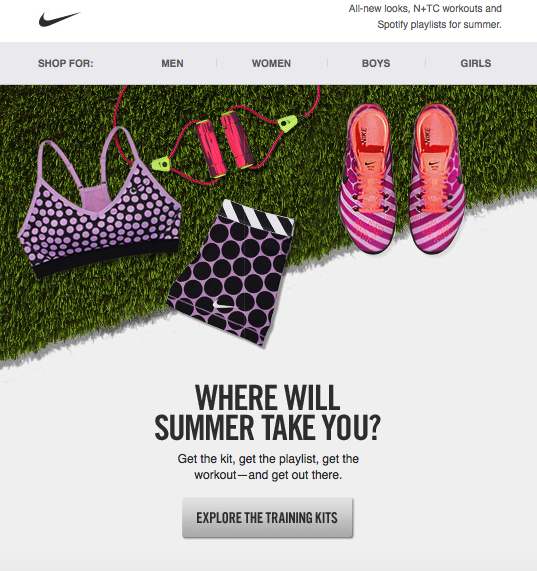 Nike distinctly separates its female content from its male content to create a more direct path to interest and purchase. The screenshot above is from an email that Nike sent to its women customer base about the training kits. When one clicks to see the training kits, they find a scrolling page of product, playlist and workout mash-ups to identify with a variety of active personas (yogi, runner, boxer, beach-goer). This makes it easy for an interested audience member to find the piece of content they identify the most with and immerse themselves in the brand. This also gives a content touch point that a user can routinely access (an app for a daily workout) to keep Nike top of mind.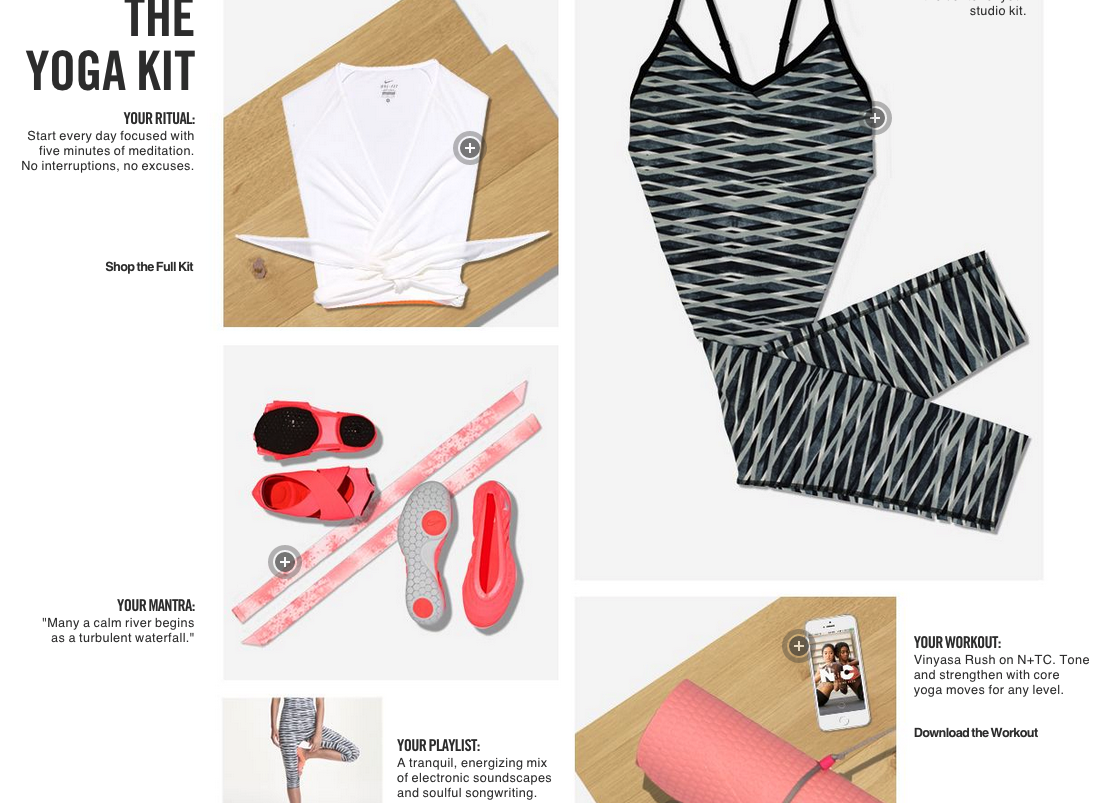 The takeaways:
Use personas and research about your audience guide your content.
Create pockets of content that are made special for subsets of your target audience.
Find ways to pair your products with a lifestyle that your target audience identifies with.
Supply valuable content pieces that your audience can access even after the initial touch point.
2. Joss and Main
Joss and Main takes on the personality of a helpful, best friend interior designer with the content they produce. They not only show users how to be their own all-star decorator, but also incorporate their products to make the picture come to life. For instance, this "How to Buy an Area Rug" post reviewed the basic know-how when planning how to incorporate an area rug into your home design with product examples to illustrate how area rugs can be used throughout the house: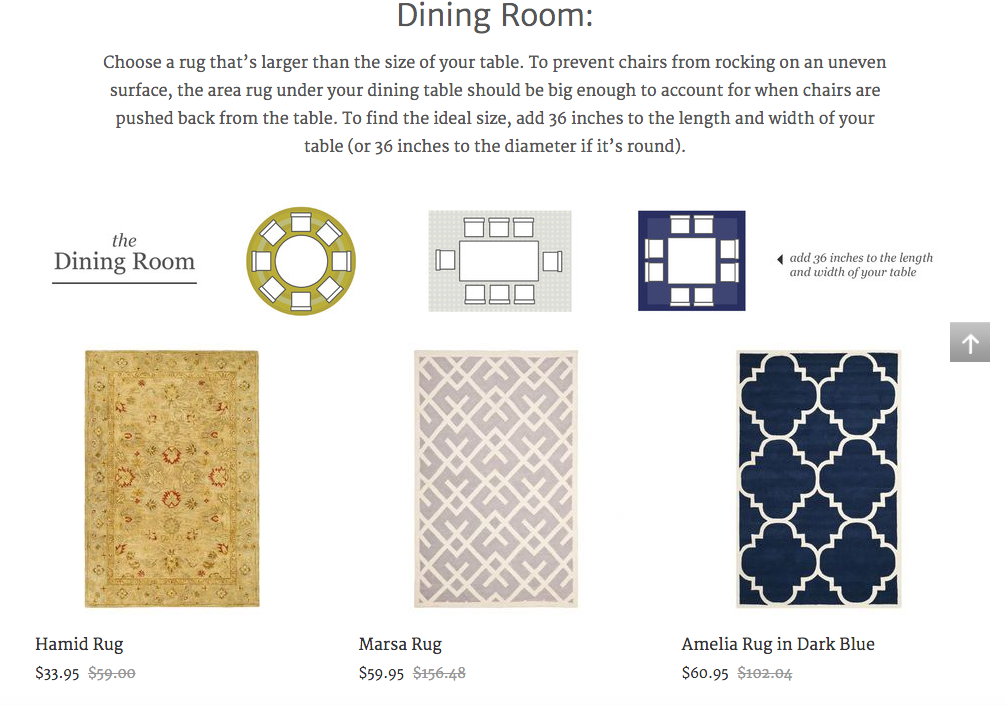 Joss and Main also helps users discover which styles they most identify with by making content interactive, and with clear interest niches. They utilized an interactive "email quiz" to help audience members find the style that fits them best. Though it only featured Joss and Main products, the email felt personal and let the user explore how their personal style aligns with the products. From tracking clicks in this email, Joss and Main can also see which product categories users were most interested in to deliver targeted content to that user later on.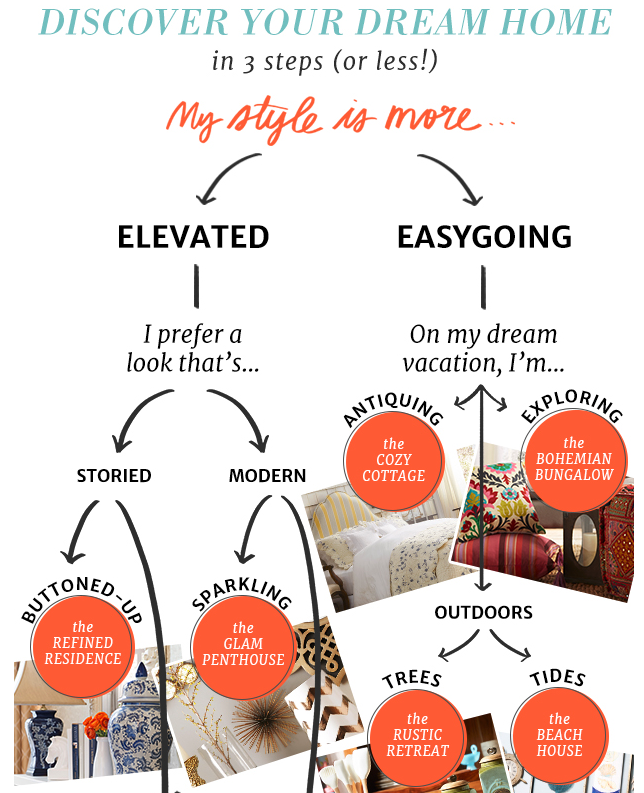 The takeaways:
Offer valuable content that answers questions users may have.
If showcasing products, find ways to seamlessly incorporate them into content in such a way that adds value to the content.
Make content fun and interactive for users to explore products and what identifies with them.
3. Quirky
Quirky aims to create a community focused on innovation with its content marketing strategy. The Quirky site allows inventors to submit products, the community to vote on these products, and Quirky to back the production of product ideas that are the most popular. Their blog highlights inventor stories, DIY projects and features about the company. Quirky creates a sense of community by openly supporting their inventors and love of innovation. Recognizing skills that their team and inventors have that their non-inventor audience may have interest in, Quirky recently started offering a Skillshare class on how to "Sketch Like an Industrial Designer."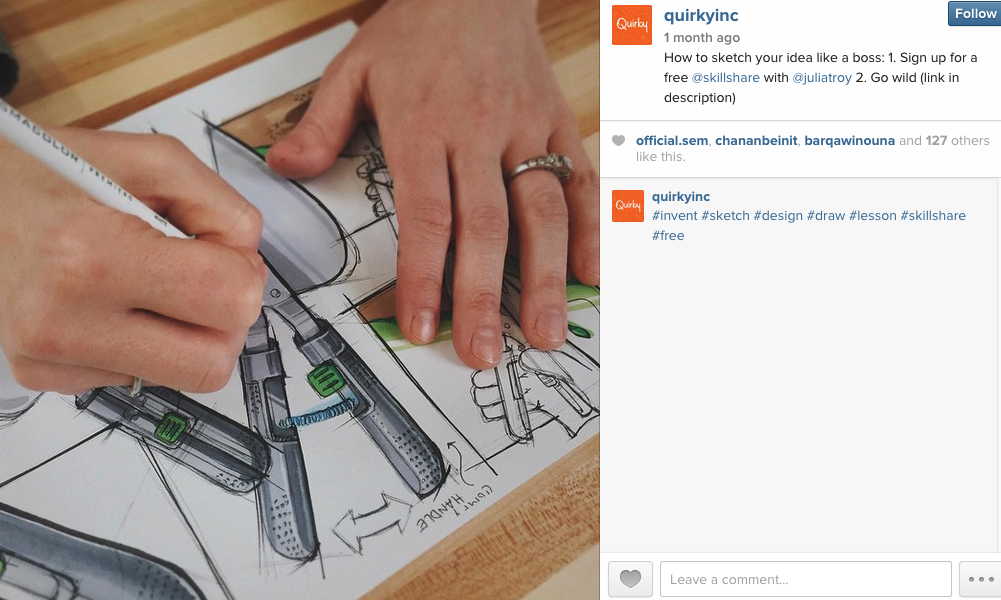 Quirky also partners with other brands like Mattel and Target to bring their strokes of innovation to these spaces. This allows the brand to show off their innovation while reaching new potential audience groups.
The takeaways:
Share brand and team knowledge through creative partnerships.
Seek out partnerships that align with brand values.
Find partnerships that could open up contact with new target audience members.
4. Curalate
Curalate challenges B2B marketing to be just as beautiful and engaging as consumer marketing. The Curalate Blog offers content that their target audience (marketers) would find useful and appealing.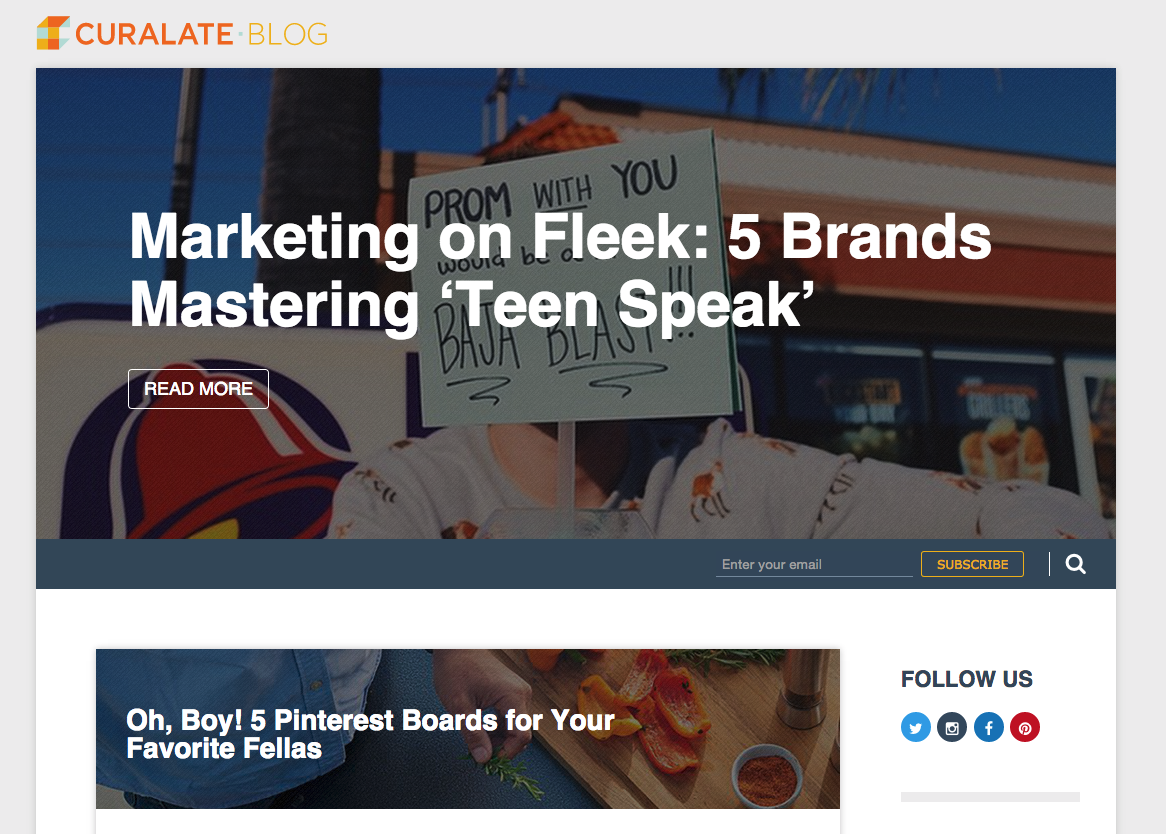 They also offer Infographics, Guides and of course, Case Studies that showcase their thought leadership (and their product).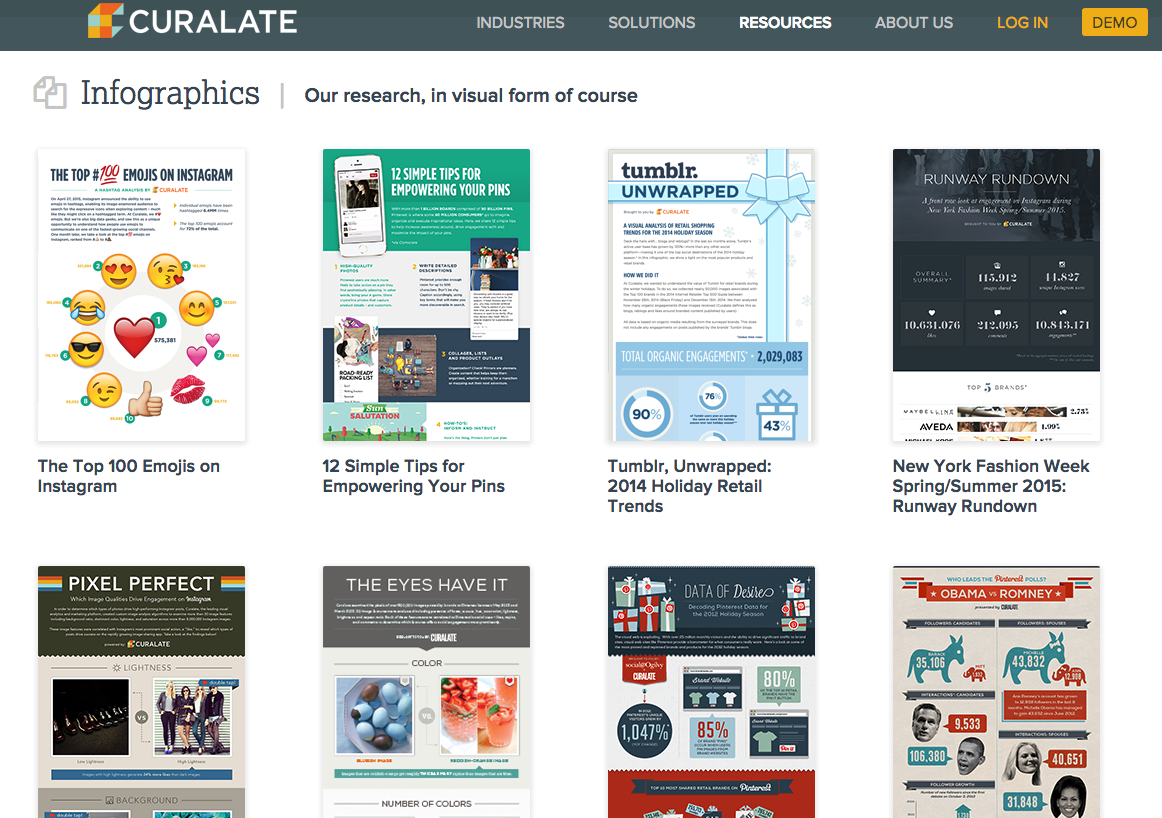 Curalate beautifully showcases this information across their channels that their target audience would find appealing. Using graphics, videos and imagery optimized for each channel, they display their information in appealing ways to attract potential customers to their site.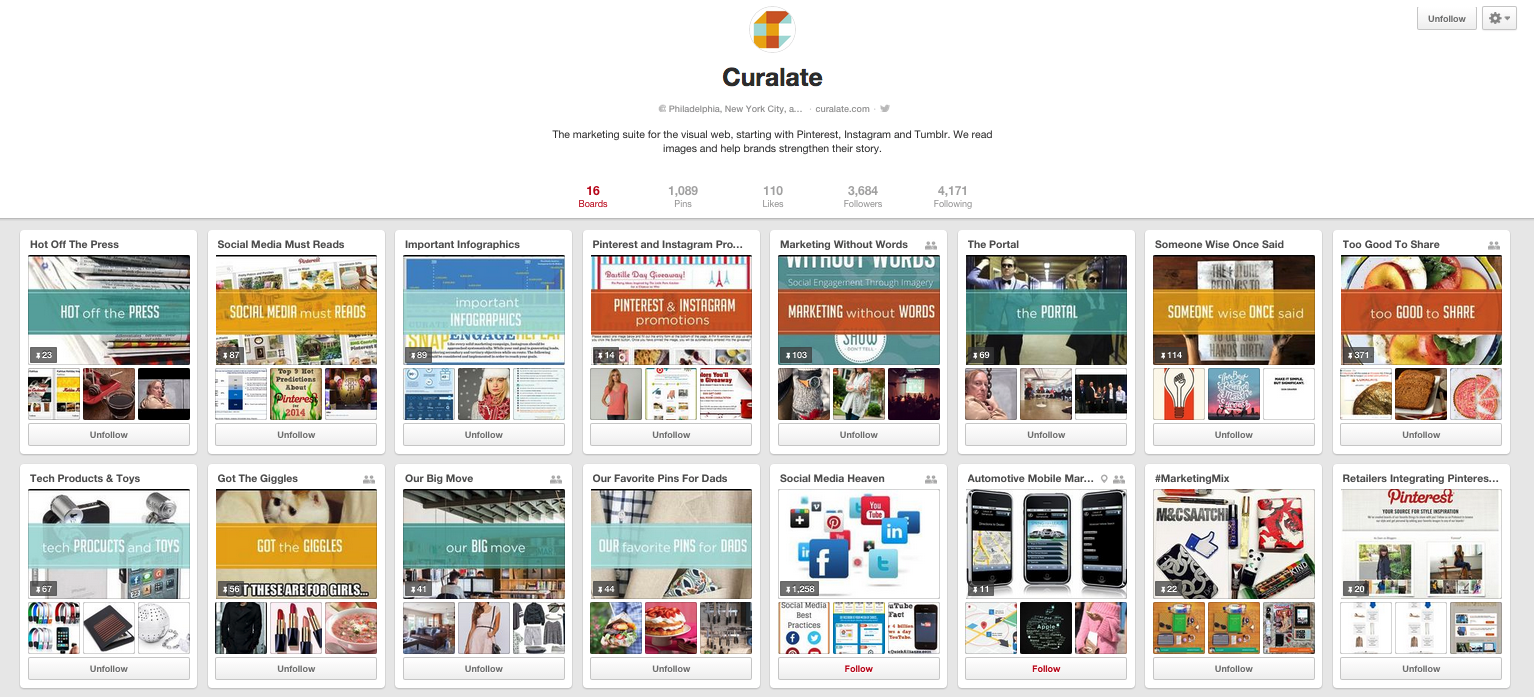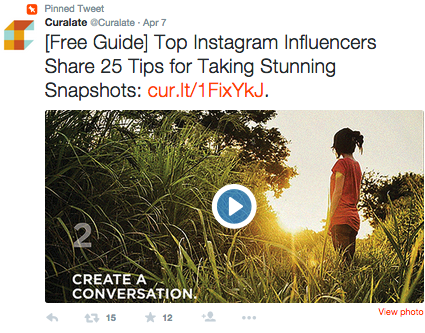 The takeaways:
Be a thought leader and provide resources to your target audience in a variety of mediums.
Find creative ways to visually showcase knowledge and promote it.
Use the visual elements that you can control from each channel to create interest around your information, and ultimately, drive traffic to your site.
[more]
5. Fiat
This Fiat billboard shows that advertising can be interactive and fun. To promote Fiat's Parking Assist technology, the company placed these billboards in places where drivers may have challenges parallel parking. The billboard has a giant digital screen with software and sensors to measure how close the car's rear bumper is to the car behind it. The projected human on the billboard responds to these sensors to help the driver park. This is the great example of how useful content can come in many forms to help advertise a product in such a way that both parties benefit.
The takeaways:
Challenge your brand to find creative and interactive ways to advertise.
Advertising can be fun and useful. How could your brand show off a feature in a way that customers could also benefit?

Want to get more ideas like these straight to your inbox? Sign up for the emsights newsletter.

---