emfluence CEO, David Cacioppo and our client Kris Nielsen from Soave Automotive Group/Mercedes-Benz of Kansas City have been selected to present at the 2014 Email Evolution Conference in Miami in January! The 2-day conference is an email marketer's mecca with sessions on anything to do with email marketing from deliverability to automation to personalization and using data. Dave and Kris get to tell the story of how a customer service survey and a little automation magic lead to faster fixes for disappointed customers and a pat on the back for happy ones.
Here's the session info from the EEC14 Schedule:
"How A Custom Survey Provides Exceptional Customer Service"
Track: MULTI Channel Marketing | Thu, January 23rd @ 11:40AM – 12:40 PM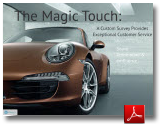 Automated messages are the free money of email marketing. Think about that. You set up a trigger that's based on highly relevant rules that executes every day. You get to come into the office and see that you made revenue yesterday without pushing the button! How great is that! Mercedes Benz vehicles attract customers with an especially high demand for quality and customer service, so they insist on nothing but exceptional customer service from its dealers. Mercedes-Benz of Kansas City uses a series of triggers to successfully gauge customer satisfaction in order to meet service guidelines. During this session, learn about actionable strategies around the different types of trigger programs as well as a real world success story from Mercedes-Benz of Kansas City.
Check out the full conference info and register by December 20th to save $200 on the ticket price!
Pssst… Want a super secret discount? Use the code SPK50 to save an additional $50 off your registration price for EEC14!
---