A scary fact: in 2010, only 33% of email users have images turned on by default in their email client, down even further from the 2006 number of just over 50% (Source: Marketing Sherpa, 2010). When you're designing beautiful emails, does your email still fly without images turned on? Check these 5 ways that you should design without images in mind.
1. Preview your email in a variety of email clients with images turned off
If images don't load or are turned off, your message should still come through loud and clear. One big image will become a pretty quiet email without images and up to 67% of your readers may not have much to read.
2. Balance your image-to-text ratio
Sure one big image (or lots of chopped up smaller images) is a bad idea, but even if you have a little text, a heavy image-to-text ratio will make you look suspicious and may get you blocked at common Spam filters. If a filter can't read your content, they suspect you could be hiding something in your images or that you're up to no good. And if the filters don't let you through, it doesn't matter how great your email was supposed to look. You won't be making any sales bonuses on that email.
3. Create at least one pure-text call to action
It's especially important that your subscriber or prospect can take the desired action, so be sure you're not exclusively using graphic buttons to encourage readers to Buy Now! If you like the attention-grabbing look of a button, try a "Bullet-Proof Button," meaning a small one-cell table with a background color (not a background image!) with a text call to action and a hyperlink. Ok, no, it doesn't have the nice bevel you were hoping for, but 100% of the people that view your email will be able to see and click on your link. Win!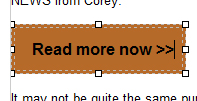 4. Don't make your unsubscribe link an image
This is for the same reason, but more important: it's walking the border of legality. If your subscriber can't opt out of your emails, you're not following CAN-SPAM law. And if they can't see the unsubscribe link without loading images, you run the risk of being labeled as Spam, both by the reader and by the email client.
5. Include text in a pre-header to view your email as a webpage
Before you jump into the gorgeous graphic header of your email, offer some pre-header text. Many emails include at least a "View this email as a webpage" invitation in case the email isn't rendering. And because your text will always render up there, include your email's offer, usually linked to more info, so if the reader wants to get right to it, they can. While you're at it, include a "white list" request: Add info@ourcompany.com to your address book to make sure you get all your monthly newsletters. This will not only improve your chances of being delivered into the Inbox, many email clients like Gmail will turn images on by default for emails from a known contact.
Use these five easy tactics to avoid accidentally sending ineffective email marketing and of these, the most important is TEST. Preview your email in as many ISPs (Gmail, Yahoo! Outlook, etc) as possible. If you can, partner with a company like ReturnPath or Pivotal Veracity to run a pre-flight campaign preview in all the major Inboxes before you send.
emfluence partners with ReturnPath and integrates their Campaign Preview toolset, including Email Rendering, Spam Filter Check and more as part of the emfluence Marketing Platform's Emailer. To take a test drive, email expert (at) emfluence (dot) com or give us a call: 877-813-6245
---