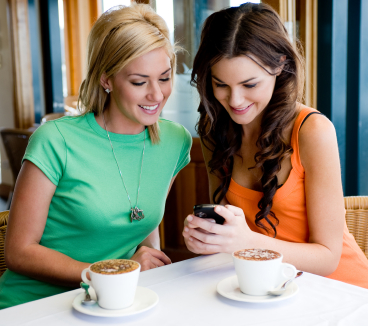 Restaurateurs don't need to look any farther than the smartphone in their own pockets to glean insight into restaurant marketing plans for 2014. According to wireless carrier consultant Chetan Sharma, 27% of all internet traffic came from mobile devices last year, a 5% increase over 2012. Last year showed this trend accelerating. Business Insider estimates there are two smartphones for every nine people on earth. That's 1.4 billion smartphones in circulation.
So what do people use smartphones for? Looking up restaurant reviews! BrightLocal reports that in 2013, 68% of the searches done on smartphones were for restaurants and cafés. By comparison, doctors and dentists only garnered 35%. Smartphone users are looking specifically for restaurant reviews – by a wide margin, too. 61% of mobile searches were to sites like Yelp, seeking customer experience stories and ratings for restaurants, while doctor and dentist reviews – the next fastest horse in the race – were sought only 32% of the time.
But customers won't go to a restaurant simply because they find you. They have to find that you're actually good, too. Never has it been more important for restaurants to manage their online reputation, and not simply because of the risks of negative reviews, which tend to have a very long shelf life on the internet. According to Michael Luca, assistant professor at Harvard Business School, a one-star increase in a Yelp rating leads to a 5-9 percent increase in revenue. Even positive reviews (4 stars) can improve to drive more business.
It's time to address the obvious: Restaurants need mobile-friendly websites and reputation management solutions as key components of their 2014 restaurant marketing plans. Need some help? Reach out to an expert@emfluence.com or give us a call at 877-813-6425.
Learn more about Hospitality and Food Service Marketing Plans and these statistics by downloading the emfluence Restaurant Marketing 2014 white paper here.
---